My daughters love to sing, especially at church, and especially at Christmas time. One of their favorite songs is Silent Night, which in Spanish is "Noche de Paz" (night of peace).
♪ ♫ Silent night, Holy night / All is calm, all is bright ♪ ♫
As I've listened to this line sung over and over and over again in my home, I can't help but notice that Christmas is indeed bright… and wonder: it really CALM?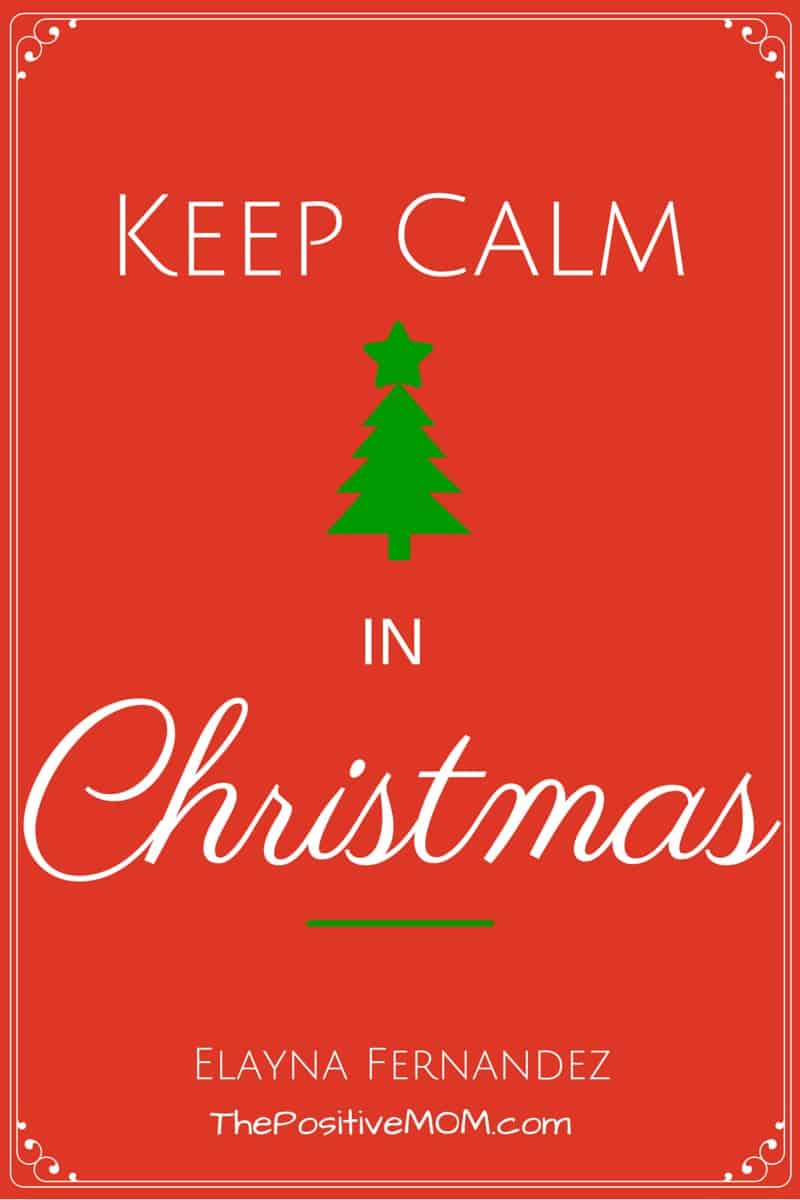 Has Christmas not become a time where frantic, frazzled, and frustrated overcome the "TENDER and MILD" nature of "the reason for the season"?
It seems that the news of "tidings of joy, peace on Earth, and goodwill toward men" have been replaced with chaos, stress, and over-excitement for far less meaningful items on a worldly to-do or to-buy list.
If you have fallen into that trap and would like to cut the crazy out of Christmas, enjoy this time with your family, and even be bold enough to actually experience joy and serenity… there is hope. And there are ways to actually achieve it!
5 Ways You Can Keep CALM In Christmas
and Enjoy Your Holidays With Ease, Peace… and JOY!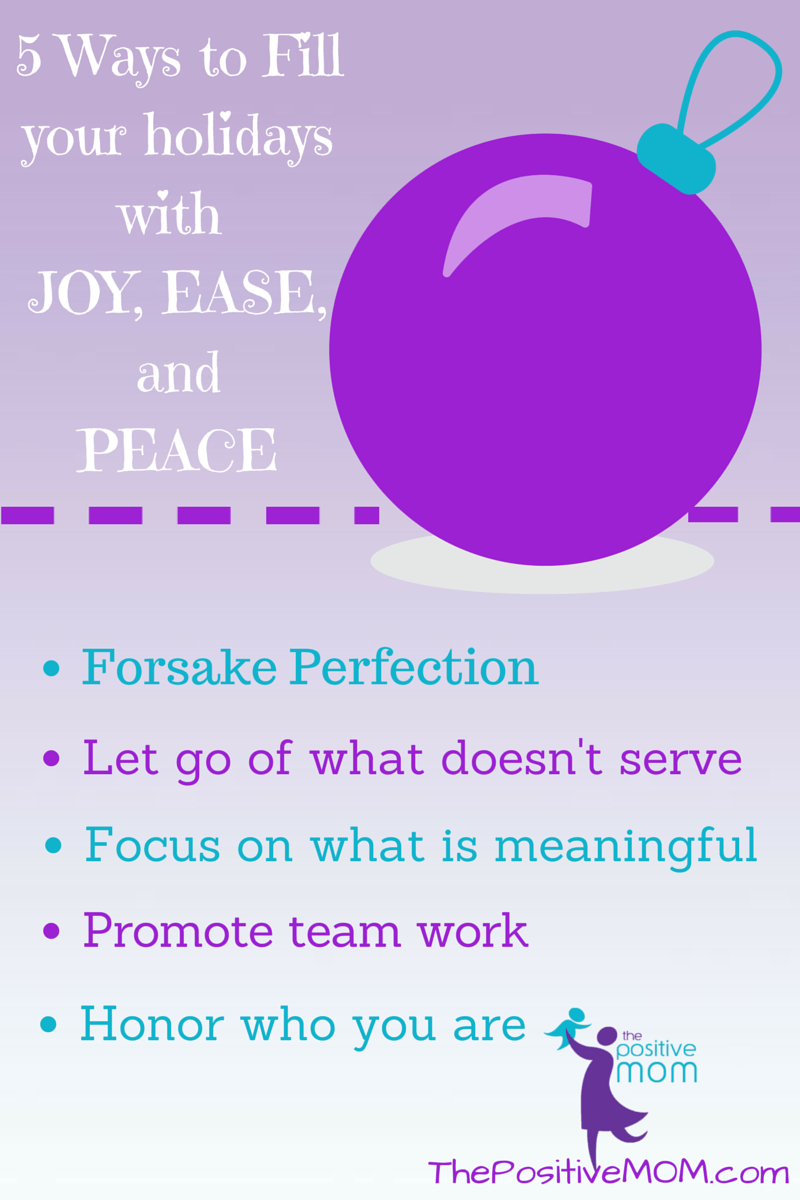 Forsake Perfection ~
As a recovering perfectionist, I know it's tempting to have a perfectly clean house – perfectly decorated inch-by-inch, with perfectly matching EVERYTHING, the perfect gifts for EVERYONE, and all perfectly done in the perfect timing.
I understand we all want to do THE BEST, so I've learned to focus on doing MY best and not comparing my Christmas, my family, or myself with anyone else's.
By recognizing that YOUR best is good enough, instead of chasing perfection that you won't ever achieve, you can finally relax and enjoy yourself.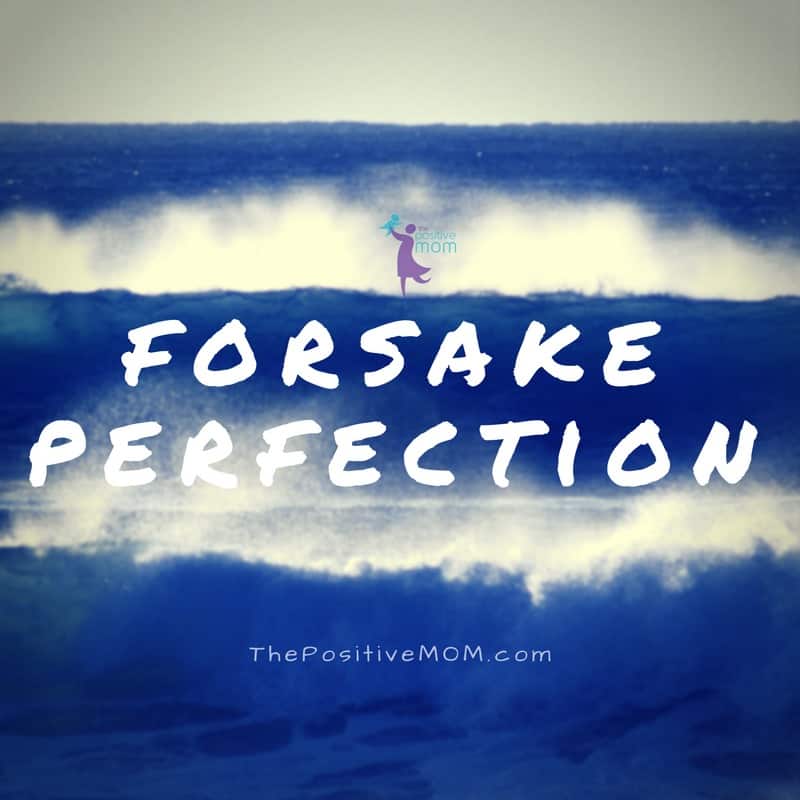 Let Go Of What Doesn't Serve ~
Last Saturday, I commemorated the 13th anniversary of moving to the USA. During my time here, I've learned how hard it is to blend two cultures and two different – sometimes opposite – traditions.
Over the years, I have given myself permission to drop the over-the-top traditions and activities that cause undue stress and fatigue.
I didn't grow up receiving [or expecting] presents on Christmas, and the Thanksgiving holiday doesn't exist for obvious historical reasons, so I have chosen to create our own family traditions, which means No Presents on Christmas [unless they are handmade or a heartfelt expression of love] and No Fancy Dinner on Thanksgiving, but rather the expression of gratitude for someone.
This year, we painted beautiful orchids on canvas using acrylic paint for someone we are thankful for. And guess what? We all lived. As a matter of fact, we ALL loved it.
I invite you to look at your holiday celebrations and ponder: What is essential? What is the worst that can happen if you skip a few details? I suspect it won't be the end of the world, and that you will, in fact, feel relieved!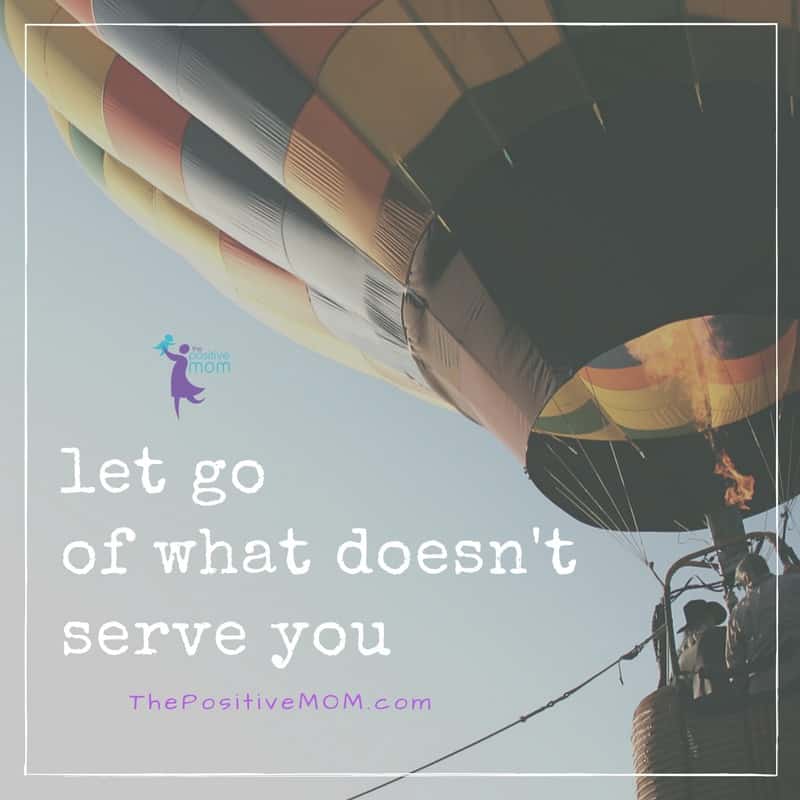 Focus On What Is Meaningful ~
Cutting down the non-essentials allows us to differentiate the meaningful from the mundane. In my faith, we have the blessing to remember Christ and His love every week through the emblems of His blood and His body and celebrate Him all year long.
For me, the Christmas Story is all about the miracle of family and humble births, which is why I ONLY decorate with nativity sets or items that invite His Spirit. I don't have anything against snowmen or Santa and his elves and reindeer, I simply decided I want a more focused celebration.
But enough about me. I'm sure all you do is make Christmas a special time for those you love. But… have you ever stopped to ponder: how do you want your family to remember YOU at Christmas? This question can lead to what is meaningful to you and can help you direct your focus to what gives you and your family joy and peace!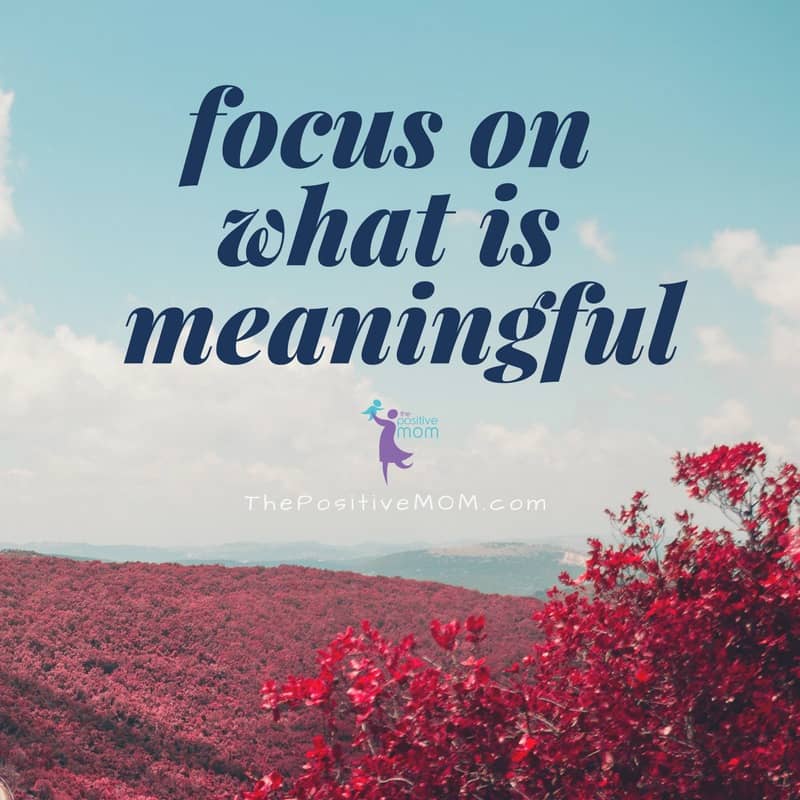 Promote Teamwork ~
Nothing says "Holy Night" like a family that has fun and gets along working together. I have many family mottoes and one of my favorites is "we do what works, we use what we have, and we do it together."
That's right: I don't do anything by myself… I recruit, enroll, and delegate. I gave up the slavery of doing things "a certain way" [see #1 above] and allowing others to support me in my journey as I support them in theirs.
My favorite Christmas activity is The Talent Showcase, which is something my daughters put together in a creative way as a way to thank me, and now my husband, for the opportunities they've had all year long to develop their talents. We just sit back and enjoy the surprises and entertainment.
Simplifying will save you sanity, time, effort, and money.
Crafts, homemade gifts or meals are another way to foster teamwork and a way to bond as a family and find a chance to teach valuable lessons, principles, and life skills.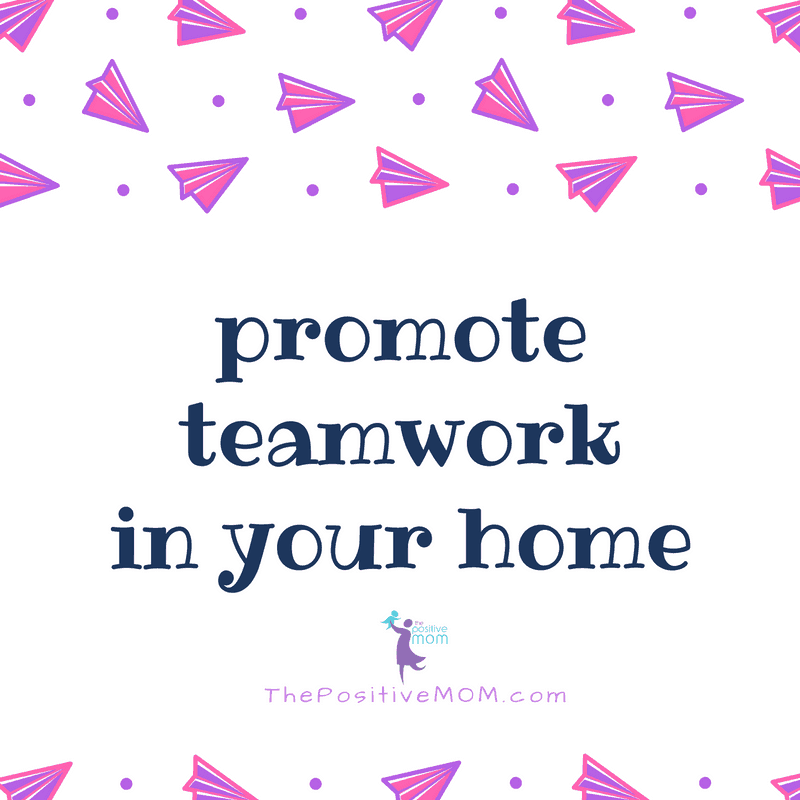 Honor Who You Are ~
Self-awareness is a great gift you can give yourself this Christmas. There is no better way to keep calm in Christmas than to realize which way you are [and not] wired, and to decide to honor that.
For me, personally, hosting is not something you do during holidays, it is something I use to build websites and blogs… and I am okay with that.
I remember having this conversation early on in my marriage when he had "a brilliant idea" for a party with all our friends at our home, and I gracefully explained, "it's NEVER going to happen!" LOL
It felt uncomfortable for me to say that out loud and it took courage to admit my quirkiness… especially, since he is the introverted one, after all… but I was happy to honor myself and not set myself up for something that stresses me to death.
Sure, it sounds nice in theory: a beautiful gathering representing love and friendship, but he loves me and doesn't want to be the reason for my anxiety. I feel the same overwhelm when in long lines or around crowds in desperate mode, which is why I avoid shopping on "black Friday" like the plague.
What about YOU?
Take an honest look at what you absolutely despise doing and let the people in your life know about it. It is OH-SO-worth-it!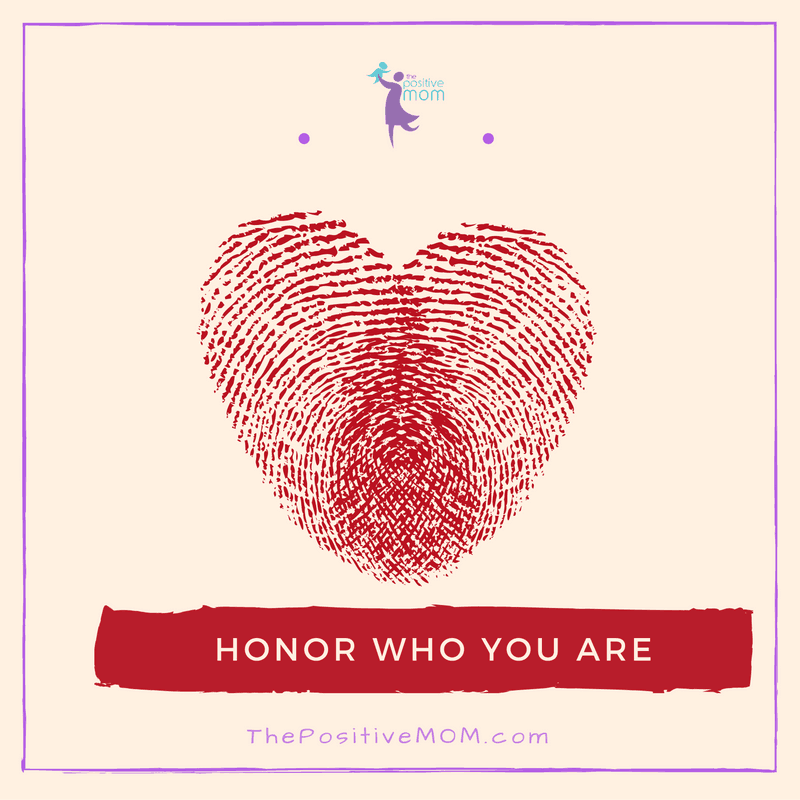 There you have them! These are my 5 tips to Keep Calm In Christmas and to Keep Calm AT Christmas and any other Holidays throughout the year.
I encourage you to do what works for you and your family and enjoy the gift of each other in a way that will bring joy, ease, and peace to you, so you can make it a memorable, meaningful, miraculous experience for you and yours.

How do you make your holidays more joyful? Share one of your most meaningful memories with us in the comments below.
My mission is to help moms find peace, break cycles, and feel whole so they can be present, peaceful, and positive moms. To receive a gift that can get you started on that journey click HERE.