I know I'm always talking about defining success on your own terms. You may even think I'm obsessed with that, and you may be right. I am of the belief that our societal desire to define success is part of what blocks us from being happy and achieving our potential in life.
Linking a certain status, title, dollar amount, or achievement to being successful is a disservice to humanity and what keeps many feeling stuck and unfulfilled, because frankly, it's doubly hard to be grateful when you feel like a failure. End.Of.Rant
Money, power, and fame are not always accurate metrics for success and fulfillment. It's time to admit that we each possess a unique God-given gift and purpose, which will guide us in our individual path to success. The feeling of success is as diverse as the people who feel it.
[Tweet " The feeling of success is as diverse as the people who feel it. #ThePositiveMOM"]
In my recent travels to Washington D.C., while I attended the Act Like A Success conference with Steve Harvey, I had the honor to chat with the presenting sponsor, Strayer University, and was delighted with the programs they have created to inspire people of all ages and backgrounds to embrace their own definition of success, and empower them to achieve it through education, mentoring, and ongoing support. I am so grateful for their generous invitation because the experience was very enriching (and did I mention I met and interviewed Steve Harvey? 😮 – IKR!)
As moms, especially if you are a Latina mom, it is not uncommon to feel judged and labeled selfish if you go back to school or pursue your own interests and passions. It takes great courage to chart your own path and to give yourself permission to embark on the journey toward the vision you have as a woman, outside of motherhood.
As a child, I always felt inadequate because I wanted to focus on my vocation and being a wife and a mom was not at the top of my list of most desired achievements. When I married and had my first two daughters, I felt like I had to wait to live with any passion that did not include my daughters. I now understand that you can have both, you can be both, you can enjoy both motherhood and mompreneurship (or the corporate career of your choice).
Most moms I speak to are overwhelmed with pressure to be the perfect mom and wife and they don't see how they could live passionately when they are always caring for someone else. I have learned that we can never live up to pressure and we can never keep up with what others say we ought to be like, act like, speak like, dress like, or eat like to be perceived as worthy or worth it.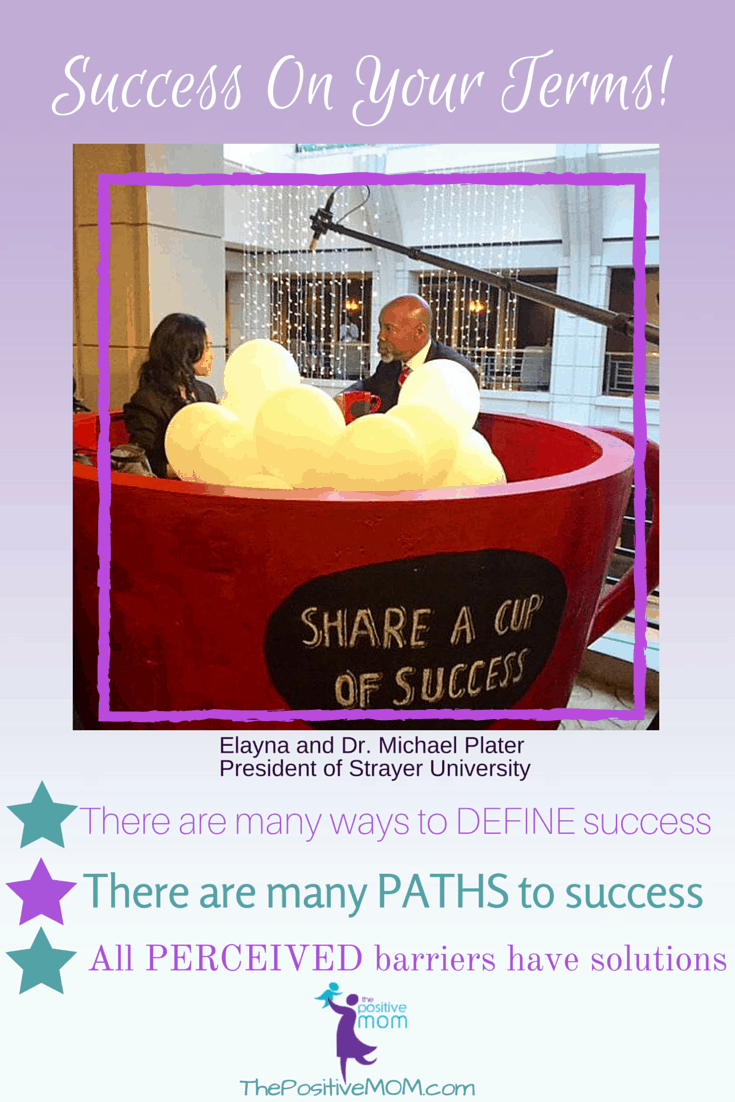 Initiatives like that of Strayer's give me hope that some people and organizations do get it. They understand that finding true, lasting, satisfying success is a process that requires honoring the uniqueness that each of us possesses. @StrayerU is on a quest to listen and understand the honest definitions of success…Their Cup Of Success chats are a great way to get people excited about expressing what success looks like for them. I had the pleasure to go inside the life-sized Success teacup and chat with Strayer President, Dr. Michael Plater, about success and it was a — experience, because beyond a fun replica of the Soul Pancake videos, it is a tool that really does help you focus on what you want to create in your life, shedding all the expectations and limiting beliefs that abound in the daily grind we call life.
I also had the pleasure to hear Dr. Plater's keynote at the conference, and his introduction during the fun, purposeful, and interactive Vision Board building workshop (called Visioning Your Success). He was raised in a single-parent household, and I couldn't agree more with his philosophies on paying success forward while earning it and the three keys to success:
There are many definitions of success
As a mom, you may define success as being able to take a daily shower. When Elisha and Elyssa were 1 and 2, 2 and 3, and 3 and 4, I could rarely get them to nap at the same time so trust that I know when you have little ones, what many take for granted could turn into quite an achievement. Success can be anything you want it to be. You truly can set your own rules!
There are many paths to success
There are many paths to success, however you define it. I know many best-selling authors who are wealthy, happy, and healthy, who did not get a formal education (like Strayer's spokesperson, Mr. Steve Harvey), while others who are successful in the same degree went to Harvard (like another one of my mentors, Jack Canfield). You can achieve success measured by your own standards by doing what you love most and following your passions. I found it very refreshing for a university to encourage us to be trailblazers, recognizing that there's no one-size-fits-all.
All perceived barriers have solutions
This one is possibly my favorite of the three, because we come up with so many excuses that prevent us from following our often dormant dreams. I say excuses because like Strayer states, these barriers, obstacles, and roadblocks are mostly perceived. We have believed lies about why we cannot succeed, however, in my humble opinion, we only need a few essentials:
A deep desire to pursue greatness
A firm willingness to put in the effort that is required
Access to the right tools, support, and information
In plain English, Cinderella had it right: "If you keep on believing the dream that you wish will come true." Going after what your heart desires makes you a better mom because you are leading by example. It's not selfish, and it's not too late. The Strayer Success Coaches have actually helped moms locate childcare and many classes are online. If you want to be a blogger, a vlogger, or a successful mom homemaker, it's all at your fingertips, as well. To be honest, I built my business 20 minutes at a time because that was the max I could spend each day… and I'll be in operations 10 years April 5th. If I did it, anyone can do it… and you definitely can do it!
[Tweet "As you follow heart's desires, you lead your kids by example. #ThePositiveMOM"]
Can you tell I'm excited about the Strayer Success Project and the expanded possibility of people redefining what success means today, to you personally? I'm excited that like me, they are on a quest to redefining success beyond fortune and fame! There's no need to strive to find meaning in our lives outside of yourself… you ought to just find a little direction!
Surprisingly, at least to me, I came back from Act Like A Success conference thinking about going back to college! I then learned that just recently, in 2012, 86.2% of the U.S. Hispanic population 25 and older did not hold a college degree. Isn't it amazing what our community has done without formal education? And what will happen when we embrace that as another path to success? I'm ready to dive in, and encouraging my children, too!
We all have goals, dreams, and aspirations, and they all seem different! At the core level, we all want most of the same things: to feel loved, to feel joyful, to feel accomplished, to enjoy a peaceful life experience, to achieve balance, to feel like we matter because we make a difference. Fame, fortune, and power are not the only vehicles to lasting success and significance. Moreover, it's not the vehicle that most counts, it's the journey.
How do you define success? What path are you taking to achieve it? I am looking forward to hear from you in the comments section! <3
[ela]