It is always my prayer that, through my stories, you know how much I care about you. There is so much that goes on behind the scenes and so much that happens before I hit publish.
I pray, I cry, I ponder, I laugh, I research, I breakdown, I question my sanity, I fear the judgment… and I muster the courage to "put myself out there."
And because I always write from experience, I have always been curious to learn more about the process that goes into writing fiction, into creating something seemingly out of nothing, into developing a tiny idea on a napkin or the back of an envelope into a life-changing monumental work of art.
I recently had the incredible opportunity to chat with some master storytellers during the Disney, Pixar, and ABC Cars 3 Press Day at the Sonoma Raceway. The presentation was titled "The Story Of Our Story," and it was a detailed behind-the-scenes into how the Cars 3 story was developed.
I couldn't believe I was in the same room with storytelling legends Mike Rich (Cars 3 Writer, known for Finding Forrester and Secretariat), Bob Peterson (Cars 3 Writer, known for Monsters, Inc., Finding Nemo, Up, and more!), Kiel Murray (Writer on both Cars and Cars 3) and Scott Morse (Cars 3 Story Supervisor, who also worked on Ratatouille, Wall-E, Brave, and Cars 2)!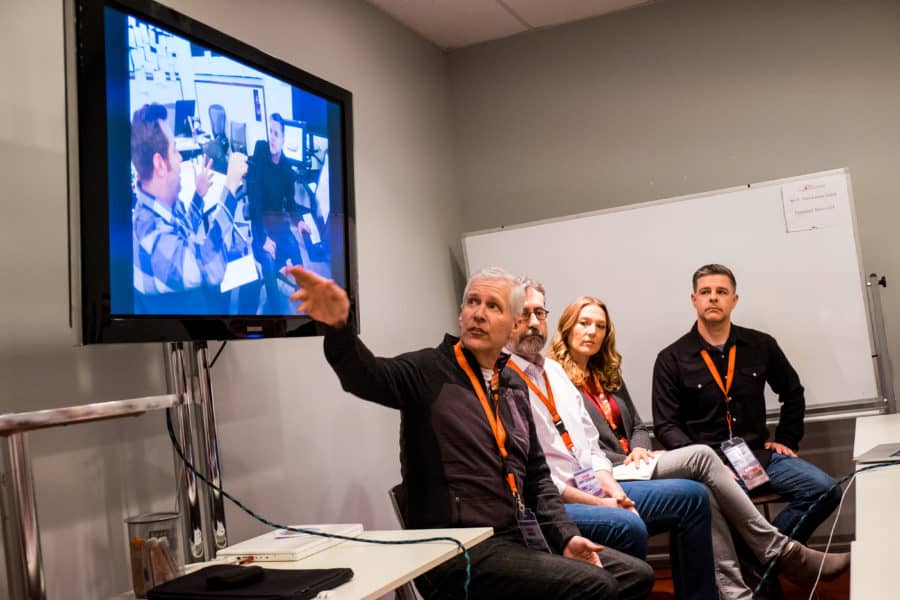 At Pixar, "Story is KING," and everything revolves around a story. There are some specific elements a story needs in order to be successful. Here are some of those elements I learned about as related to Cars 3:
A UNIVERSAL DILEMMA
Mike Rich, highly experienced in the sports film industry, admitted that Cars 3 "was not an easy story to crack" because the iconic Lightning McQueen lacked a problem, a dilemma.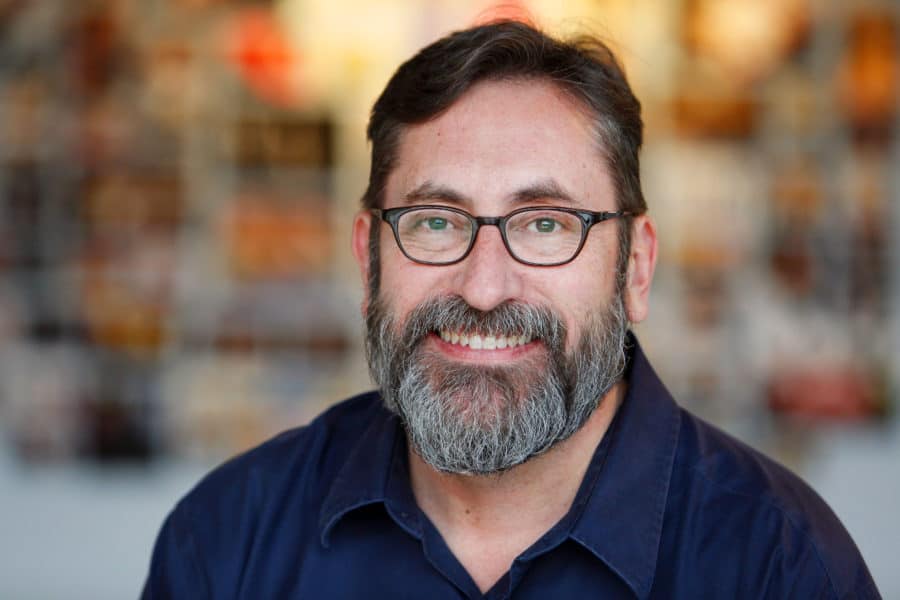 "The last race we saw Lightening McQueen he was on top of the world. He was a champion racer. Things were going well for him… We knew we would have to do with McQueen is make him vulnerable and take him down a notch."
Cars 3 is kind of a third act of the overall story, so in order to understand the concept of being on top of the world and what happens as the momentum winds down and you get close to retirement, Bob Peterson tells us that the writers team visited with athletes of the caliber of Jeff Gordon, Kobe Bryant, and Michael Jordan. Bob and Mike are both Basketball fans, so they smile as they tell us about this part of their "work." I imagine they felt about that meeting like I felt about being in that little Sonoma Raceway garage learning about story from them – in one word: EPIC!
"In all these films we look for a universal truth that everyone can sort of identify with… as long as there is something we can all learn from, a parable that is being told about life in a universal way" says Bob Peterson.
The premise of Cars 3 is this:
What do you do when you're not as fast anymore and you have people behind you that are faster?

Do you crumple or do you rise up and change?
I guess we'll find out on June 16. I did watch 42 minutes of Cars 3 and was fascinated with just how relatable the story is in so many areas of my life, but I yearn to see how it ends.
"When Kobe Bryant injured his Achilles late in his career, he had this famous 3 AM post on Facebook where he basically was saying "What do I do now?" You could tell this larger than life athlete was at a loss. "Do I crawl under a rock… do I quit… do I rise?"
We all wrestle with these questions from time to time, don't we?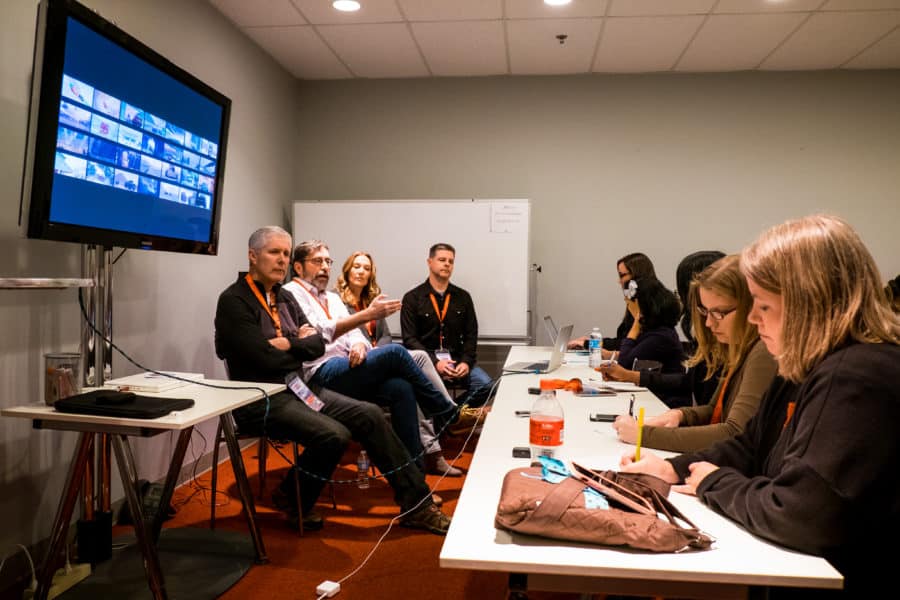 AN ANTAGONIST
Bob Peterson's face lights up as he speaks of Jackson Storm. He's excited to announce that "Cars 3 is kind of the inverse of Cars 1," but there are some deep lessons to learn about the theme of generations and I'll think you'll get that from the trailers and from the history of racing that is so accurately portrayed in the film.
Mike Rich points out that besides stats, you want heart in a story, and an antagonist gives you an opportunity to show that "McQueen was very much at risk of losing the one thing that he cherished more than anything."
TRUE TO LIFE ELEMENTS
In order to learn about what McQueen loved about this sport (what was at stake) Scott Morse, director Brian, and Mike Rich took road trips (research trips) to the American South and "tried to dig up as much of the deep history as we still could orally, written, walking these old ghost tracks that we could find, talking with all the veterans , immerse themselves into the source material, and really understand the emotions and stories and history of what you're trying to put up on the screen and have truth in the materials."  They spoke with legends like Richard Petty,  Humpty wheeler, and Junior Johnson (who was one of the original moonshiners).
"Sitting with these guys, hearing their stories he just living in that world was invaluable to finding the spirit of the love of the game McQueen could not verbalize."
COLLABORATION
Mike Rich assures us "it was months and months and months before you ever started writing page one on the script… We would talk about it, just throw out ideas back and forth. If an idea stuck, good!… It was a refreshing experience with the collaborative nature, being willing to experiment."
Mike Rich tells us how he got to read the story out loud to John Lasseter when the writers pitched the story to him:
"John doesn't usually tip his hand. He just takes it in. I was telling the story and I got to the 3rd page and all of sudden I looked up and a tear, a single tear rolled down John Lasseter's face!"
Bob Peterson adds: "John Lassiter cares. He cares about these stories and the ideas. That gave us the boost to move forward."
After trips to Portland,  and to  the Daytona 500, sitting in the grandstands, hundred rows up in the bleachers, their surprise about the sport was "seeing how human it was, hearing stories in the garage us, hearing the drivers talk about why they got into racing. There's so much heart in it. It's not about glory for them. It's about competition.  It's about rebellion and all of these other really human things," confesses Bob Peterson.
Mike Rich adds "It's about the history of the sport. We also went to the Daytona 500 there was a museum and a library. There are these old yellow newspapers and photographs and file cabinets. It was refreshing because it was an analog thing. Actual files. That's where we learned about characters like Wendell Scott and Louise Smith who had obstacles, societal obstacles, just to get on the track but they did it because of the love of the sport. These trips and these brainstorming sessions led us too, we're very excited now, we were really kind of creating the puzzle. We had most of the pieces now we just had to get started."
This collaboration is the foundation to what comes next!
A STRONG SIDE CHARACTER
"The other thing that I was just so appreciative of Pixar because the time that is involved with putting these films together, is often fresh eyes to a story, bringing someone else in that can take a look and say maybe this character can go here. Helps to evolve characters and helps to evolve the story. And leads to a lot of people."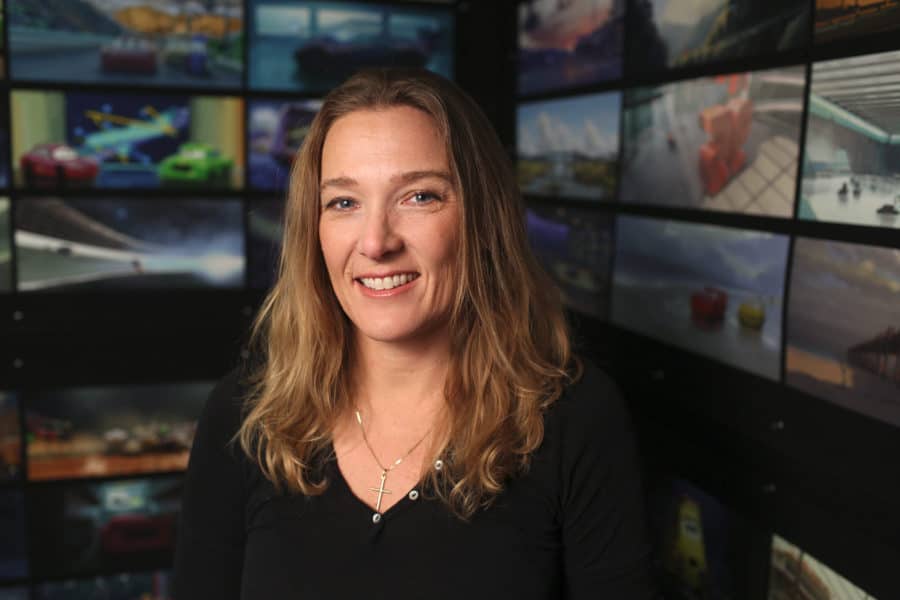 Bob Peterson's enthusiasm grows as he explains he is "blessed to work with an amazing group, all ages, all different backgrounds," and to try different artists on different sequences throughout the movie" and to share with us how Kiel Murray helped bring fresh eyes to the story and to the character of Cruz Ramirez.
"Cruz Ramirez was a difficult character to crack and we knew we wanted her to push McQueen and that was a trainer."
I learned so much about how Cruz Ramirez both complements and challenges Lightning McQueen and I was in awe of how much thought went into making these two characters such a powerful duo, all while incorporating actress Cristela Alonzo's life story into the plot:
"We looked at Cristela's own inspirational life story: trying to break into comedy, feeling different, looking different and sounding different. She grew up in a small town…"
And "as they always do," the writers also looked at their own lives.
"I have a daughter and two boys so I am keenly aware of their different levels of confidence and how my daughter, even though she may be an extremely successful woman, may undercut or under estimate herself and my sons will overestimate… I read a lot on the confidence gap and the new recent evidence about why girls are less confident."  
As a girl, and mother of girls, Kiel touched my heart when she said this, and I knew I had to recommend Cars 3 to the entire world, especially to you, my beloved friend, because I know this is the kind of story of self-doubt I know you and I sometimes struggle with.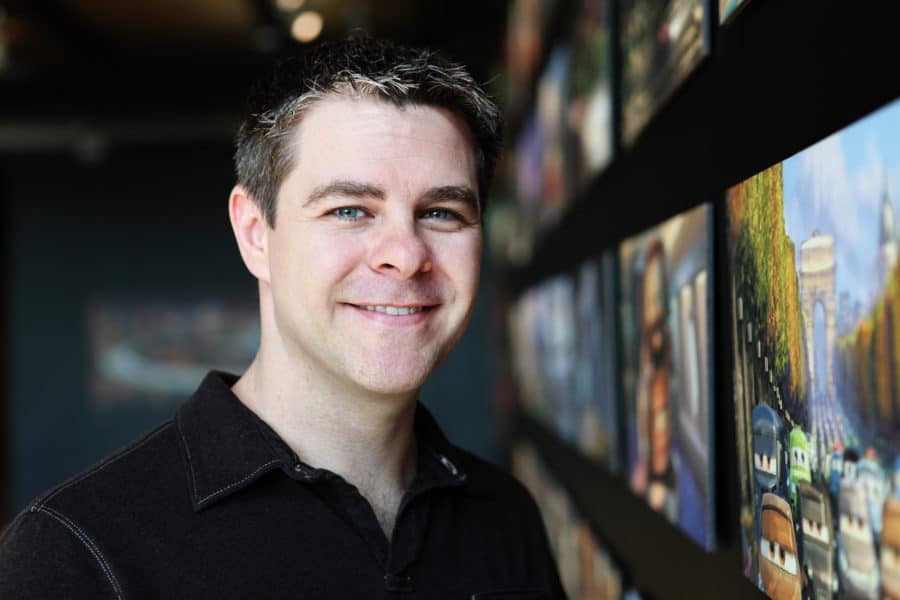 Bob Peterson tells us about a newer, enthusiastic, storyboard artist who suffered from impostor syndrome at Pixar, "where she is like the small fish in a big pond. She finally got her dream at working at Pixar in her mind and would she measure up, does she have the goods, can she do what everyone else?" They'd ask:
How do you shoot that?
How do you feel?
Does that feel right?
Her contribution to Cruz Ramirez was invaluable, and that is why you will love this character as much as I did.
Are you excited to see these five elements of a Pixar story on the big screen? There is so much that goes into this labor of love. Share what you want to see most with us in the comments below.
I am looking forward to June 16 when we can watch Cars 3, and to the possible outtakes on the DVD so we can go behind the scenes on this incredible story!
Like and Follow CARS on Facebook, Twitter, and Instagram. You can also visit the official CARS 3 website and follow the hashtag #Cars3Event! 
And read about my exclusive screenings of The Toy Box, Born In China, and Puppy Dog Pals.