"Without fear; bold or brave; intrepid"—that is the meaning of "Fearless" in the dictionary and that's how I want to be when it comes to cars.
I've struggled so much with the fear of being in a car. From the most disgusting / painful memories to almost dying to then having to drive when I didn't feel ready, my journey with cars have been less than desirable.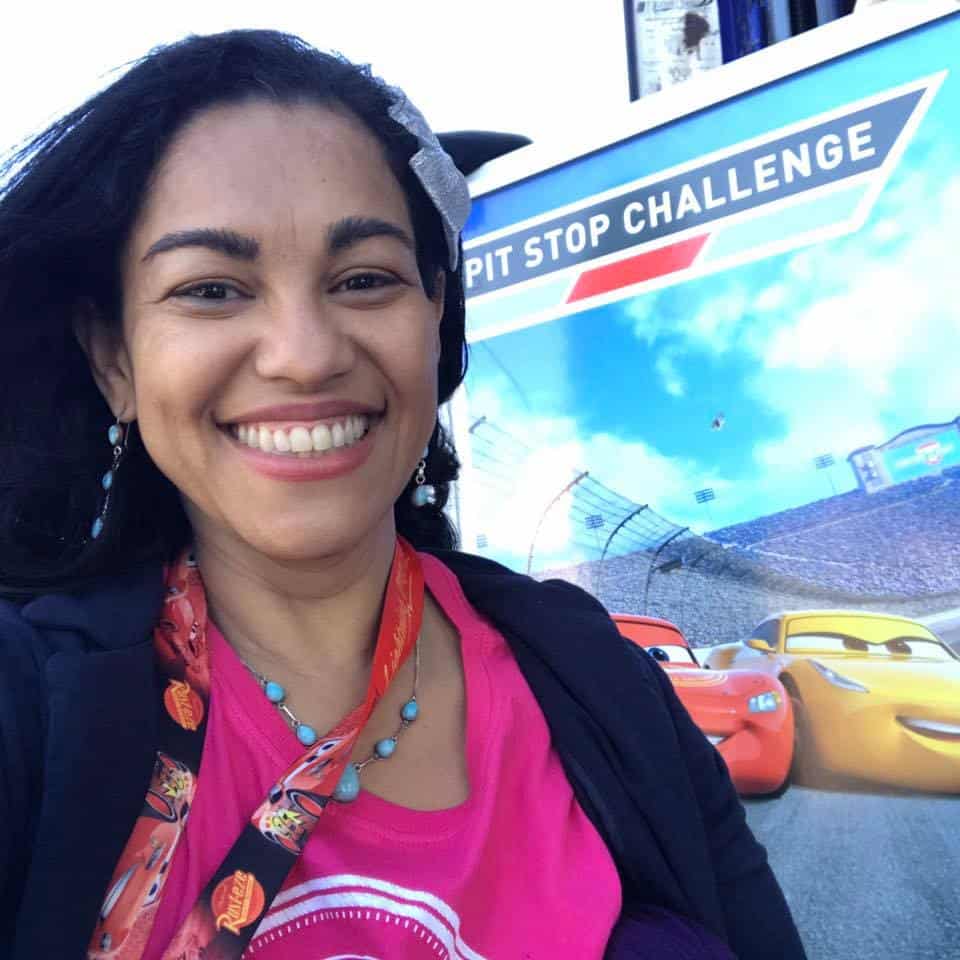 When I received the pixie dusted e-mail last month and I read that Disney, Pixar and ABC invited me and 24 other Top Disney Influencers to San Francisco for the Cars 3 Event, I was really excited! The previous Disney Pixar Cars installments have been a family favorite and I knew I would be in for a lot of excitement, fun, and quality storytelling.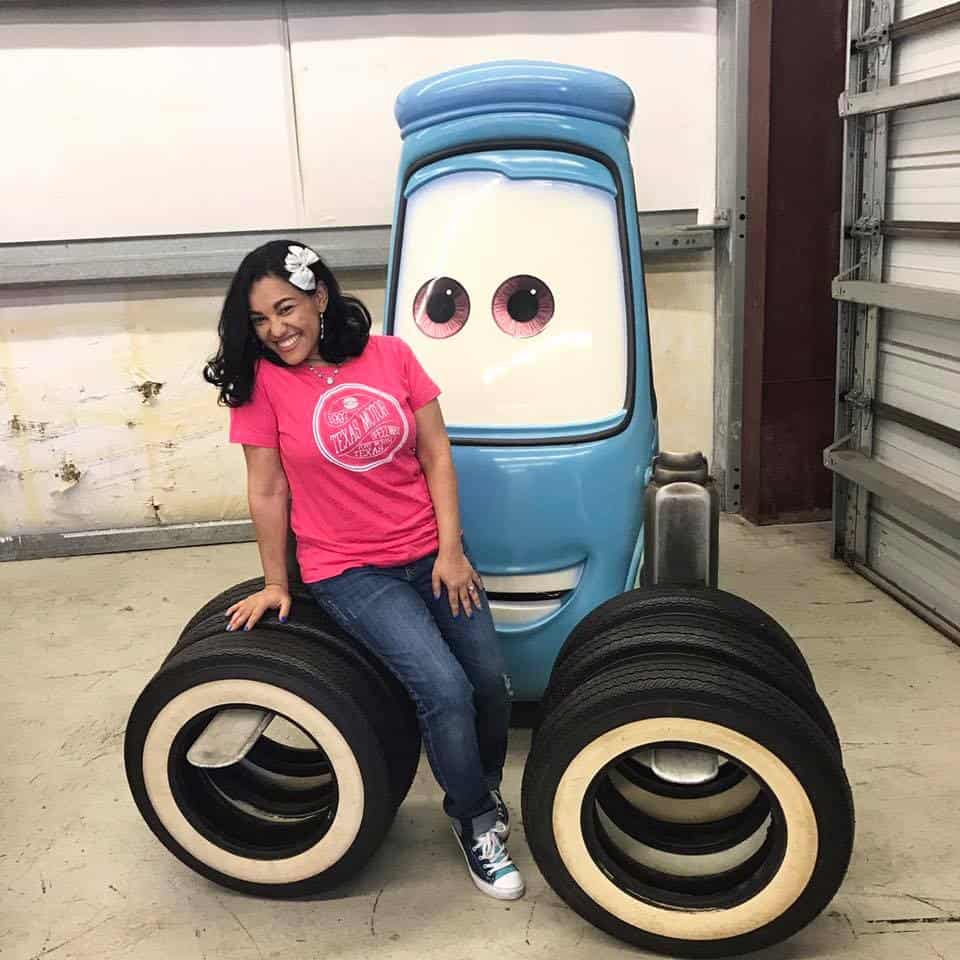 Cars 3 will be opening in theaters on June 16 and I will be sharing more about it's the best Cars movie yet. Lightning McQueen is facing unique challenges and fears and will need motivation and inspiration to get back in the game.
Besides the Cars 3 screening, my #Cars3Event adventure would include exclusive experiences like screening The Toy Box, Born In China, and Puppy Dog Pals, plus visiting the Disney Pixar campus (a storyteller's dream come true) and the Sonoma Raceway!!! I loved the sound of that.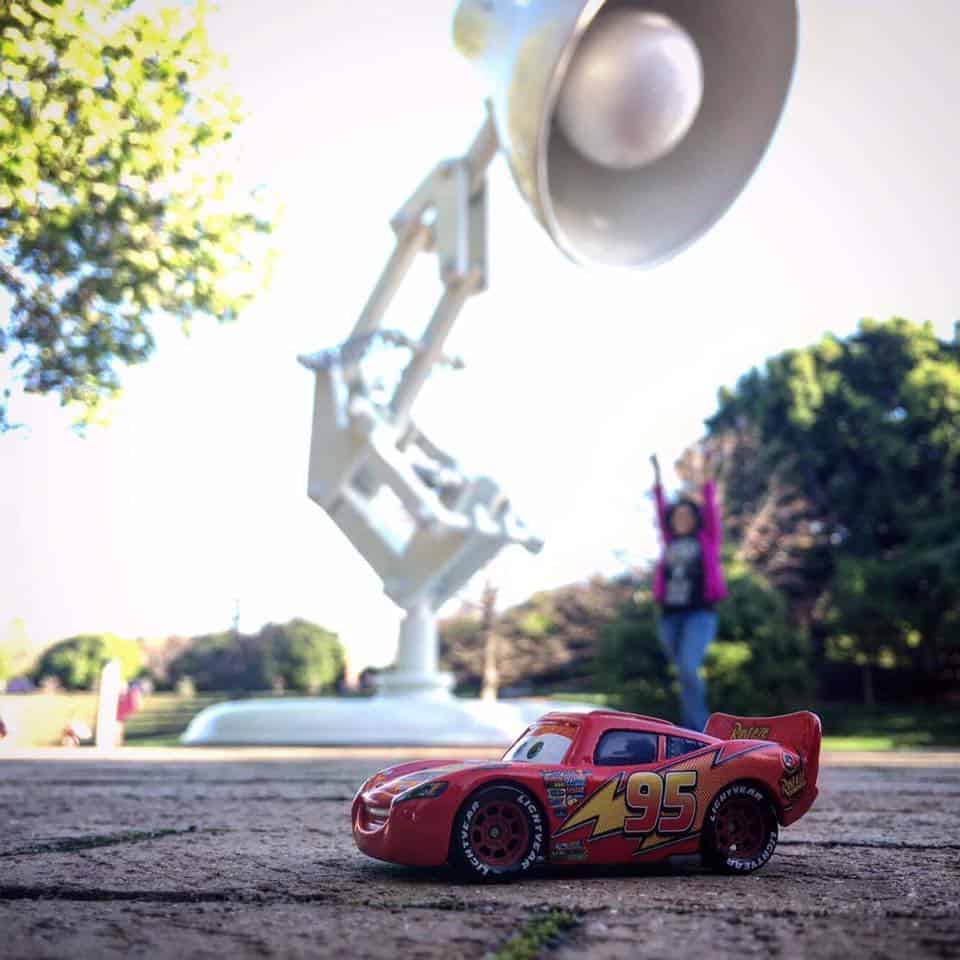 But when I read I would have the opportunity to "take a lap around the racetrack in a real racecar" my heart just about stopped.
I told myself:
"Well, I have two conferences coming up. This is a tough time in college and finals are around the corner. Plus, we will be closing on our new home any moment now."
But something within me awakened and I knew it was time. I needed to say YES and I needed to do it quickly, before I could change my mind. I decided to become fearless on the Sonoma Raceway, to do what I thought I could never do, to fully embrace this chance.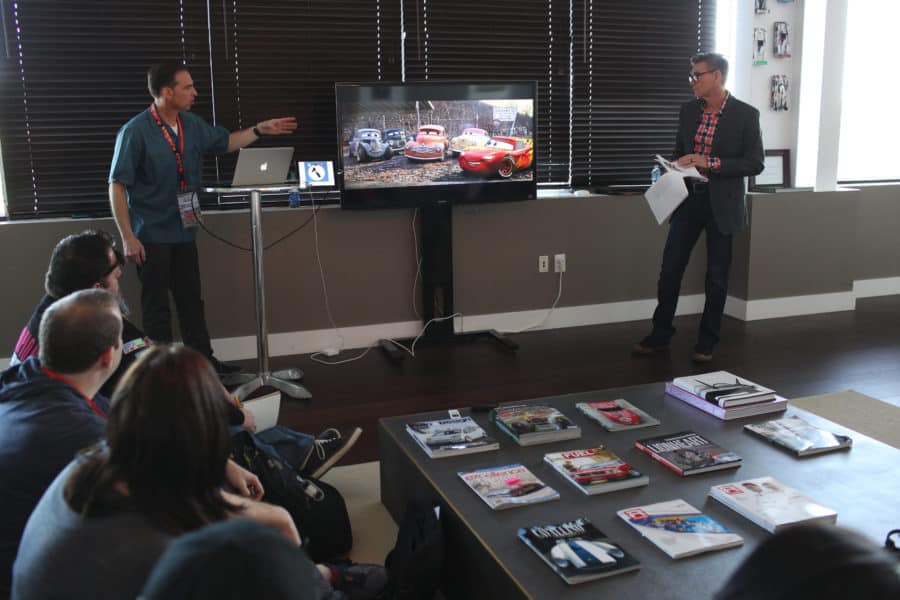 Much of our fear comes from something being uncertain and unknown or for lack of understanding. I was really nervous the day I was to get on the racecar, but the day was started was amazing interviews with animators and filmmakers, learning fascinating facts about the making of Cars 3.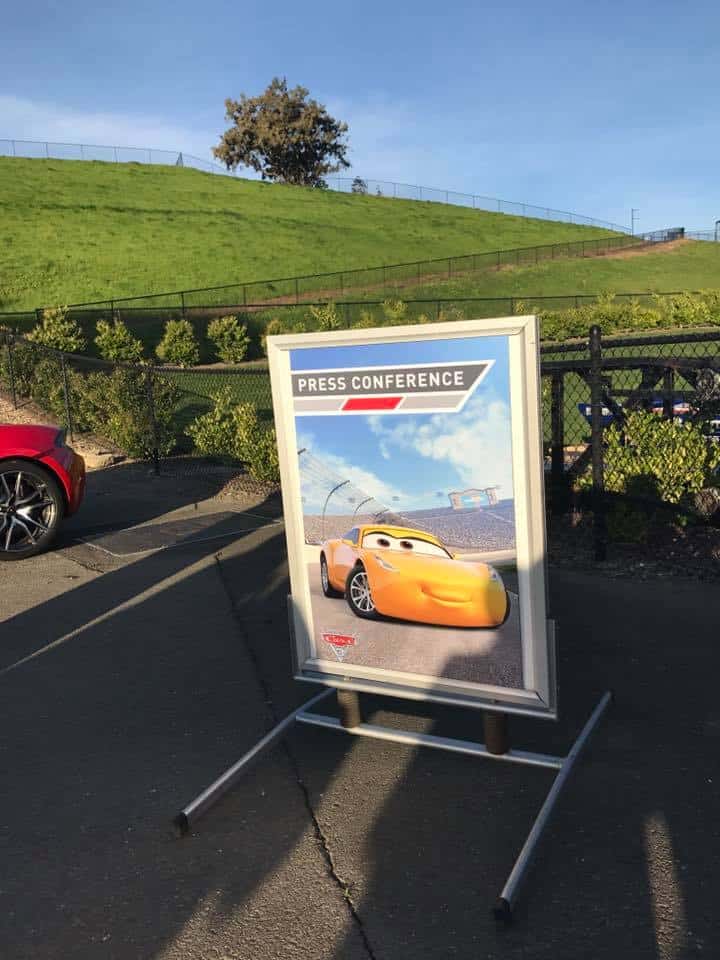 Jay Ward (Cars 3 Creative Director) and Ray Evernham (Former Crew Chief for Hendrick Motorsports,a technical consultant with Jay Ward and three time NASCAR champion crew chief with Jeff Gordon (Daytona 500 winner), blew my mind as they passionately shared the history of racing and how it was weaved into the new Cars 3 movie.
If you are clueless about NASCAR (like I was) you will be definitely surprised, and if you are a NASCAR lover, you will love the reminder – and may even learn something. I didn't even know that NASCAR stood for National Association for Stock Car Auto Racing! Did you know that?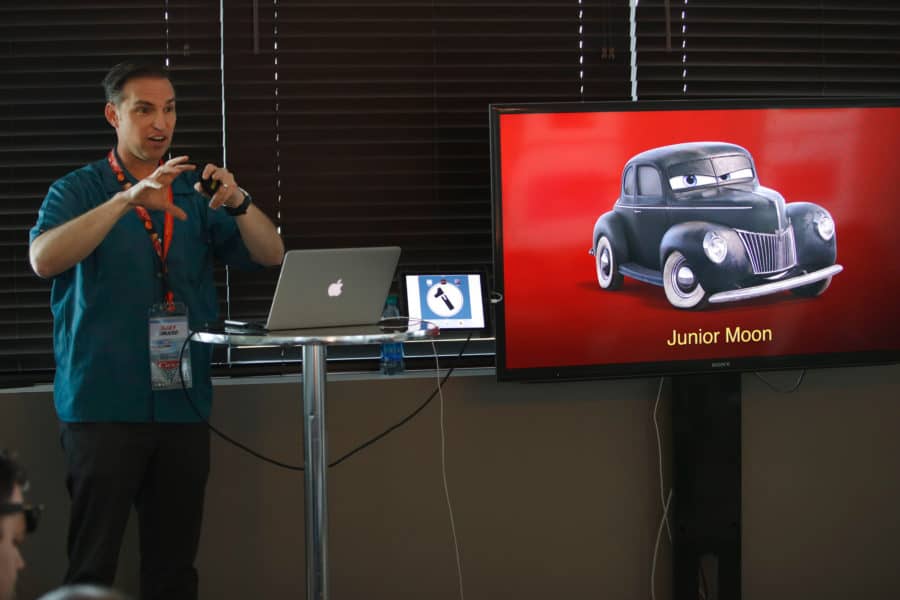 Jay Ward's resume was quite impressive and as he explained the research that went into creating the story, the new characters, and the animation of Cars 3, as well as his collaboration with John Lassiter, we were all in awe.
I wish I could show you all the iconic images and vintage pictures of racers and their cars that make up the history of NASCAR. It was Epic!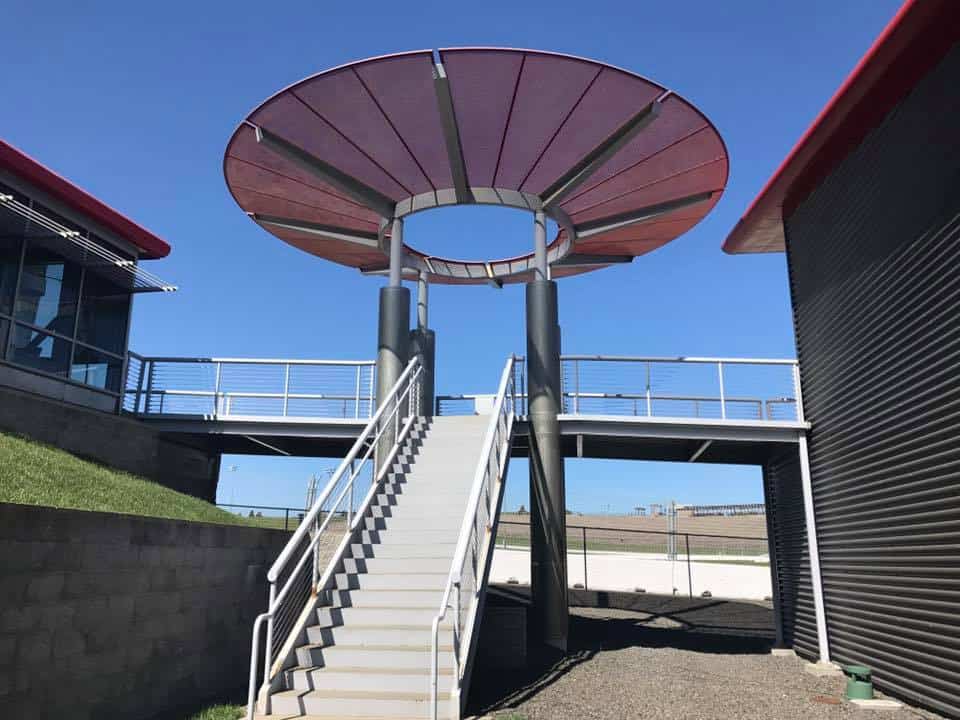 But I will share how NASCAR began:
"It actually began in what we call the 'Moonshine Days' 'Moonshiners' would make their product and they'd need to get it to the towns and cities. The easiest way to transport that stuff was by using guys who were called bootleggers, who would take stock-appearing cars and modify them. They were great at driving them at night through winding roads. They would carry that product and deliver it to the moonshiners.

They began racing against each other on the backfield until they realized, well I'm faster than you are and I can get away from the cops, and you got caught and I got away. And they began to say, 'let's see who is the faster driver!' They started to take their cars, instead of being on the road, where nobody could see them and brought them to the field so your buddy could see you beat another guy."
That's when Bill Franz decided that racing could actually be a legitimate sport. People would show up and watch these cars race! He got a lot of bootleggers and moonshiners together. He encouraged them to get organized and start an association where they could charge for doing these races, so they all could make money not just moonshining, but from racing those cars.
"So this was the birth of NASCAR, believe it or not, and they used to run the cars on the beach."
That's where Daytona comes in place. Ray explained that the track was half sand and half road, which gave the bootleggers a dangerous advantage. Now you understand the beach reference from the trailer – and you'll see more of that in Cars 3.
There was already some racing history references in the past Cars installments; however, Cars 3 introduces new characters representing real life racing legends and focuses on the legacy of the beloved sport.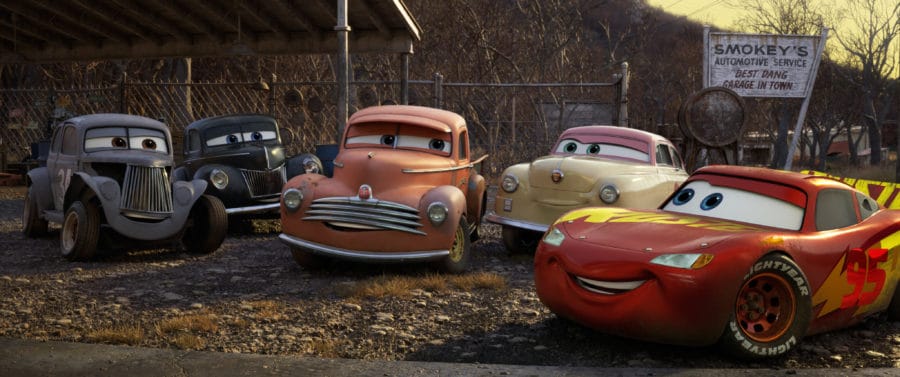 You will see Lightning McQueen come hood to hood with a group of characters who represent the roots of stock car racing—and provide a link to Lightning's late coach and mentor, Doc Hudson. From left: River Scott (voice of Isiah Whitlock Jr.), Junior "Midnight" Moon (voice of Robert Glenn "Junior" Johnson), Smokey (voice of Chris Cooper), Louise "Barnstormer" Nash (voice of Margo Martindale), and Lightning himself (voice of Owen Wilson).
Junior "Midnight" Moon was inspired by the legendary moonshiner and NASCAR driver, Junior Johnson. Junior Johnson's father was a Moonshiner and Junior became a bootlegger, who was arrested, went to prison and then came out and went on the straight and narrow to become a stockcar racer and champion driver before he transferred over to being a mechanic, became a champion crew chief and car owner. He climbed the corporate ladder and brought the first major title sponsor to NASCAR. Junior lives in North Carolina and served as a consultant for Cars 3 and voices his own character in the movie.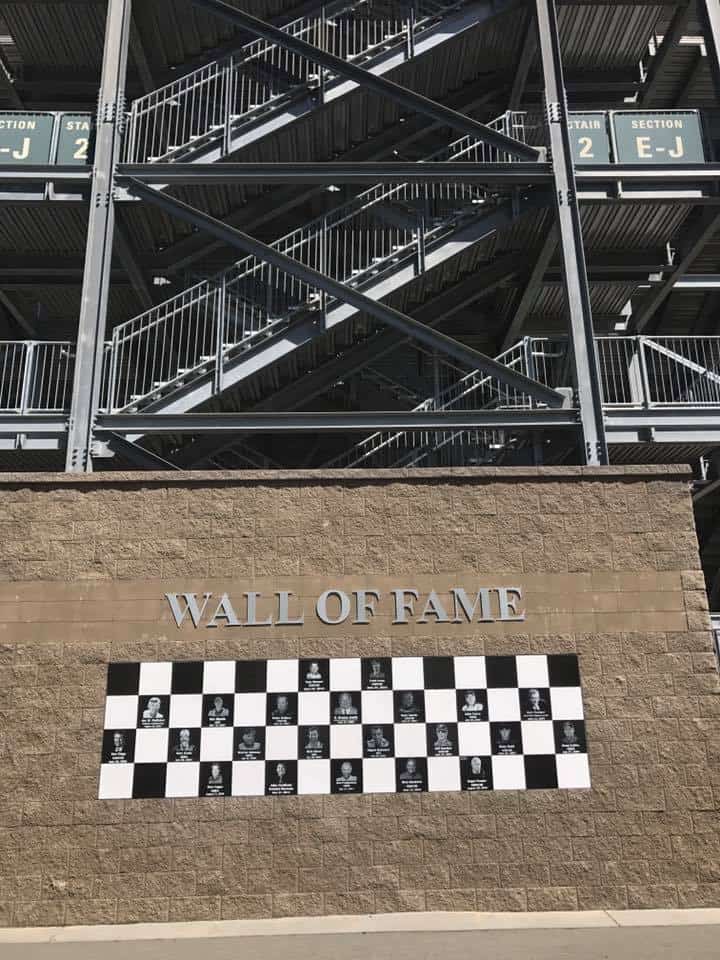 River Scott was inspired by Wendell Scott, who was the first African-American driver in NASCAR and the first African-American to win a race in the Grand National Series, NASCAR's highest level. He was inducted into the NASCAR Hall of Fame and was given all of the awards that he earned (since in the early days they would not give a trophy to "a black man"). Wendell Scott, #34, had no pit crew. "He would come down Pit Row, get out of his car, jack it up, change his own tires, put his own gas in, get in and drive….. and STILL win the race!!" said Ray with enthusiasm.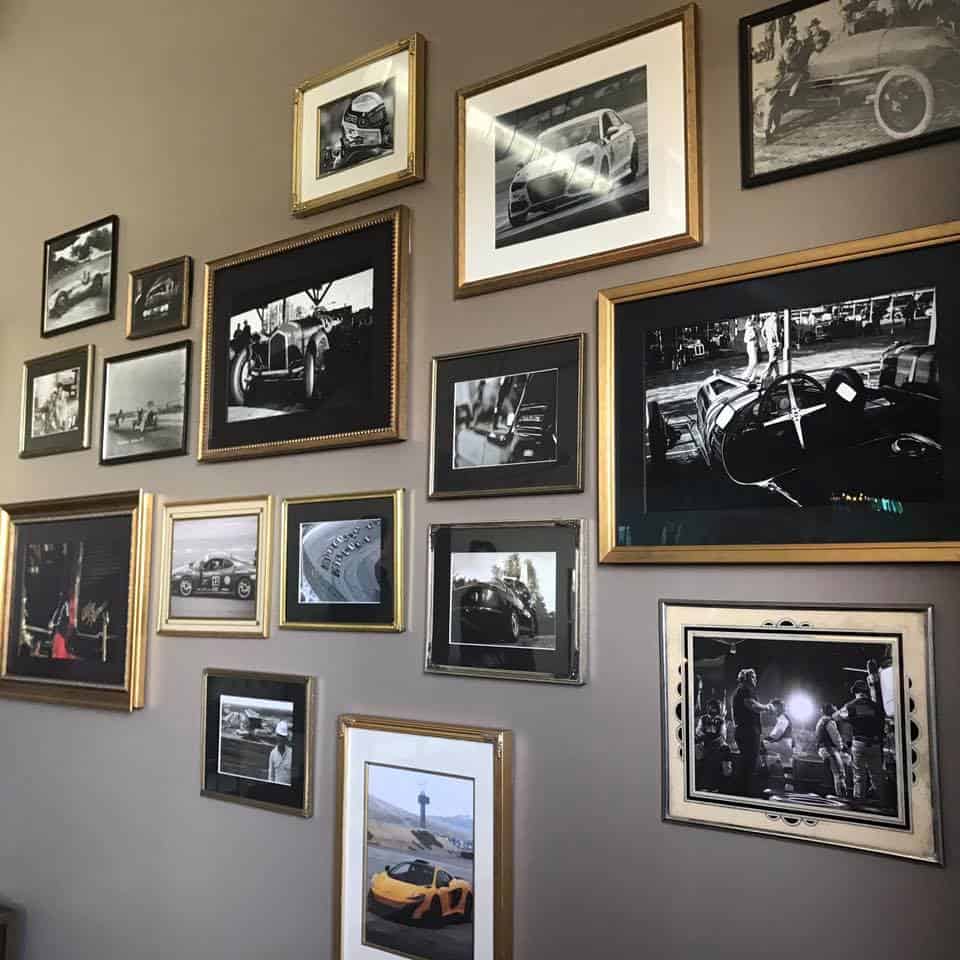 Louise"Barnstormer" Nash was inspired by Louise Smith. She won several times as NASCAR's highest level at a time when women were not allowed in the pits! She's often called "the first lady of racing" and became an inspiration to me, considering what I was about to do that day.
Smokey is inspired by Smokey Yunick, Ray's hero and mentor, who brought him a lot of wisdom and guidance, and inspired many racers. He told us how he was so honored to get to know Smokey before he passed away. One of the best mechanics in racing, Smokey was known for stretching the rules and for his colorful character. Ray confessed getting of the biggest fines in NASCAR history because of trying out one of Smokey's tricks on the tracks.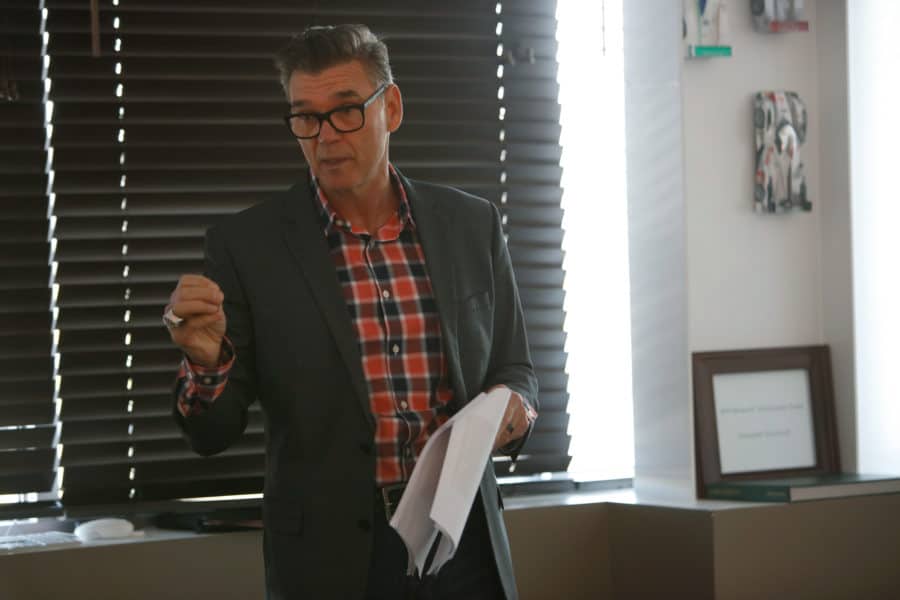 Of course, the NASCAR of today is also well represented in Cars 3, so we will see the past, the present, and maybe even what they believe to be the future of NASCAR. So exciting!
Ray expressed just how honored he is to be a part of this film:
"We're so proud to watch this, this is the DNA of our work. These legends are real people that formed NASCAR. I'm really proud of the way that Pixar has chosen to portray our history so accurately, to be so respectful of our legacy, where our heroes came from."
I even got a little teary when he said that, and referred to his humble beginnings in New Jersey.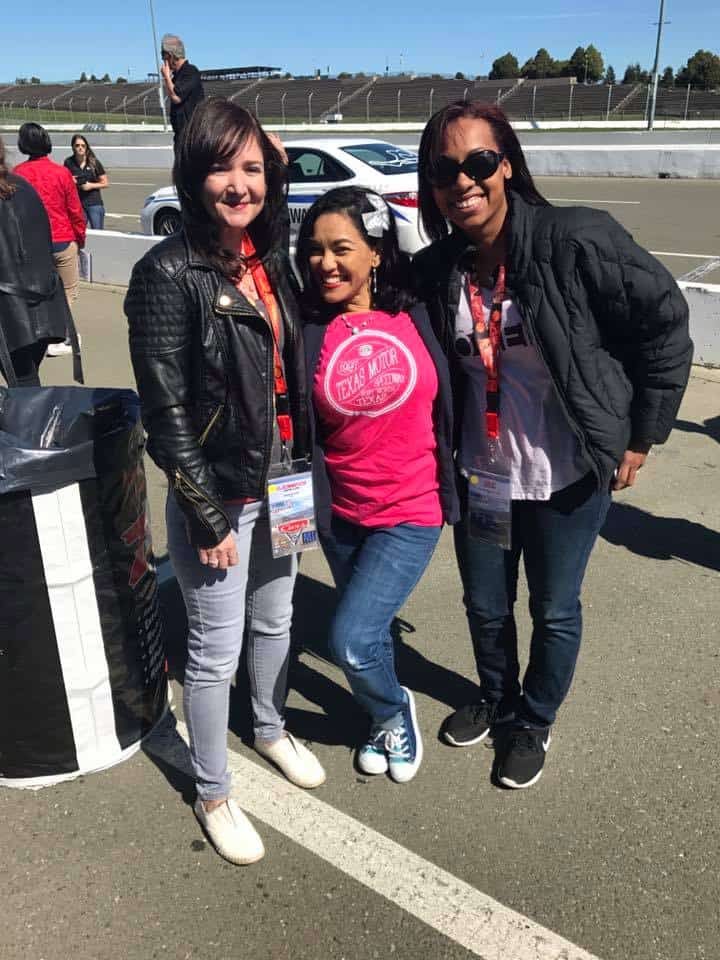 After all the learning, it was time for the moment of truth. I was teamed up with Jen and Ari, and we geared up to do "hot laps" around the Sonoma Raceway racetracks. I couldn't believe I was about to do that and I made sure I peed before I got in the racecar. Just keeping it real!
What do you think of the footage? Unbelievable, right? I actually loved it and I was so pumped after doing this.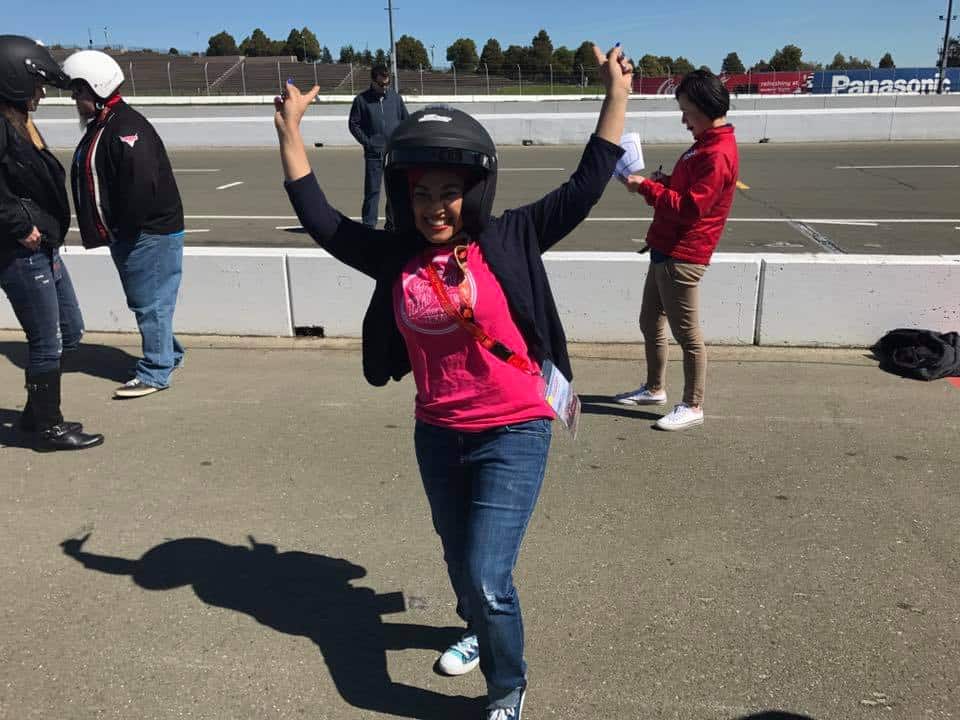 We walked through and had a Pit Stop Challenge.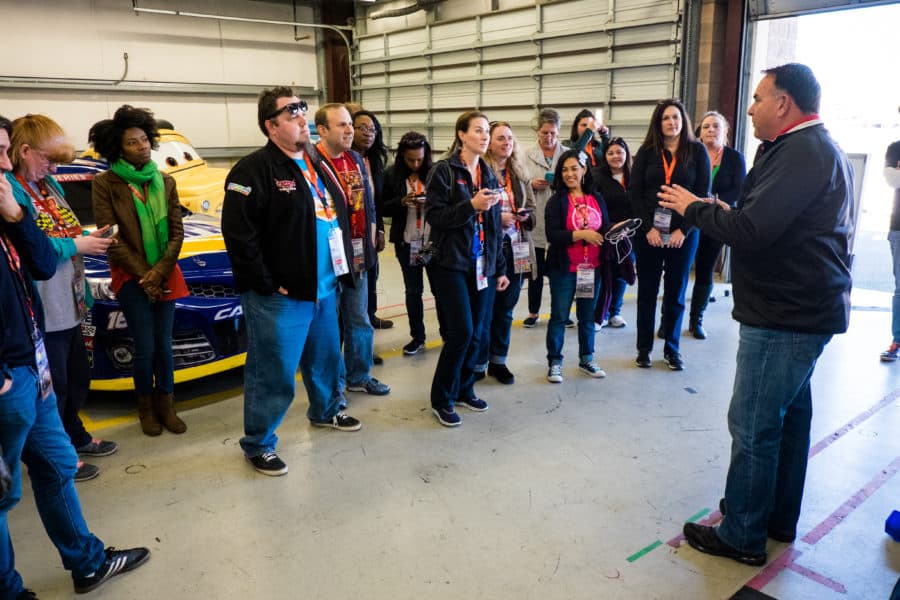 We were instructed on how to change a tire and then did it ourselves.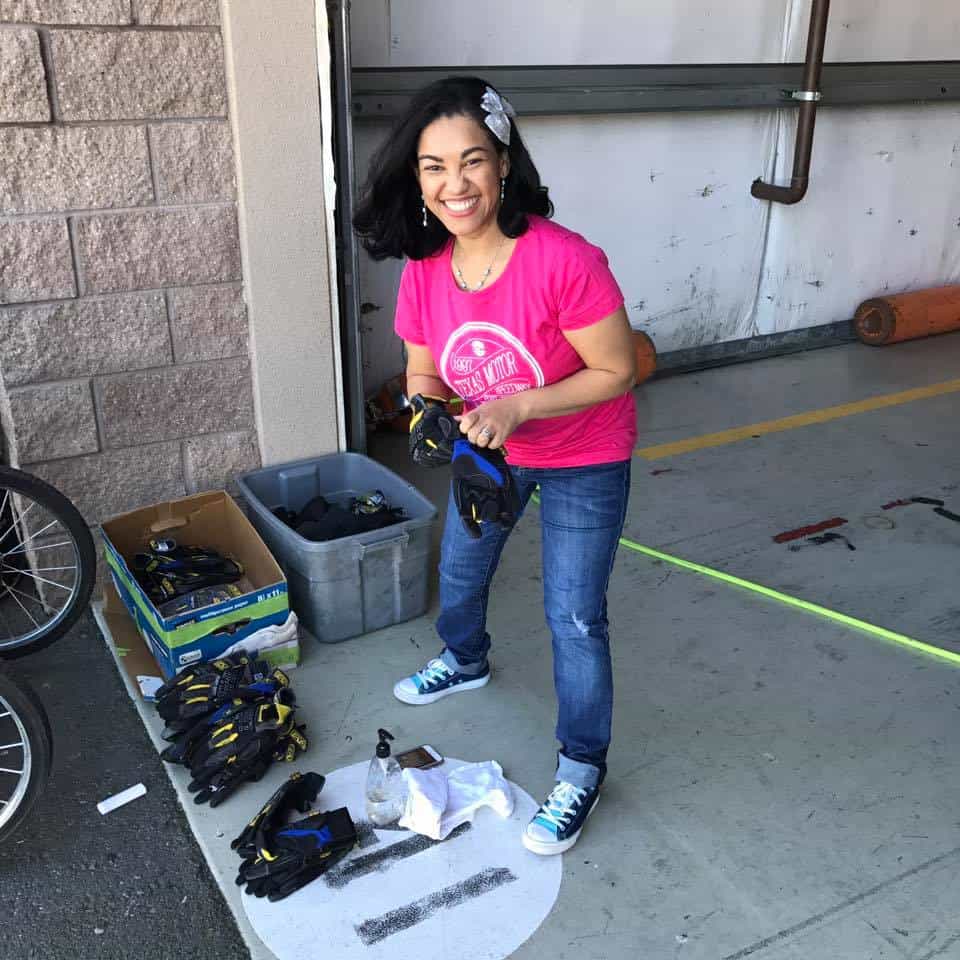 The beautiful and inspiring Laura was my buddy…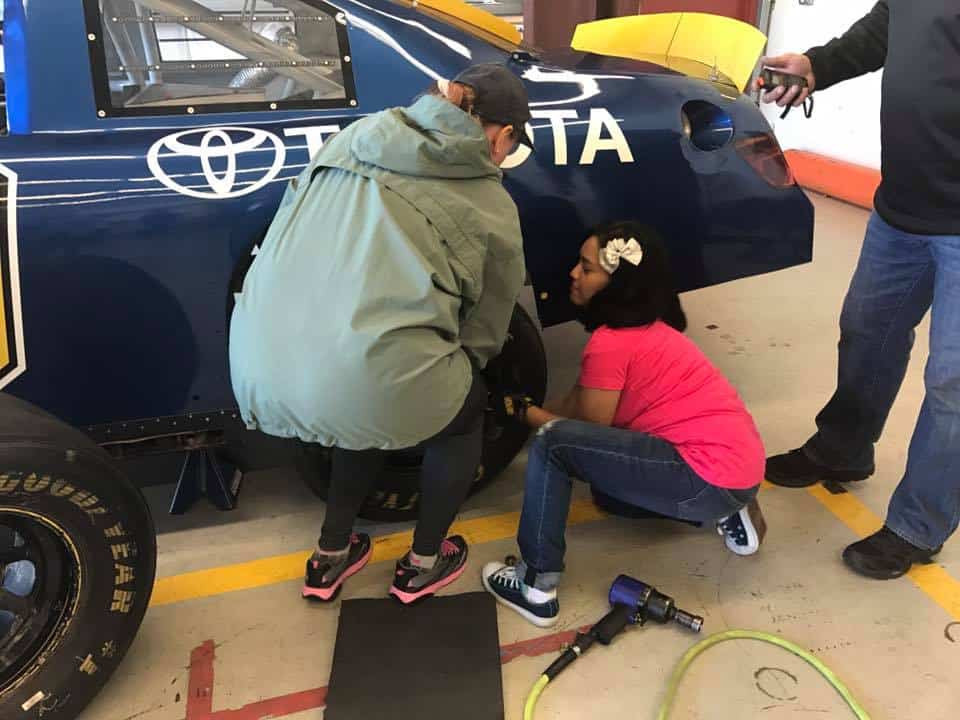 and we didn't break the record, but we were really fast. We were fearless and on fire!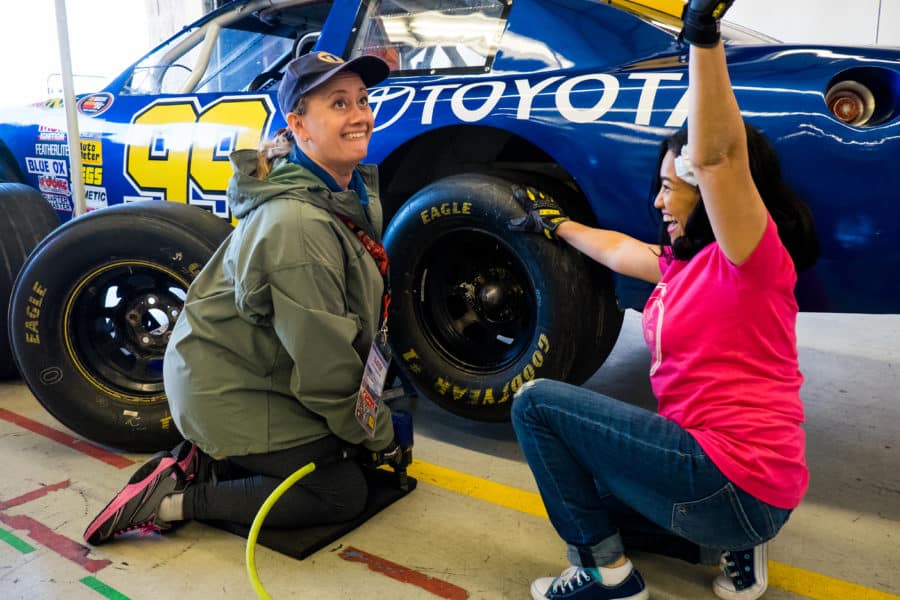 And I got a certificate that I'm hanging on my new home. Fun fact: As I was getting in the car, my husband was signing his and my life away (with a POA) and getting the keys to our new home! I have never owned a home with anyone before, so this is huge, ladies, and not just some items on my Disney bucket list.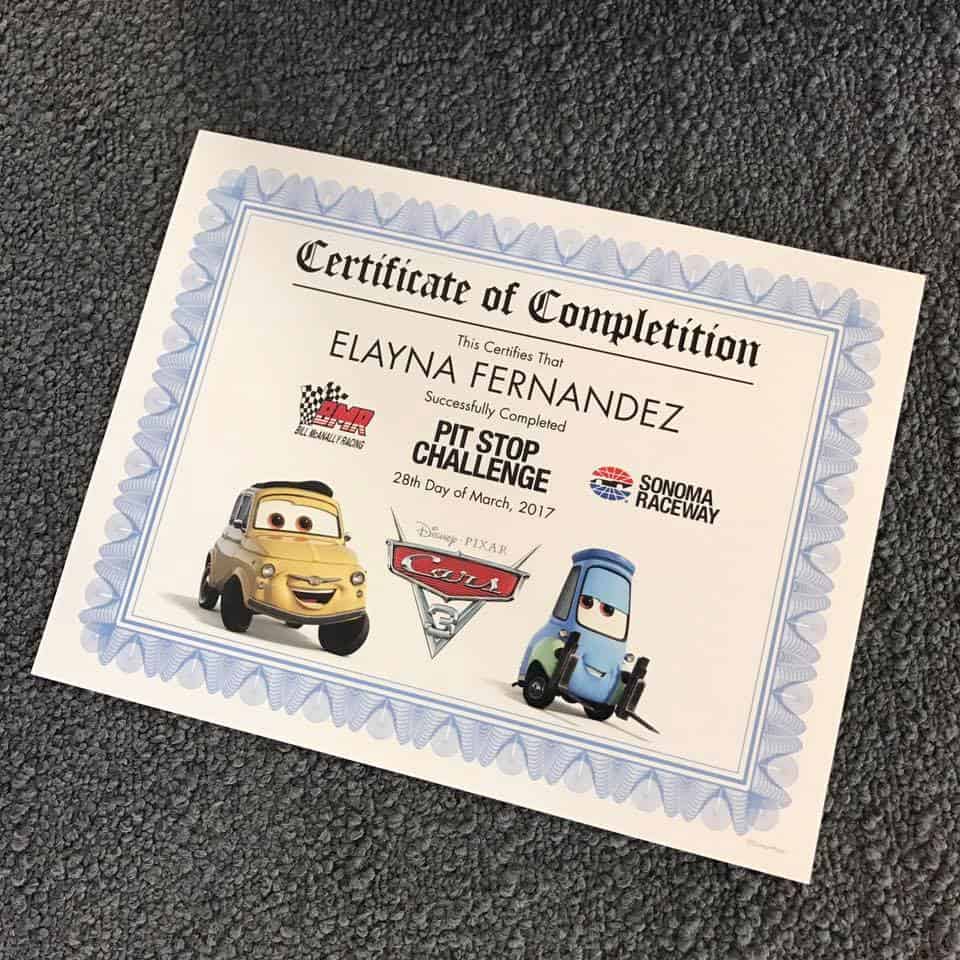 I also loved touring a car trailer…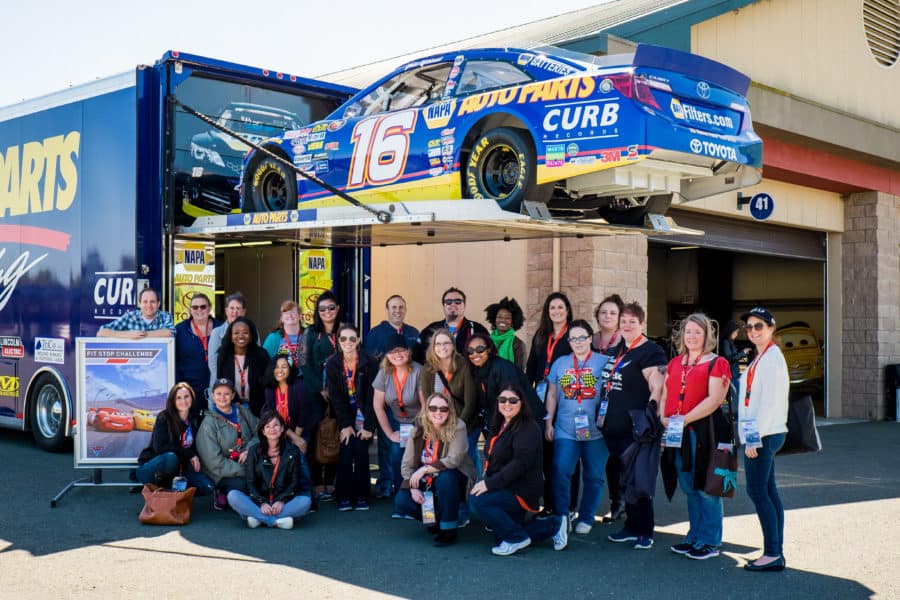 …and a Sonoma Raceway garage.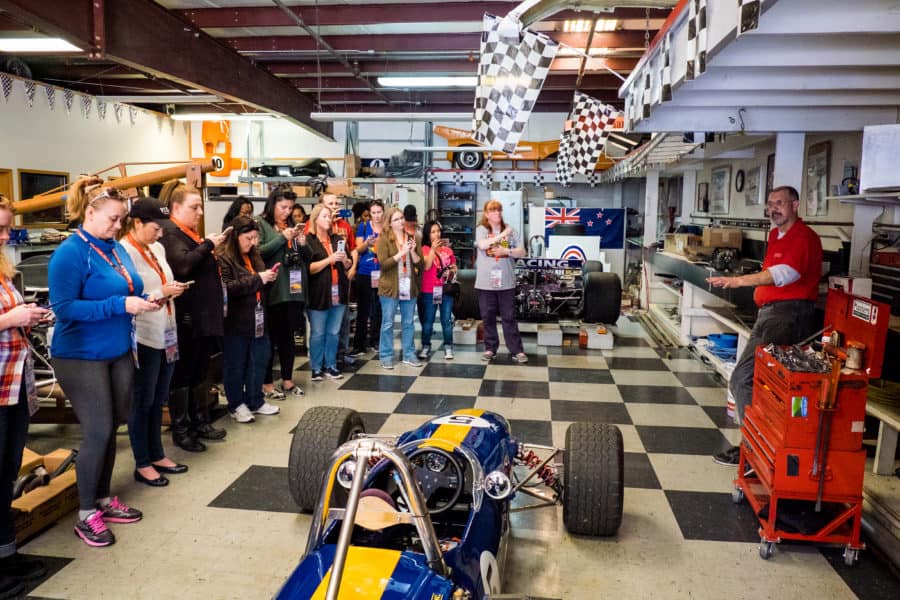 I was in awe of Tony, who has been a mechanic at the Sonoma Raceway since 1986, as learned about the love (and the long hours) that he puts into each stock car.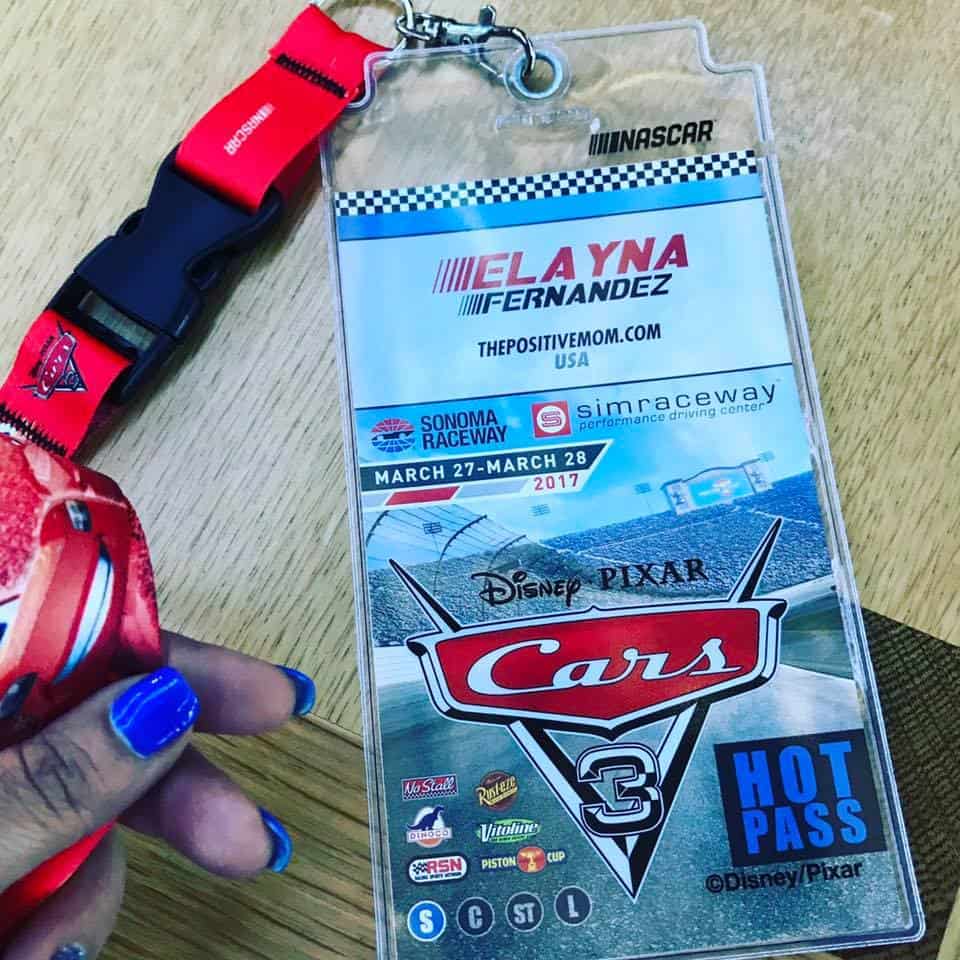 I am so glad I didn't let fear get in the way. I'm so happy I didn't say NO (although NO is my friend). I'm so excited that I decided to become fearless on the Sonoma Raceway – even if I'm not really fearless everywhere and forever.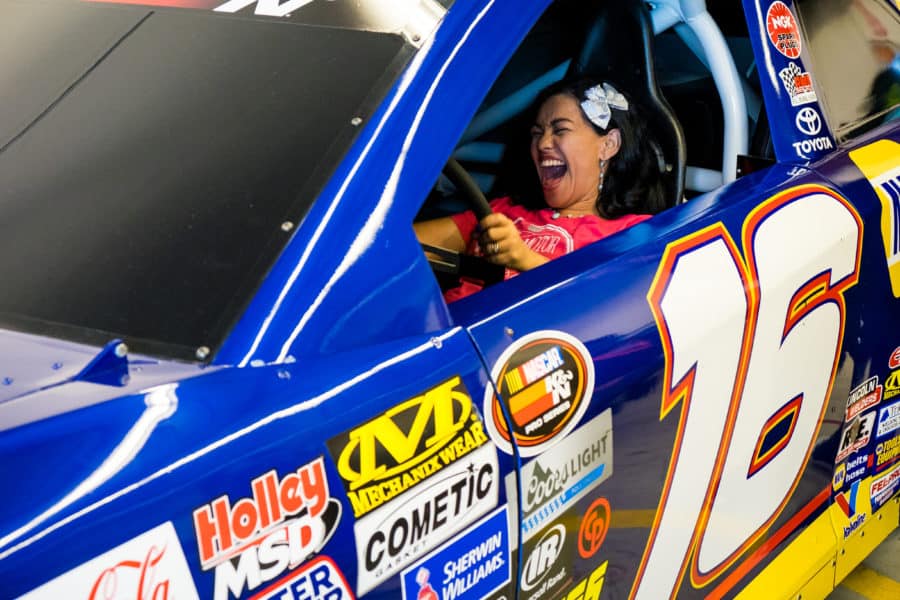 Fear is not something you just get rid of. Becoming fearless is a journey of saying YES to your dreams, to jump into adventures, to embrace the next terrifying step, even as you question your sanity.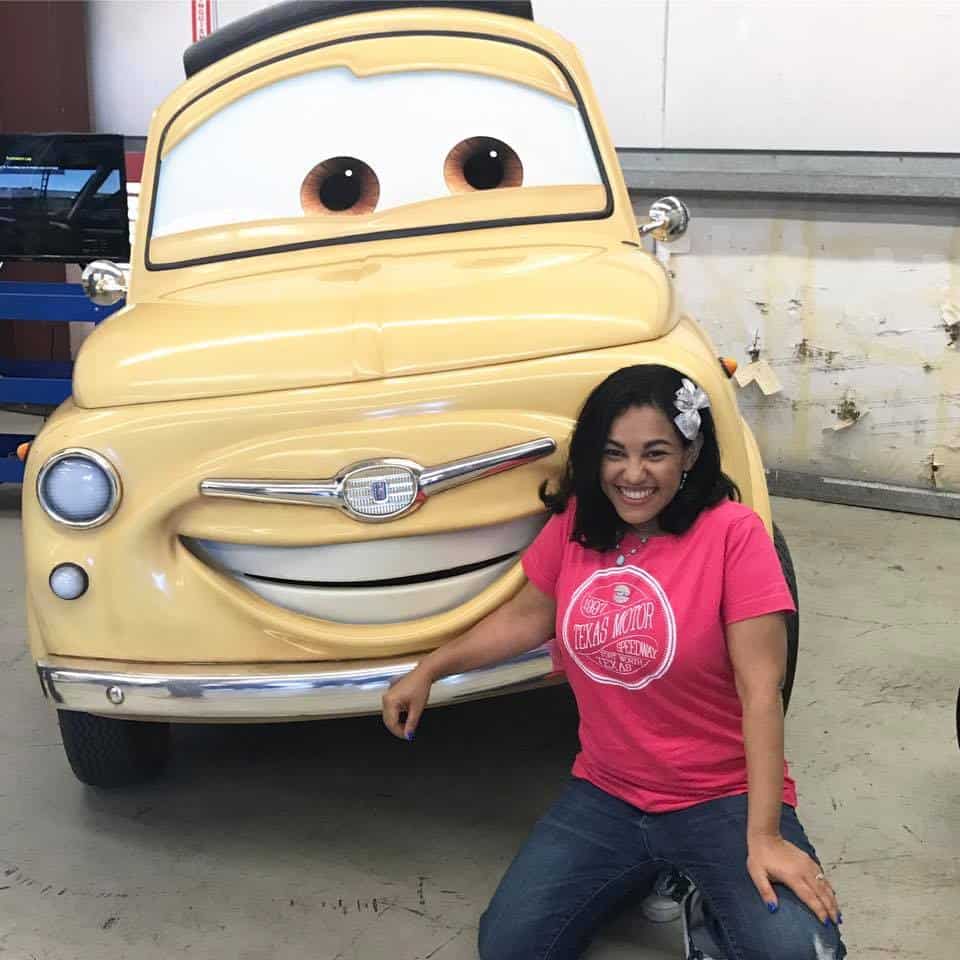 I can't wait to see Cars 3 when it opens in U.S. theaters on June 16, 2017. It will inspire us to become fearless and to follow our dreams, even when it doesn't seem like it will work out. I have a feeling that it will.
Are you excited for Cars 3? Share your most daring car experiences with us in the comments below. Maybe we can inspire each other to our next adventure!
Like and Follow CARS on Facebook, Twitter, and Instagram. You can also visit the fficial CARS 3website and follow the hashtag #Cars3Event!
My mission is to help moms find peace, break cycles, and feel whole so they can be present, peaceful, and positive moms. To receive a gift that can get you started on that journey click HERE.