Remember the DuckTales theme song?
 DuckTales…. woo-oooh! 
Well, now you won't be able to get it out of your head.  You're welcome!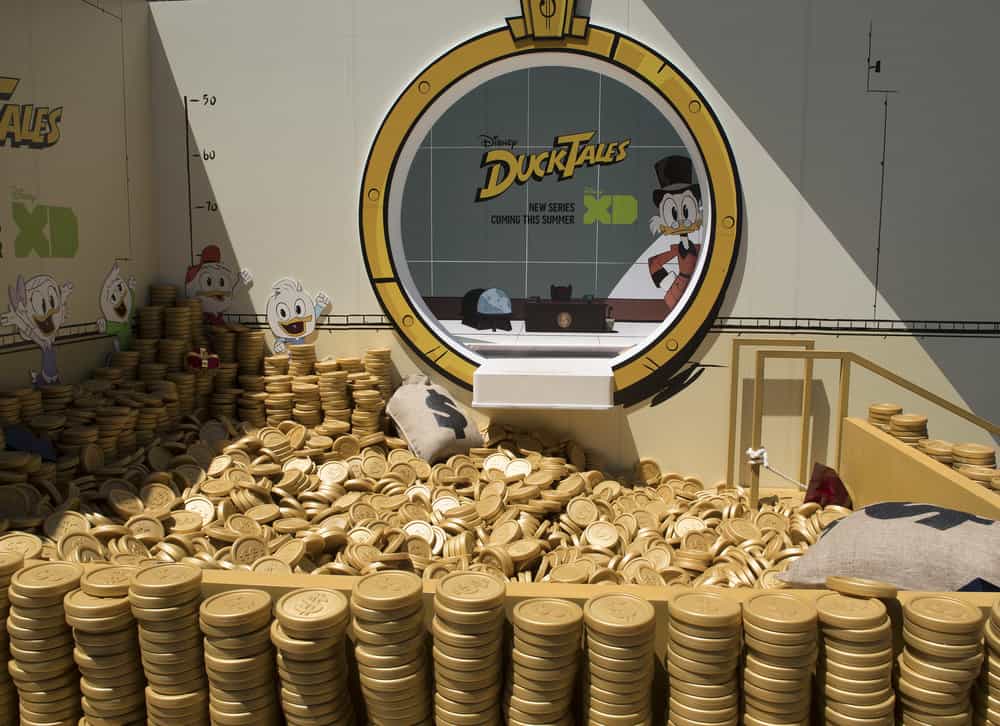 Being at D23 Expo put a new spin and literal meaning to the lyrics "life is like a hurricane." I'm still recovering from all the fun! 
One of the wonderful experiences available to D23 Expo attendees was the opportunity to jump into a giant money pit, in honor of our beloved Scrooge McDuck, and get a 180-degree video.
If you're a DuckTales fan, you probably always dreamed of swimming in money, like I did, but never thought you'd actually get to. I was excited to experience the Scrooge McDuck money pit because I think we must take every opportunity we can to make our inner child happy. And even more so when you get to skip all the lines!
It was a great experience and I enjoyed doing it. I also enjoyed watching my friends do it, too. I think we all felt a bit nervous about it because excitement can disguise itself as fear.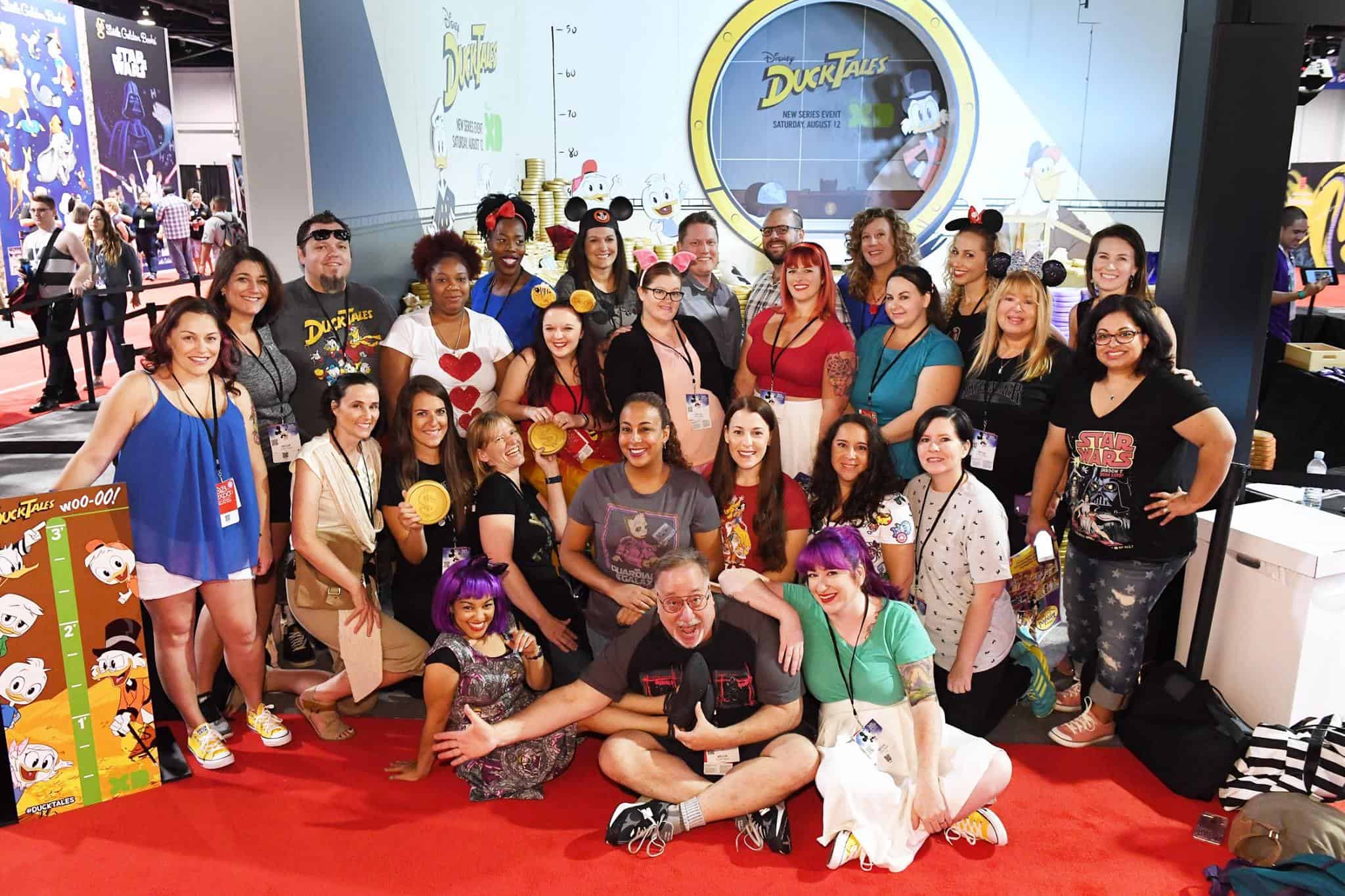 The original DuckTales aired from 1987 to 1990, and I used to watch it in Spanish at my friend's house because we didn't get Disney shows and we had a black and white TV. I really enjoyed the mischief the triplet grandnephews would make and I felt like one of them with my hyperactive imagination.  
In case you haven't heard it, DuckTales is getting a revival and it's coming to Disney XD. If you are new to DuckTales, it is set in the city of Duckburg, where temperamental Donald Duck and his famous trillionaire great-uncle, Scrooge McDuck embark on exciting and mysterious adventures along with triplets Huey, Dewey, and Louie.
The reboot of DuckTales will premiere with a one-hour TV movie on Saturday, August 12. The DuckTales movie will air for 24 consecutive hours, starting at midnight Saturday, Aug. 12. Then, the series will debut with two new episodes Saturday, Sept 23 (airing at 7 a.m., 11 a.m., 2 p.m., 5 p.m., 8 p.m. and 10:30 p.m.). Each will also be available on the Disney XD app and Disney XD VOD on those same dates.
Besides the VIP jump into the pit of gold coins, I also had the honor to interview Executive Producer Matt Youngberg and Co-Producer/Story Editor Francisco Angones. They are super nice, really passionate about DuckTales, and absolutely committed to the authenticity of the original, while exploring modern twists to stay relevant to kids today. 
I can attest to that. While at D23 Expo, I had a chance to screen the first half of the hourlong premiere episode and I was quite impressed. The exclusive footage was shown to the 25 Top Disney Blogger group I was a part of, and the laughs and reactions were similar across the room. So if you loved the DuckTales growing up, you are going to love sharing it with the kids in your life!
In our Q&A with the DuckTales producers, we chatted about the incredible voice cast, which includes David Tennant (Doctor Who) as Scrooge McDuck, Danny Pudi (Community) as Huey, Ben Schwartz (Parks and Recreation) as Dewey, Bobby Moynihan (Saturday Night Live) as Louie, Kate Micucci (Garfunkel and Oates) as Mrs. Beakley's fierce granddaughter and resident adventurer Webby Vanderquack, Beck Bennett (Saturday Night Live) as big-hearted, fearless chauffer/pilot Launchpad McQuack, Toks Olagundoye (Castle) as no-nonsense housekeeper Mrs. Beakley and Tony Anselmo (Mickey Mouse) as Donald Duck.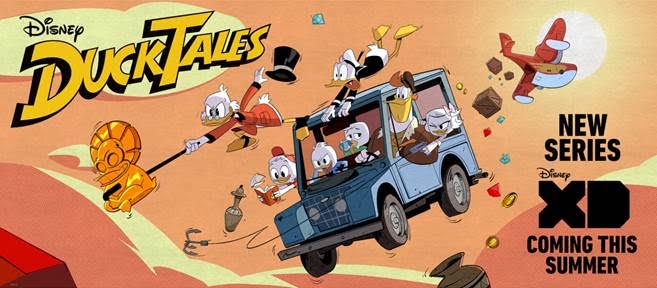 Of course, the one voice role I am most excited about is Lin-Manuel Miranda's. I love Lin-Manuel and it's not a secret that he is an orgullo Latino (Latino pride). Lin-Manuel will play Gizmoduck, beloved intern and Duckburg hero and guard for the iconic Money Bin.
Frank Angones confessed that he wrote this character with Lin-Manuel Miranda in mind. As a Cuban-American comics enthusiast, he always dreamed of having a Latino hero to call his own and young scientist turned hero Fenton Crackshell-Cabrera was his chance. He has always been a fan of Lin-Manuel's since In The Heights, and with Lin-Manuel's success with Disney's Moana and Hamilton, Angones felt it would be a shot in the dark.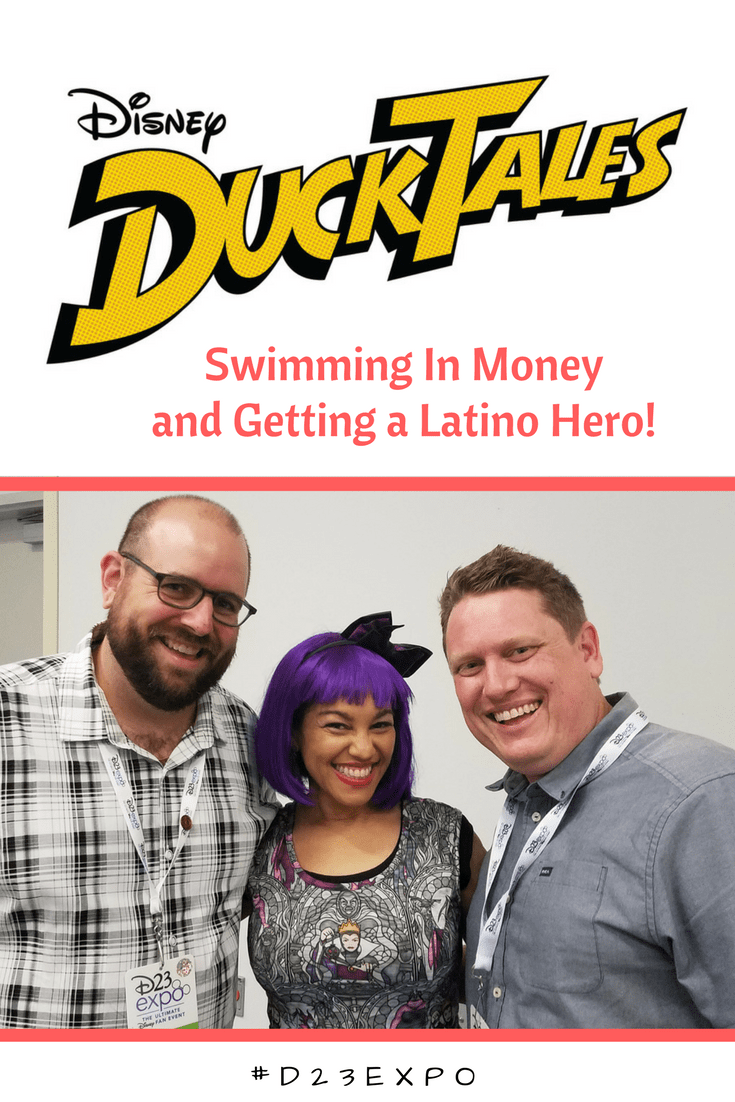 But he persevered. He wrote a heartfelt letter for Lin-Manuel Miranda, which took him hours to write, and with the blessing of Producer Matt Youngberg, the letter was mailed along with a script! 
He was so excited to tell us Lin-Manuel Miranda was a YES and that we are having a Latino Hero – NOT a sidekick. I totally get it. Representation is something that matters to us minorities.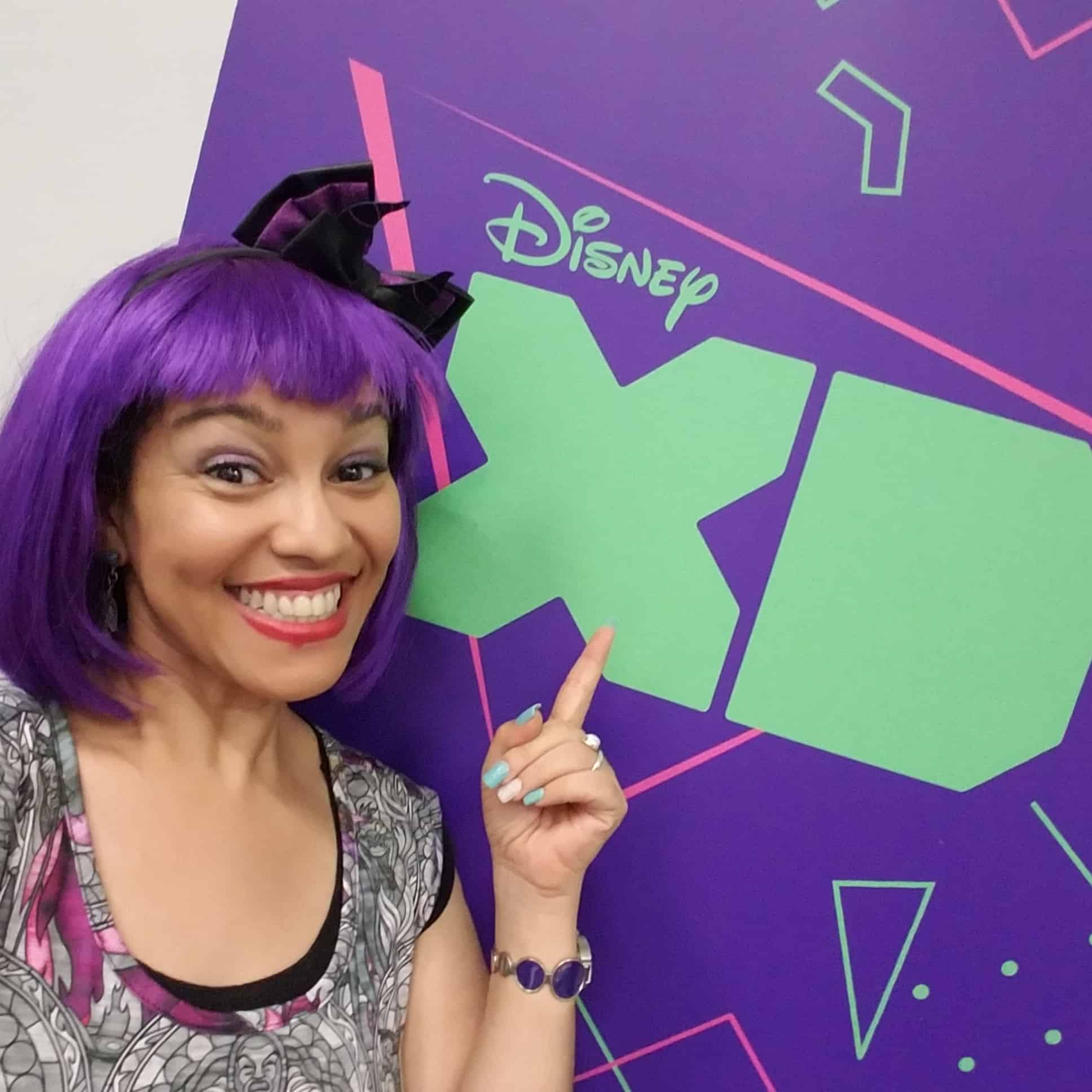 And speaking of that, the Emmy Award-winning family comedy-adventure  series was always amazing, but there's more girl empowerment in DuckTales this time around. You'll see what I mean!
The Disney XD App has a 'DuckTales: All Ducked Out' app that allows you to turn yourself into a Duckburg resident, so here's my empowered look after swimming in money at the D23 Expo in Anaheim, California.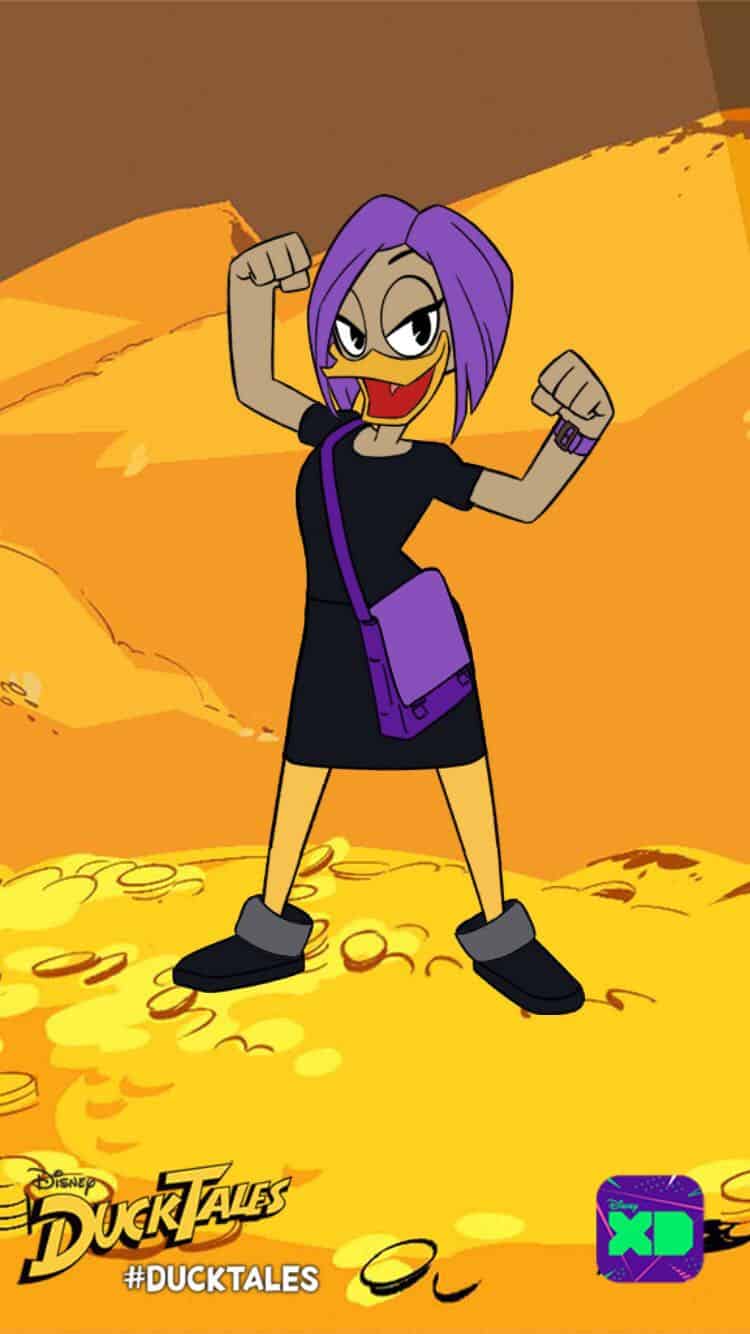 So make sure to tune in on Saturday, August 12! Season 1 will consist of 21 half-hour episodes and two one-hour specials, so you can be delighted with this Disney Television Animation, with the touch of art director Sean Jimenez. 
I'll be sharing more details about my interview with Matt and Frank, so stay tuned, and make sure you save the date.
What's your favorite DuckTales memory?  Stay tuned for all things #DuckTales and follow @DisneyChannelPR for up-to-date news on #DuckTales. Like Disney XD on Facebook  and follow @DisneyXD on Twitter and Instagram. 
Other D23 Expo Recaps and Updates: 
Join me at D23 – The Ultimate Disney Fan Event!
Pixar and Walt Disney Animation Studios Film Announcements
Disney, Marvel Studios & Lucasfilm Live Action Movie Announcements
Upcoming Walt Disney Parks and Resorts Attractions and Experiences

© Elayna Fernández ~ The Positive MOM
Images courtesy of Disney