A few weeks ago, I was invited to D23 Expo, The Ultimate Disney Fan Event! I was organizing my closet and I screamed so hard the girls came running down the stairs, with the certainty that amazing news would be shared!
What is it, mom?
Tell us!
Hurry!!!
They had to guess. I like to play these "guessing" games to get them thinking! They ask questions in the form of categories. Elisha guessed on the third try and we all screamed and jumped together! I always say I would have liked to have a son, but these moments are so much more special when you have daughters.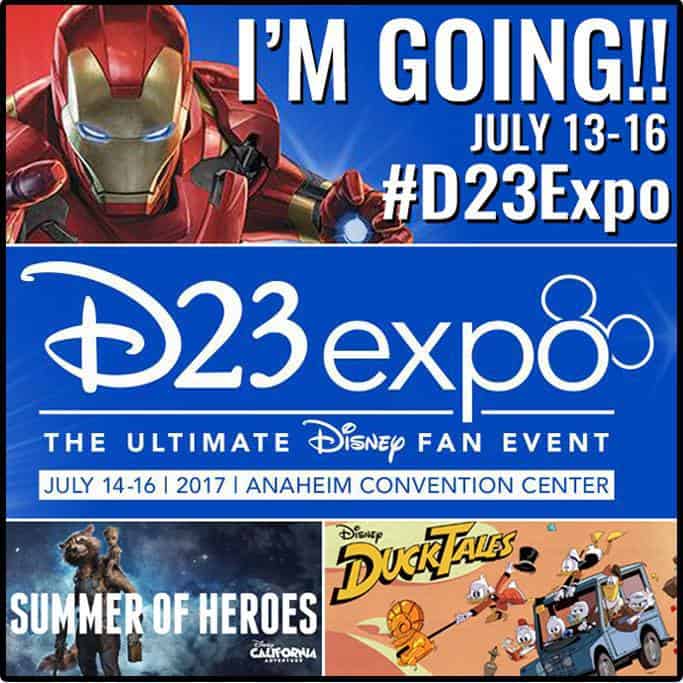 I announced it right away on social media and have been sharing my excitement to everyone. I mean, it's D23 Expo! That is a big deal and a whole lot of pixie dust! And as I pack and plan, I think to myself "this is what it means to live your dream!" I am in awe of what is about to happen… what I will share with you.
D23 Expo!!! The D stands for Disney and the 23 is for 1923 – the year Walt Disney and Roy Disney founded the Disney Company. Disney23 is also the name of the official Disney fan club. The convention happens every two years and tickets sell out pretty quickly. There are different memberships you can choose from, and tickets are discounted for kids. Your little ones under 3 attend free! Media spots are really hard to grab, as well, because they are so coveted!
Disney invited 25 of their top (and most energetic) bloggers for three packed days of presentations, pavilions, experiences, concerts, sneak peeks, shopping, and more. The event provides fans with unprecedented access to all the magic Disney has to offer. I'll be covering this event as media with 24 amazing influencers, all Disney obsessed like me, and all excited to cross this item off our individual Disney bucket lists. I'm one of the 25!!!
And to celebrate the spirit of D23Expo, we followed the tradition of those before us, and got into character for our announcement pictures "D23 Expo or Bust!" You must check out this D23Expo 2017 Facebook Album to see the wonderful photos and to get to know my Disney blogger friends because we will be sharing all the exclusive news with you using #D23Expo. I can't physically bring you with me, but you can join me as I share live updates!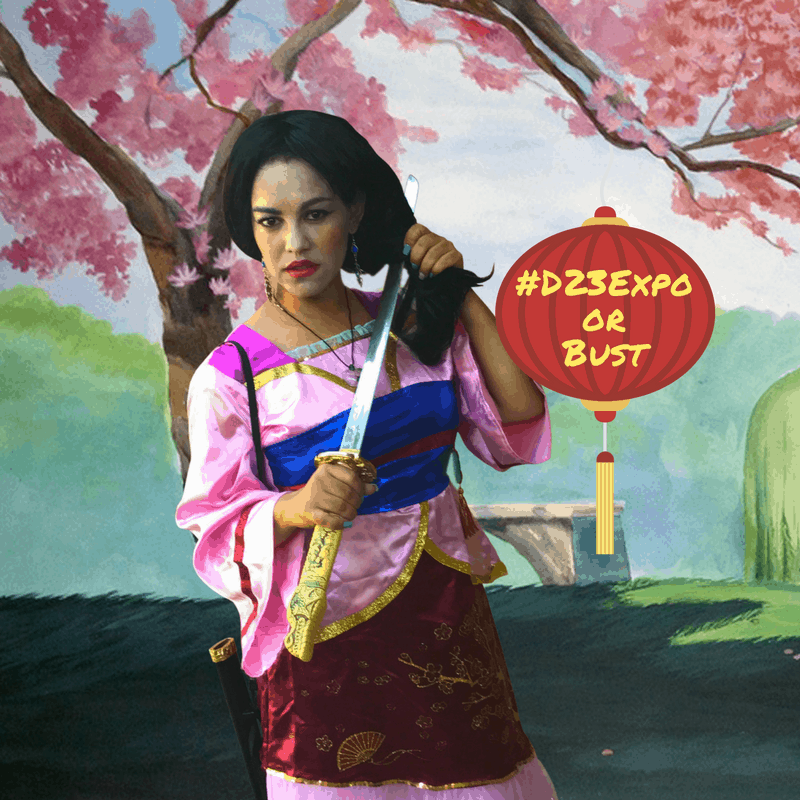 I'm sure you're not surprised I chose to channel my inner Mulan, because 2017 has been the year of embracing the warrior in me. Which Disney character would you be?
D23Expo is considered the ultimate Disney fan event because it provides Disney lovers with everything that encompasses the world of all Disney theme parks, Disney films, Disney animation, Disney music, Disney merchandise, Disney television shows, Disney celebrities and more, all under one roof: the Anaheim Convention Center. D23Expo is like a Comic Con for Disney nerds, like me!
I'll be boarding my plane to LAX on Thursday. D23 Expo will take place in Anaheim, California, July 14th to the 16th. I am packing some cute outfits so I can Disneybound while at D23 expo, and I got a cute StarWars backpack to have everything handy for the event.
I reviewed my itinerary and my mind is already blown, but I know it will be more epic than I imagine.

As part of attending D23 Expo, I will join Disney XD for a special sneak peek of the upcoming animated series "DuckTales," followed by a Q&A with executive producer Matt Youngberg and co-producer and story editor Francisco Angones, plus the priceless opportunity to dive into the one-and-only Scrooge McDuck's Money Bin! Who would have said that just a few years after learning how to swim, I'd be actually swimming in money?
I have never watched DuckTales in English before, so I'm excited to watch it with my daughters and experience it like the first time. I have so many questions for the filmmakers and I'm so excited about this treat!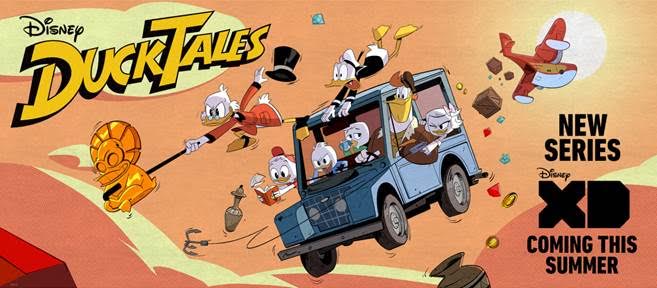 Based on the Emmy Award-winning series treasured by a generation of viewers, the new animated comedy-adventure series chronicles the high-flying adventures of Duckburg's most famous trillionaire Scrooge McDuck, his mischief-making triplet grandnephews, Huey, Dewey and Louie, temperamental nephew Donald Duck and the trusted McDuck Manor team: big-hearted, fearless chauffer/pilot Launchpad McQuack, no-nonsense, housekeeper Mrs. Beakley, and Mrs. Beakley's granddaughter, Webby Vanderquack, resident adventurer and the triplet's newfound fierce friend.
And of course, how could I go to Anaheim and not go to Disneyland? Luckily, Disney is treating us to spend 2 nights at Disneyland and Disney California Adventure park to experience the "Summer of Heroes!"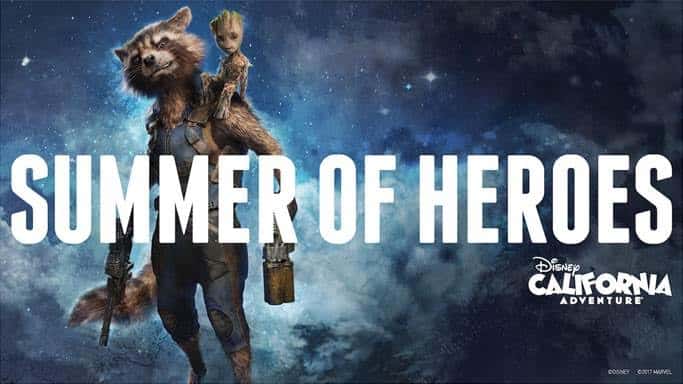 Disney California Adventure park is officially the destination for adventure, intrigue and triumph as recruits from around the world – like you – join forces with legendary Super Heroes in an ever-expanding universe of stories that will grow even bigger over time including the thrilling, rocking attraction, Guardians of the Galaxy – Mission: BREAKOUT!
I will be listening to my gut for an answer about whether or not I'll be riding it, but now that I've been taking steps to become fearless, I am definitely open to it. Stay tuned for that!

One of the exclusive events at D23 Expo I am most excited about include the Disney Legends Awards Ceremony, hosted by Disney Chairman and CEO Bob Iger, whom I met when I attended the Beauty and the Beast screening at Walt Disney Studios. The list of honorees include Oprah Winfrey, Mark Hamill, Stan Lee, Julie Taymor, and other remarkable contributors to the Disney legacy. Did I mention Oprah?!
When I found out that Carrie Fisher would be honored, I made sure to pack some tissues and to plan on not wearing mascara that day. I want to honor my feelings and without looking like a raccoon. LOL
Another incredible event I get to attend is the Pixar and Walt Disney Animation Studios panel hosted by John Lasseter announcing upcoming films. I visited Pixar at the end of March and I'm excited to watch never-before-seen footage from Pixar's upcoming feature COCO (ay ay ay) and Walt Disney Animation's RALPH BREAKS THE INTERNET: WRECK-IT RALPH 2. We've been told to prepare for surprise announcements, musical performances, and appearances by star voice talent. YAY!
Another presentation you will love hearing about is the Disney, Marvel Studios & Lucasfilm – Live Action at The Walt Disney Studios panel. Besides watching never-before-seen footage, and experiencing surprise star appearances, we will get a behind-the-scenes glimpse at an exciting array of spectacular films on the horizon from these world-class studios.
Of course, you know I already have my media access for the Walt Disney Parks and Resorts panel! Chairman Bob Chapek will take the stage during this presentation to share what's new and what's next at Disney Parks and Resorts around the globe!
We will also gain exclusive access to the Walt Disney Archives exhibit "A Pirates Life For Me" on the D23 EXPO show floor, experience a celebration of THE LION KING, The Legacy Collection Robin Hood, and the A Whole New World of Alan Menken concert.
Is D23 Expo one of your bucket list items? For more D23 EXPO news and announcements visit D23.com and you can learn more about the the D23 EXPO here. Follow @DisneyD23 on Twitter, Facebook, Pinterest, Instagram, and YouTube. And, of course, be sure to follow our D23 Expo adventure using #D23Expo #DuckTales #SummerofHeroes #Disneyland and #TheLionKing.
UPDATE – Here are posts from my D23 Expo experience:
Pixar and Walt Disney Animation Studios Film Announcements
Disney, Marvel Studios & Lucasfilm Live Action Movie Announcements
Upcoming Walt Disney Parks and Resorts Attractions and Experiences
What to Expect at D23 Expo: The Ultimate Disney Fan Event
D23 Expo Recap: My Exclusive Interview with the DuckTales Producers
D23 Expo Recap: Fun Facts and Surprises From THE LION KING Panel
D23 Expo Recap: Meeting Mantis & Nebula
Finding Your Place In The Galaxy
The Most Powerful Life Lessons From The Lion King


My mission is to help moms find peace, break cycles, and feel whole so they can be present, peaceful, and positive moms. To receive a gift that can get you started on that journey click HERE.