I had a difficult week and needed to decompress and take my mind off things. Thankfully, it was El Dia de los Reyes, a day to relax and enjoy time with the family, and watch the release of Netflix original series One Day at a Time, which is now streaming.
I have never binge-watched anything before, but once you watch one episode of One Day at a Time, you won't want to stop. My whole family and I watched all 13 episodes and are looking forward to more. At times, it felt as if I was watching my life story, my family story, on the screen. If you are a Latina mom, you're going to relate to so much, and if you're not of Hispanic descent, you're going to understand your Latina friends and acquaintances a little bit more.
I laughed, cried, sang, danced, and got worked up. It is the best series I've watched in quite a long time. One Day at a Time is the perfect family comedy for the new year!
This new Netflix show comes from legendary producer Norman Lear, known for his hit-TV shows Sanford and Son, All in the Family, The Jefferson, as well as the original One Day at a Time (1975). I remember watching dubbed reruns of some of these shows with my dad when we were finally able to afford a 12-inch black and white TV. I loved watching my dad laugh and learned many life lessons from candid way in which family relationships were portrayed.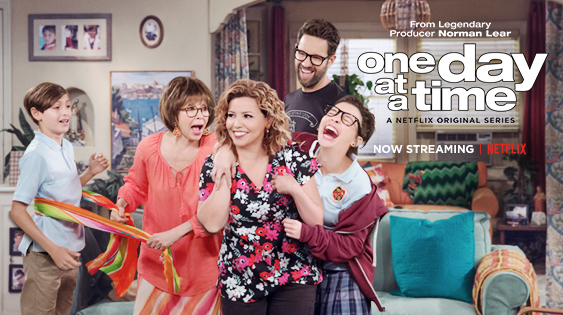 Netflix's
One Day at a Time
is produced by Lear, Mike Royce, Gloria Calderón Kellett, and Michael Garcia.
This new take on the original show follows a Latino-American family, the Alvarez Family, and their cross-generational experiences. The series, a multi-camera comedy, will follow three generations of the same Cuban-American family living in the same house: a nurse, and newly divorced Afghanistan war veteran mother, her feminist teenage daughter, slick tween son (Marcel Ruiz), and her old-school mother, played by the lovely Rita Moreno, of whom I've been a huge fan for many years, one of the first actresses to win Emmy, Grammy, Oscar, and Tony awards!
Besides the obvious "que funny!" element, I am a big fan of the show because of the many that social issues that addresses: racism, sexism, religion, immigration, veteran's rights, LGBT issues, domestic violence, unequal pay, pornography, substance abuse, gambling, clinical depression, sex talk, and more. These deep topics just come up in life situations and the characters offer different perspectives that often cause disagreements, arguments, and tears, but always end in a heightened sense of empathy, love, and support.
Just like Penelope (Justina Machado) I know what it's like to deal a post-war husband struggling with anger and addictions, to then become a single mom balancing the demands of raising two headstrong kids, a job, and the effects of sleep deprivation and neglecting both my physical and mental health.
I can also relate to Lydia (Rita Moreno), who is sometimes seen as old-fashioned because she clings to her roots and traditions of her culture, her language, and her music. Like most Hispanic grandmas, she takes care of the grandkids, cooks delicious homemade meals, and does the house chores. She's also a devout Catholic, which my grandma was.
My children are first-generation American and my husband is Oregon-born, raised in Texas, so we have quite an interesting dynamic under our roof.
My husband laughed so hard about the realistic way the quirkiness of Hispanic women was portrayed: like having air conditioner but not turning it on, speaking Spanglish with melodramatic gesturing, or singing loud and passionately in the car when your favorite jam comes on. But there are many beliefs that are taught in our culture that disempowering for women, and are also addressed:
"therapy is for the weak"
"I'd rather die than not be seeing as a woman"
"we don't divorce, we die"
My two confident and empowered teenage girls really enjoyed Elena's character (Isabella Gomez). Much like them, she's brilliant, a vegetarian, a feminist, and an environmental activist. Her struggles are quite different than your typical quinceañera. I really want to tell you more, but I want to keep it spoiler-free!
It's hard for me to pick a favorite episode, because each is so wonderful and unique, leading to the both heartbreaking and heartwarming season finale. So here's a list:
"This is it" | "Bobos and Mamitas" | "No Mass" | "A Snowman's Tale" | "Strays" | "The Death of Mrs. Resnick" | "Hold, Please" | "One Lie at a Time" | "Viva Cuba" | "Sex Talk" | "Pride and Prejudice" | "Hurricane Victor" | "Quinces"
I'll choose a favorite quote, though:
"Life is tough and when you get an opportunity to celebrate you take it, and you take photos!"  I love this – guess who said it?
I absolutely love One Day at a Time and I highly recommend it. It is an entertaining sitcom, a great tool to start conversations with your kids that can empower, teach, and heal, and communicates the conscious message that life can be messy, painful, and chaotic, but we must take it as it comes, one day at a time.
Do you watch Netflix? This is it! The 13-episode first season of One Day at a Time, is a joy to watch, and it is currently available to stream on Netflix. Share your favorite episode or scene below and on social using #JointheFamilia and #ODAAT.

© Elayna Fernández ~ The Positive MOM