Don't you sometimes wish each child came with his or her very own manual? You know, you find out you're pregnant, and with the news, someone waves a magic wand that bestows upon you the knowledge of what is to come, the wisdom of how to deal with it, and the strength to endure it. Not so. You're clueless all along the way. No manual, no training, no "heads up," only overwhelming stress, mommy guilt, and a whirlwind of emotions.
When they say, "Parenting is the toughest job", it's the truth. As parents, we have so many tough decisions we have to make on a daily basis, and with motherhood comes so much judgment and shaming, to top it off.
This morning I was chatting with my dad about the day events and he couldn't believe my conversation with my 3-year-old daughter:
– "Mama, do you love me when I'm obedient and don't love me when I'm not obedient?," she asked in a very concerned tone.
– "I love you when you are obedient. I love you when you are not obedient. I love you always – and forever." I answered calmly in lovingly, partly shocked, partly proud, and partly freaked out.
I hugged her, thinking, "what a cool moment we just had!" But the moment was far from over.
– "Mama, do you love me when I respect and don't love me when I don't respect?," she inquired.
– "My Little Pigeon, of course I love you, both when you are not respectful and when you are. I love you no matter what you do or say. I love you always." I said in the most loving and accepting way I could.
Her puzzled stare prompted me to continue and explain:
– "When you're not obedient, I am sad, because I know the choices you are making are going to make you sad. When you are disrespectful, I'm concerned, because your life will be difficult if you don't learn respect, but I love you either way."
She finally seemed satisfied with my answer, gave me a big giddy smile and a tight hug. She just turned three! We're wondering "where did she get that?"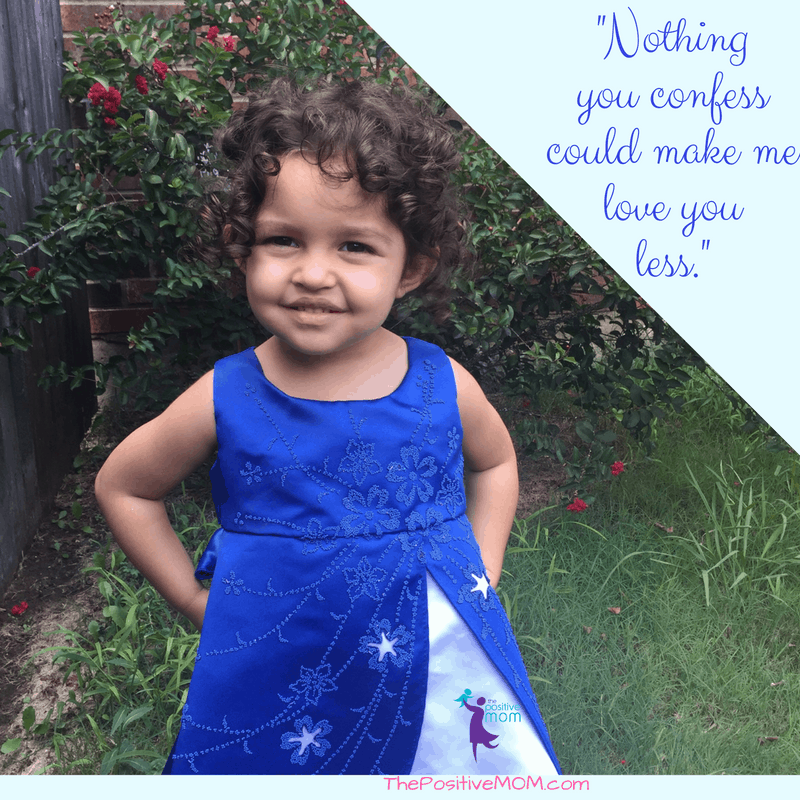 My dad and I can have these conversations because we are so alike; because I am strive to be a lot like him. Even though it's been a while since I was Pige's age, I feel I am following in his parenting footsteps.
I felt so misunderstood practically all my childhood and he was the only one that provided me with unconditional support. I know that is a bold statement to make, but, I haven't figured out a way to read anyone's mind. I can only speak from my experience and what I felt.
Now, as a mom, I strive each day to provide unconditional support to my daughters, raising them in an environment in which they can safely express themselves and thrive. Some may say I overdo it…
[tweet "Raise your kids in an environment in which they can safely express themselves and thrive. #motivationformoms"]
I say "I love you" with words of appreciation. I say "I love you" with physical touch. I say "I love you" with gifts. I say "I love you" with quality time. I say "I love you" with acts of service. I say "I love you" in every possible love language because I want my daughters to know I love them.
Our children go through so many feelings, emotions, and experiences throughout their lives and it is up to us to support them and ensure that we provide all of the tools necessary for them to realize their best selves. I really don't worry about them being "spoiled," because love doesn't damage anything, fear does.
And they start wondering about how much our love is based on "what they do" at such a young age. THAT is scary.
I was sitting at church yesterday thinking about this as the women discussed ideas on how to strengthen and protect our families and teaching obedience. Long before the "obedient / respectful" conversation with Pige, actually, long before I became a mom or even wanted to become a mom, I developed some strong convictions about raising "good kids," because that would imply there are bad kids... like "I was."
I am known to tell my daughters:
"Don't steal. But if you do steal, I love you. And if you go to jail, I'll visit you everyday, to remind you how much I love you."
I have lofty dreams and bold goals for my daughters, and they don't involve stealing or going to jail. They are as wonderful as can be. Having a vision for them is actually the WHY behind everything I am doing now both in motherhood and mompreneurship.
It's hard to even imagine they will choose a different path than the one I have blazed for them; but it's possible… and sometimes, necessary – so they can find out who they are and what their purpose and path may be. That's the Law of Opposition!
Yes, much of this may involve suffering, and God knows I try to lead them in the direction of happiness. But I don't get to choose where they ultimately go. And wherever they may go, I want them to know their mami loves them…
I really don't know whether my mothering *is* right. I just put in my best effort to let my girls know they are loved and accepted in their imperfection by their imperfect mom… and that "feels" right. I don't want them to ever wonder.
And I feel that having that unconditional support is really what strengthens our bond and I believe it is what motivates us all to be better. To me, family support is a priceless gift… one that must be given…and received.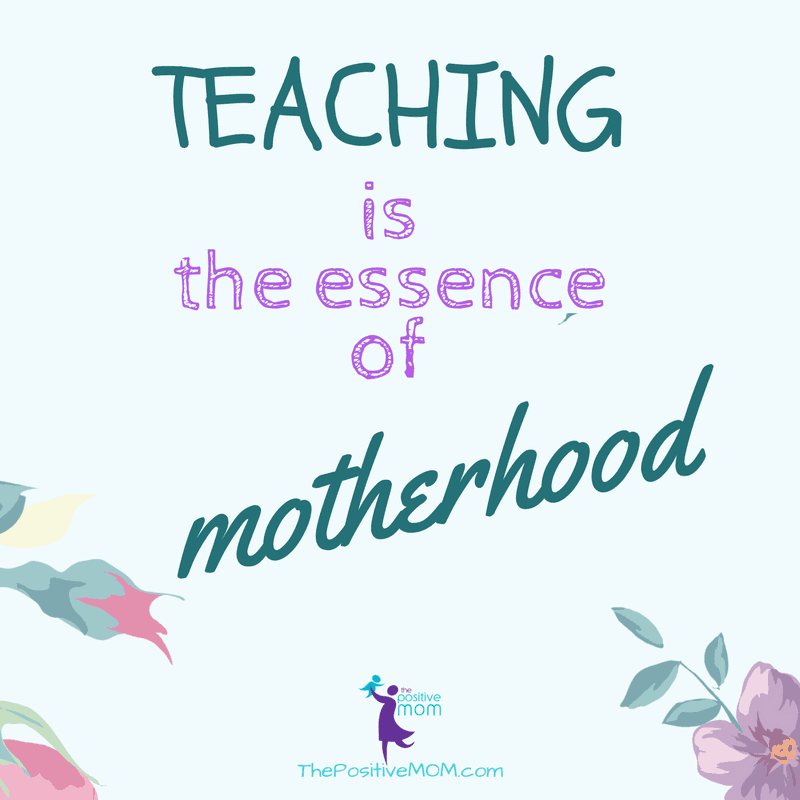 As we sat in church, reading Deuteronomy 11:19, a lightbulb went off in my mind…
"And you shall teach them your children, speaking of them when you sit in your house, and when you walk by the way, when you lie down, and when you rise up."
I believe the essence of motherhood is teaching! And a caring teacher, counselor, or coach will invest more time building her weakest student. She knows she's a good teacher whether the student succeeds or fails:
she prepares
she shows up
she teaches.
But she knows the weak student has special needs, and once met, the student can flourish and learn… or not. :/
That's not really a popular motherhood approach. You see, we are focused on grades, performance scores, and perfect behavior. I'm not disagreeing with aspiring for those ideals, because I do. You're probably not even as intense as I am: I have affirmations, vision boards, and life scripts about it. LOL What I'm saying is we must not allow our dreams for our kids to become expectations to blind us, and to attach a specific outcome to our motherhood success. I don't want to EVER give the girls the idea that my validation is more important than their feelings.
This is easier said than done, of course. My heart breaks when they make a choice that leads them to sorrow. The trick is to own your feelings, pick up the pieces, and turn the challenge into a teaching opportunity, and most importantly, into an opportunity for kindness, compassion, affirmation, forgiveness, and support… or what I like to call: "the real basic food groups," because that's what feeds the desire to be better and to become more.
As the official "black sheep" of my family, I know first hand that "misbehaving" is oft times a cry for help. And most times, when we feel the most alone, condemned, and misunderstood, is exactly when we most feel the weight of the rod. It's a different way to starve a child.
I don't have a checklist or to-do list on how to raise obedient and respectful kids. I think the conversation must shift to how we can truly and unconditionally support our children when we least feel like supporting them. That's the best lesson I hope to teach my daughters, and in doing so, I feel we can overcome any challenge together, and protect our family.
How we treat our children when they go in the direction we've repeatedly asked them not to go is what will create togetherness or separation.
One of my favorite songs is "I'll Stand By You," by The Pretenders (aff). My favorite line reads:
"Nothing you confess will make me love you less."
I pray daily to learn to love like that. I pray daily for guidance so that my daughters may feel that kind of love. Because unconditional love is more of a lifetime journey… I am far from being capable of not EVER getting angry, feeling disappointed and hurt, or being impatient with my daughters, or anyone else (especially myself).
Motherhood is tough work, tough inner work, and it never ends, so it is necessary to honor that and to know that we are exactly where we must be at the moment. No regrets, no shame, no self-judgment.
But with enough awareness and the right tools, and constant daily practices, I know I can be a better mom, because as I mother myself, I can generate the energy I need to better mother my children. Only then, I will be grounded enough to offer unconditional support when it is most needed, because I'm taking personal responsibility for my own happiness, without attachments and expectations of what they should be.
Have you ever been offered love and kindness when you felt unlovable? How do you show unconditional support to your kids? I don't think I've experienced anything more sublime. Share your experiences
[ela]