My most favorite part of the #WeAllGrow Summit is definitely the Storytellers event: six courageous women from all walks of life share a heartfelt and vulnerable personal story.
When Disney Princess "Dream Big, Princess" was announced as the official Storytellers sponsor for #WeAllGrow Summit, I knew I had to send in my story… although I didn't know which one.
It was hard to choose just one Disney Princess because the Disney Princesses values inspire us to dream big!
Snow White – Making new friends / creating a family
Cinderella – Never giving up
Aurora – Always wondering / hoping
Ariel – Exploring new worlds
Belle – Seeing the good in others
Jasmine – Trying new things / seeing the world
Pocahontas – Respecting the earth
Mulan – Finding your inner warrior
Tiana – Making a dream real
Rapunzel – Jumping into adventure
Merida – Being brave
Elena – Being a leader
I thought maybe I would choose Cinderella – after all, I'm not one to give up on my dreams. But then magic (and ugly cries) happened!
I told my daughters I was going to submit a pitch for the chance to embody a Disney Princess and they unanimously said:
"you ARE Mulan!"
Mulan would have probably been last on my list. "Mulan is so tough," I thought. Sure I could see I have discipline, but "do I have that kind of strength?"
My daughters are ones to let their voice be heard, so they proceeded to make a list called "Reasons our mom is Mulan," and shared it with me:
Elyssa:
You're a warrior
You have been called a disgrace to your family
You used to try to be perfect and be like everybody else
Your voice has been silenced many times
You made your own path in being courageous and brave
You've suffered great pain but have been strong
You have a loving and supportive father
You are independent and you don't rely on other people to make your dreams come true
You are determined and always strive to do your best and to improve
You are not afraid to do your own thing even when it's unpopular
She's your soulmate princess!
Elisha:
Mulan cares about her family, she fights for them
Everybody thought Mulan couldn't do it and she would fail
Mulan takes risks but has a plan
Mulan is creative in finding solutions to problems that aren't obvious
Mulan is a leader and influences people around her
Mulan brings honor to her family by being herself, not by whom she marries
Mulan is balanced, graceful, and a wise teacher
Now, you can imagine my tears – and my shock – when I read these words. I am tearing up now just recalling that moment in which I saw my reflection through the lens of my daughters.
In disbelief, I went to my (fairy God) brother. And he explained in an uncharacteristically fabulous way:
"Mulan just does her thing, she takes care of business."
I chose to be open to this new reflection of who I truly am, so when Elisha and Elyssa suggested we watch Mulan together, I cleared my schedule and indulged in faith, trust, and Pixie Dust.
It was as if I were watching it for the first time. As if I was watching myself. I cried during the entire movie. It was a reflection of who I am inside.
I once read that the filmmakers wanted to make sure the "Reflection" lyrics expressed that Mulan just wanted to be herself and make her dad proud… and that Saturday, listening to that song, I sobbed as I felt a deep poke to my childhood wounds and looked at my daughters and the way they see me… it was a defining moment in my life.
"You win!" I declared as I was interrupted by loud girly screams, giggles, and hugs. I decided to submit my story as Mulan, and I knew exactly what story I would share…
The announcement came on an early afternoon around my 40th birthday, and I screamed just to see the subject in my inbox. It caught me off-guard because the final Storytellers wouldn't be announced for a few more days… I joined my daughters in one of those hugs in which we scream and hop together: a jumping group hug.
As a #WeAllGrow Storyteller, Disney Princess, Dream Big Princess was sponsoring me, all expenses paid, to attend the incredible #WeAllGrow Summit, to channel my inner Princess Mulan, and to experience many Disney Princess surprises!
I was also able to also bring a guest who would support me throughout my Storyteller journey, so my daughters and I brainstormed to chose a mom blogger who would not otherwise be selected for this opportunity at this time. I felt really blessed to be selected along with these 5 amazing influencers, so I wanted to pass the blessing along:
Vanessa Bell (@DeSuMama), inspired by Princess Jasmine, Marianna Du Bosq (@bilingualavenue), inspired by Princess Ariel, Dora Stone (@DorasTable), inspired by Princess Tiana, and both Laura Muller (@lightysaludable) and Camila Canabal (@camilacanabal), inspired by Cinderella.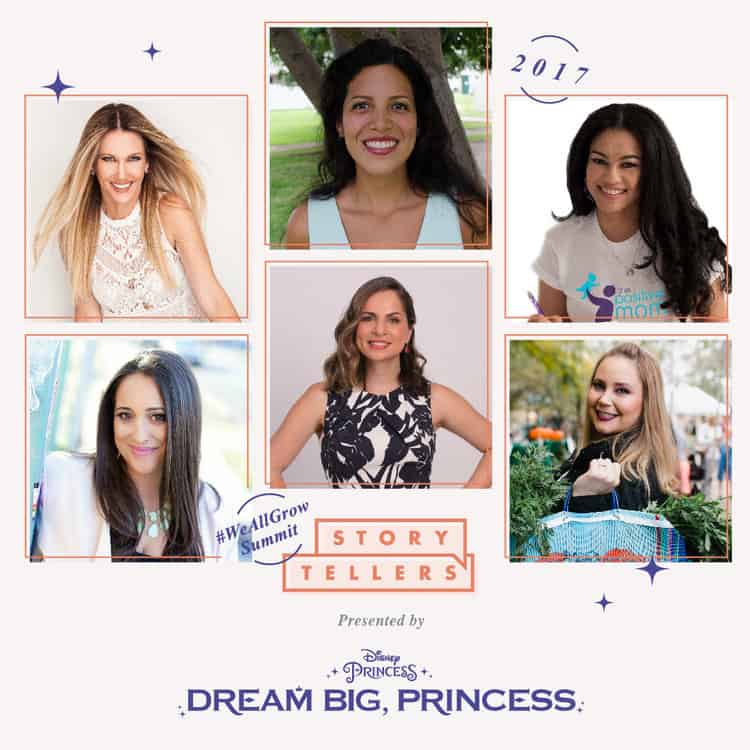 As March became closer, my heart became restless. It would be so hard to share my hard truths and not break down! Thankfully, Kathy Cano Murillo (the one and only Crafty Chica), who serves as the Storytellers moderator, host, and coach, held my hand through the process of shaping the story and gaining the confidence I needed.
Once I arrived in Long Beach for the powerful three-day #WeAllGrow Summit, I spent some alone time at Hotel Maya overlooking the ocean, praying my story would be a gift to the audience, just like Kathy said it would be.
Disney Princess, Dream Big Princess, treated my Storyteller bestie, my daughters, and me on a magical field trip to Walt Disney Studios. We screened the new Beauty and the Beast live-action remake, as well as the new Tangled Before Ever After movie and series, went shopping for Disney Princess goodies at the Disney Store, and had lunch at La Rotunda, the Disney Executive dining area, where we met Bob Iger, the CEO of Walt Disney Company!
Even though there was a lot of wonder happening at #WeAllGrow Summit, Saturday came quickly. I decided to Disneybound that day to help me channel my inner Mulan. Our very own Latina Princess, Elena of Avalor, made an appearance that morning, so it was a picture-perfect moment.
Right before it was time to share our stories, my fellow Storytellers and I were interviewed by the Disney Princess #DreamBigPrincess team about the princess we were there to represent. My daughters were interviewed as well and it was a joy to see!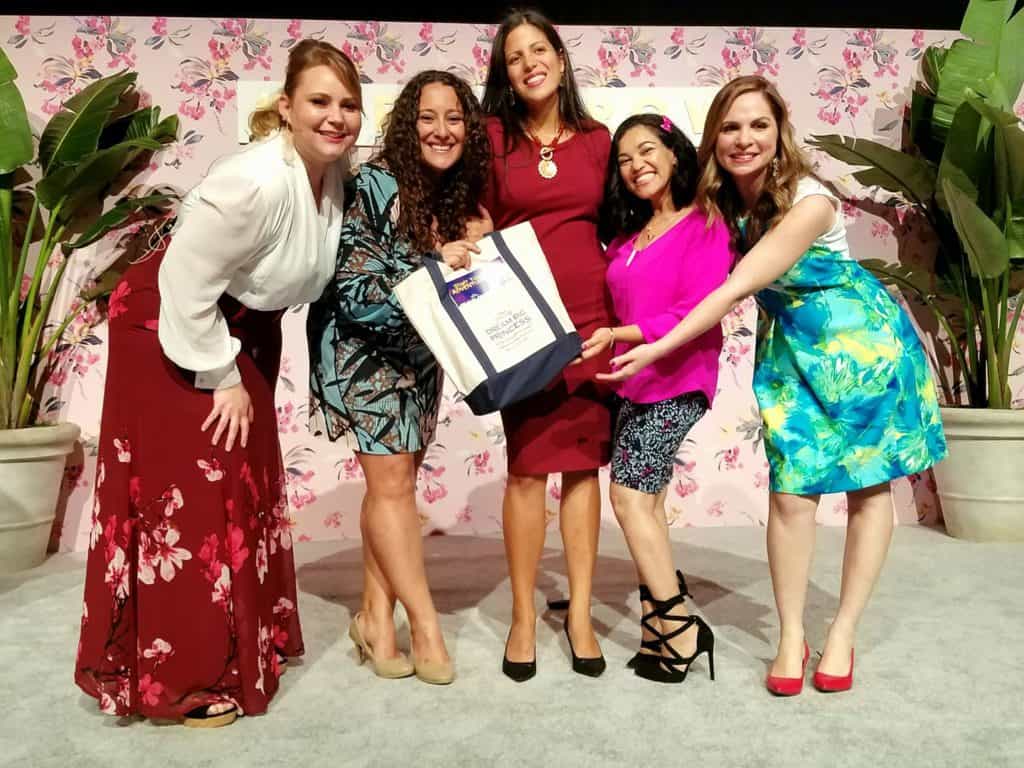 It was finally 5:30 pm and the doors were opened. The Disney Princess-themed room was revealed to the audience, and we all heard from the beautiful and talented Silvia Cardenas Olivas, Co-Producer and Head Writer for Elena of Avalor!
I had met her at Princess Elena's coronation at Walt Disney World, and she was as warm and friendly as I remembered her. Her wisdom and expertise in the art of storytelling were a great contribution to a room filled with influencers who can use their own personal stories to evoke empowering emotions in their audiences.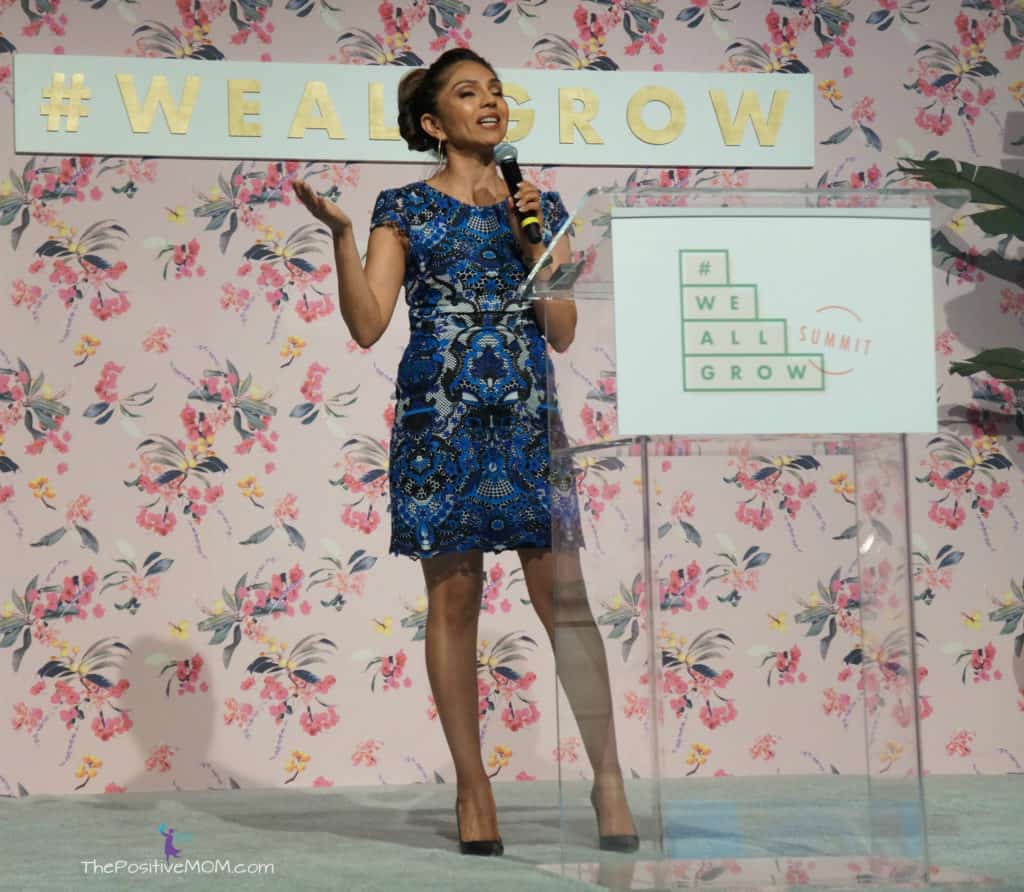 A special highlight for me was to see myself and my daughters on a Disney Channel-produced video for Elena of Avalor on the screen. The series is such a huge part of our family!
And then Ana Flores, the creator of it all, allowed Crafty Chica to take over as she introduced each of the Storytellers, channeling our individual inner princess, and telling our raw stories.
Ana, Kathy, the Storytellers, my daughters, and some of the "besties" prayed together backstage, but I kept a silent prayer in my heart until Kathy announced my name and I walked up the stage to Christina Aguilera's "Reflection."
I was shaking, feeling that God was sustaining me as I saw Melissa hugging and crying with my daughters as they saw their mom tell her truth, telling the world why she's so passionate about helping moms know their worth and find their inner warrior.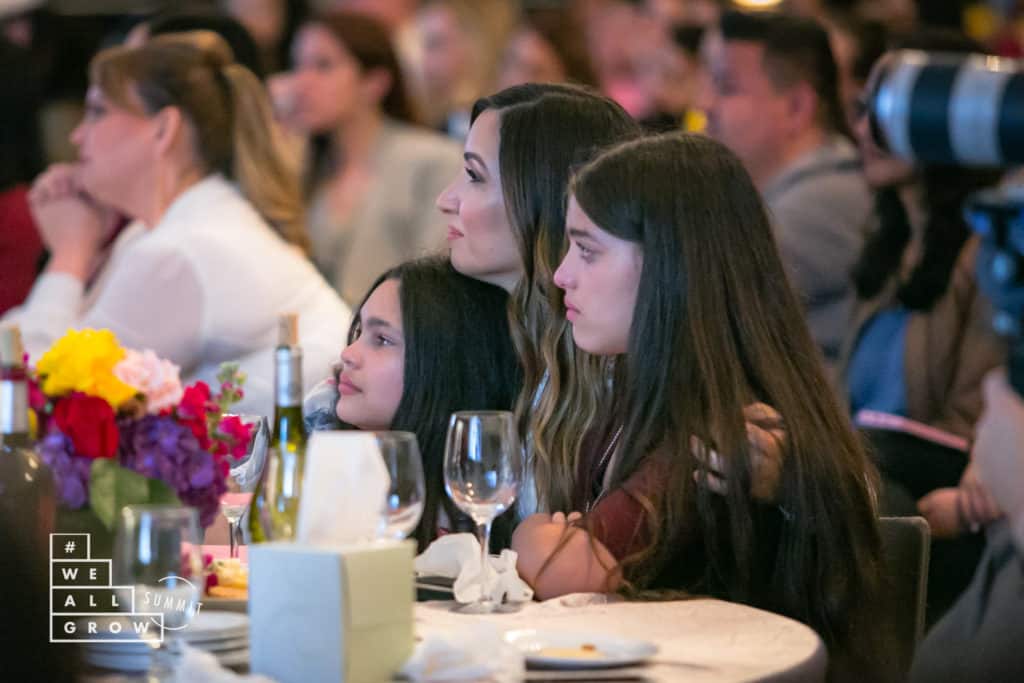 You may think that because I've been a public speaker for many years, this would be so easy for me. Not a chance. Standing in front of a crowded room, filled with women I love and admire, at an event that I hold in such high regard, and selected by a brand that represents my heart, was incredibly daunting.
I didn't break down, but I did shed tears of emotion and gratitude. I felt immense love from my sisters at #WeAllGrow. It was such a safe and sacred space to tell my story.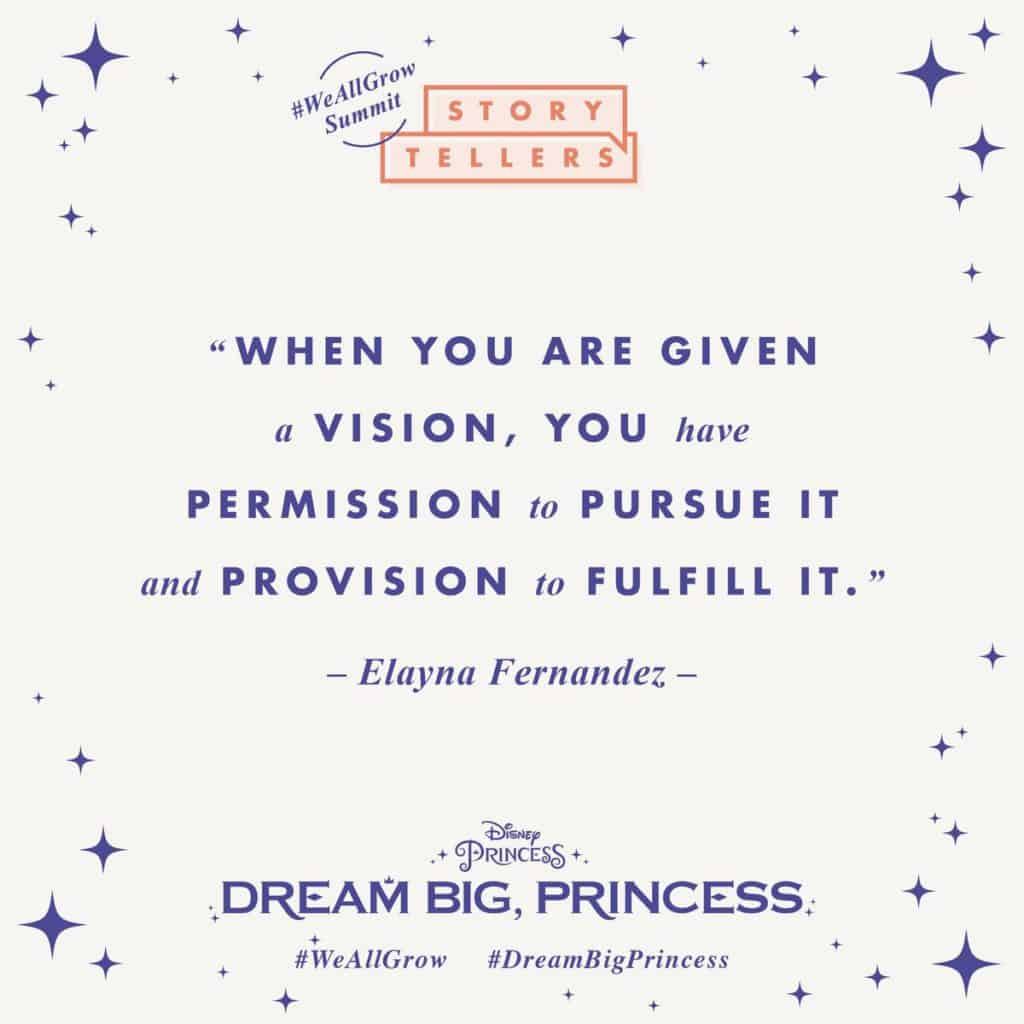 Mulan teaches us that "the flower that blooms in adversity is the rarest of all." I told the story of how I was raised in extreme poverty, being constantly beaten up and told I was worthless, and yet I allowed myself to dream big and become a warrior, fighting for my dream. My vision sustained me through my hardest tragedy, a near-death experience, and domestic violence, but it was when I became a single mom of two toddlers that I finally summoned my inner warrior to fight for my daughters… for our vision, our big dream, and to turn my adversity into beauty, love, and joy.
As Storytellers, Vanessa, Dora, Kathy, Marianna, Laura, Camila, and I, presented such unique perspectives, and diverse stories. They were inspiring and I shared laughs, tears, and pride with the audience as they commanded the stage.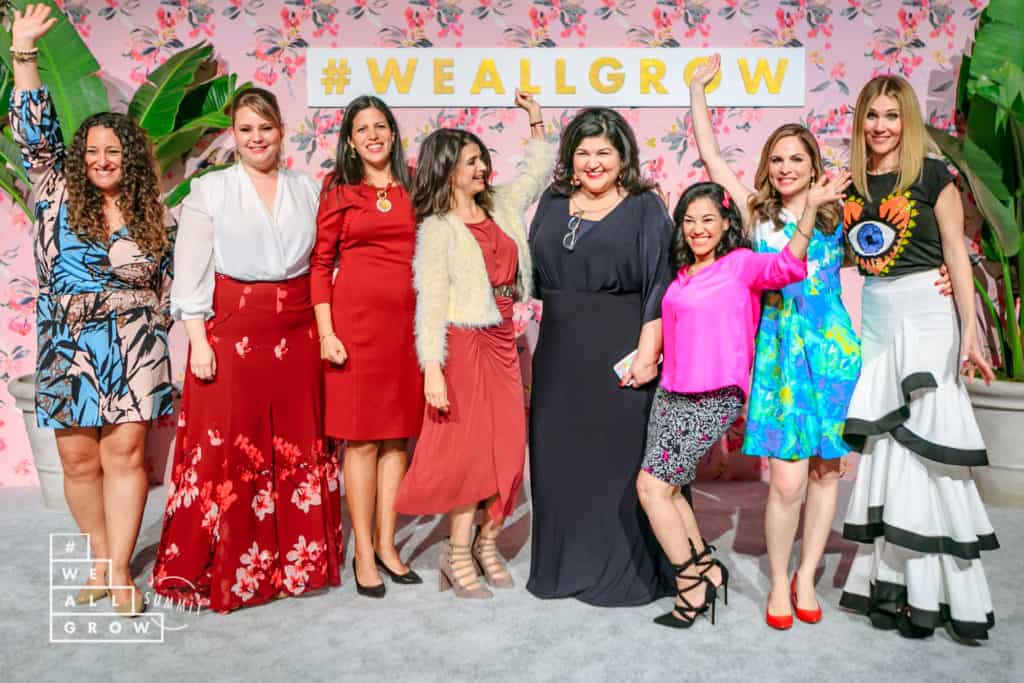 It was the perfect blend to give a voice to our Latina community, which is filled with women of all ages who dream big, follow their dreams, and make the world a better, more vibrant place. And I feel highly blessed that I was able to share this moment with Elisha and Elyssa, the ones who shared my most important Mulan moment.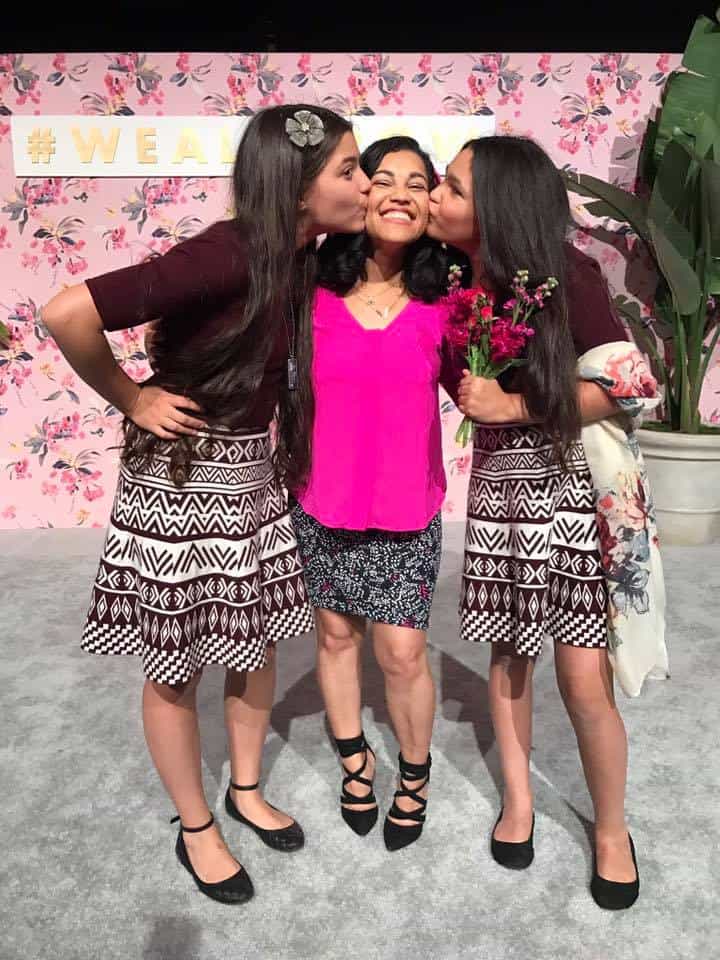 Which Disney Princess inspires you? I am extremely grateful to #WeAllGrow Latina and to Disney Princess for this once-in-a-lifetime fairytale come true. Learn more about your favorite princess on the Disney Princess website, follow along with the hashtags #WeAllGrow and #DreamBigPrincess, and continue to Dream Big Princess!
My mission is to help moms find peace, break cycles, and feel whole so they can be present, peaceful, and positive moms. To receive a gift that can get you started on that journey click HERE.


PS: Thanks to the gifted Robson Muzel, for the #WeAllGrow pictures!