My daughters and I had the magical opportunity to screen Disney's "GODMOTHERED," an all-new inspiring and uplifting Christmas comedy, starring Jillian Bell and Isla Fisher and I am excited to share the most positive lessons and positive quotes from GODMOTHERED so you can be inspired!
GODMOTHERED is now streaming exclusively on Disney+ and it's all about redefining Happily Ever After!
GODMOTHERED Review – No Spoilers!
Set at Christmas time, GODMOTHERED is a comedy about Eleanor, a young, inexperienced fairy godmother-in-training (Jillian Bell). who upon hearing that her chosen profession is facing extinction, decides to show the world that people still need fairy godmothers.
Finding a mislaid letter from a 10-year-old girl in distress, Eleanor tracks her down and discovers that the girl, Mackenzie, is now a 40-year-old single mom (Isla Fisher) working at a news station in Boston.
Having lost her husband several years earlier, Mackenzie has all but given up on the idea of "Happily Ever After," but Eleanor is bound and determined to give Mackenzie a happiness makeover, whether she likes it or not.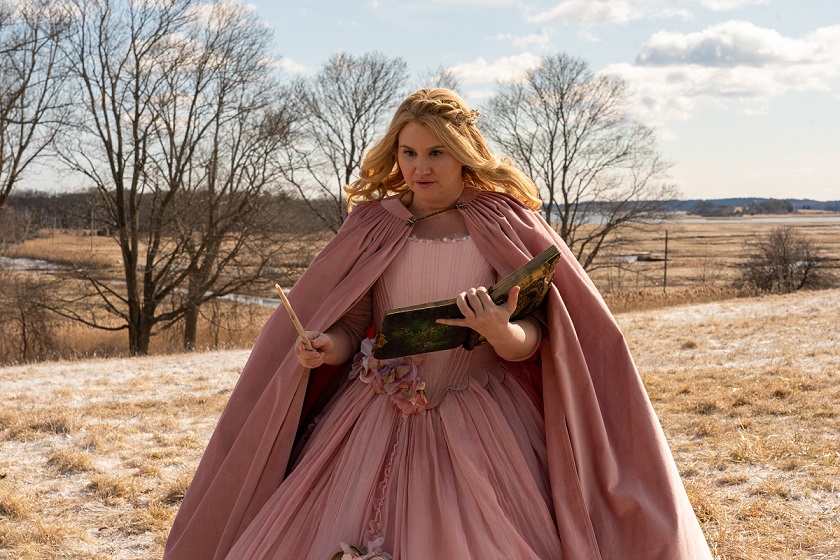 I've always loved Fairy Godmothers and I've been wishing for a fairy tale to be told in their perspective for a long time. This is such a creative way to highlight the beings behind the magic!
I loved the diversity, inclusion, and representation in GODMOTHERED and the depiction of a single mom's struggles, to which I can relate.
And if you're looking to get cozy with a cup of hot chocolate and getting everyone into the Christmas spirit, then GODMOTHERED is the perfect movie for your family!
My daughters and I thoroughly enjoyed GODMOTHERED. They are 1, 7, 17, and 18, so I've got all stages! My 1 year old was mostly nursing during the movie, but her little feet showed that she loved the soundtrack.
GODMOTHERED was magical for my 7-year-old from start to finish and my teens were delighted! It has all the elements we look for in an inspiring feel-good Disney movie.
GODMOTHERED is laugh-out-loud funny, it has heart and lots of emotion (you know I cried), and it has many positive lessons for the whole family.
Is it safe to watch GODMOTHERED with kids?
I want my GODMOTHERED review to be spoiler free, so I'll try to give you what to watch out for as vaguely as possible.
Positive Moms need to know that GODMOTHERED has some adult humor they may need to discuss, although some of them may be missed by younger kids.
There's alcohol consumption and a reference of homeless men sharing "needles" in an alley.
Sensitive kids may be very sad because the children are struggling with their father's death. My young daughter is very sensitive and she is growing up without her father, and yet, she did well with just having mama hug her during the most touching moments.
There's need for an EpiPen shot during the movie, and there's a funny approach to news media manipulating facts to promoting fear and chaos.
GODMOTHERED is filled with fun and innocent fairy tale puns, and there are also ones that you may have to watch out for, like "son of a butterscotch" and "mother of fudge."
There's no profane language in GODMOTHERED, however, some words that you may discuss with little ones are "idiots," "weirdo," "freak," to emphasize they are used to portray bullies.
GODMOTHERED is such a sweet movie, perfect to bring up the conversation about what Happily Ever After means and how it's not just about a prince and a princess falling in love and getting married.
Even though Disney has explored this with Frozen and Maleficent, GODMOTHERED steps it up so we can really talk about how true love comes in different forms.
GODMOTHERED Official Trailer
The trailer shows how GODMOTHERED will have some typical and traditional Disney fairy tale tropes, but the film is set in modern day, so it will truly surprise you with original plot twists – no predictable ending here!
What's your favorite line from the Trailer? That Siri scene is hilarious!
Let's talk about the GODMOTHERED cast!
Joining Jillian Bell and Isla Fisher in GODMOTHERED are:
Santiago Cabrera ("Star Trek: Picard") as Mackenzie's on-air eporter partner Hugh;
Mary Elizabeth Ellis ("It's Always Sunny in Philadelphia") as Mackenzie's sister Paula;
Jillian Shea Spaeder ("Walk the Prank") and Willa Skye ("Lazy Susan") as Mackenzie's young daughters Jane and Mia, respectively.
Emmy® winner Jane Curtin ("Kate & Allie" and "Saturday Night Live") is Moira, headmistress of The Motherland;
June Squibb (Oscar® nominee for "Nebraska") is Eleanor's roommate
Agnes.
Artemis Pebdani ("Scandal"), Utkarsh Ambudkar ("Brittany Runs a Marathon") and Stephnie Weir ("Crazy Ex-Girlfriend") portray Mackenzie's colleagues at the TV news station;
… and Carlease Burke ("Child's Play") appears as Greta, one of Eleanor's fellow fairy godmothers at The Motherland.
"GODMOTHERED" is Directed by Sharon Maguire, whom you probably know from Bridget Jones' Diary and Bridget Jones' Baby, and Produced by Justin Springer.
The GODMOTHERED screenplay is by Kari Granlund and Melissa Stack, story by Kari Granlund.
Diane L. Sabatini, Tom Pollock, Ivan Reitman and Amie Karp serve as GODMOTHERED's Executive Producers.
Now let's chat about the positive lessons and positive quotes in GODMOTHERED.
Positive Lessons and Positive Quotes From Disney's GODMOTHERED
These GODMOTHERED quotes are really wonderful lines in the context of the movie.
These quotes are very insightful for yourself, and great conversational pieces with your little ones.
"Forget ever after, just live happily." ~ Eleanor
We all deserve a Happily Ever After, and yet, the most important time is the present time. Let's focus on living happily NOW!
"Because it's a fairytale construct that teaches people that normal life is not enough?" ~ Mackenzie
It's not about wishing you had a different life, but finding the fairytale elements in your own life… It's about integrating the two, rather than turning one into the other.
"You're starting to believe in magic, aren't you?" ~ Eleanor
When we start to believe, it shows… because what we want starts to happen! Belief is where the magic is. Belief doesn't make things happen, but it makes them "welcome."
"People want to laugh and to hope and to see the magic in the world because it's real!" ~ Mackenzie
Despite our occasional sarcasm, cynicism, and skepticism, at the core we are all the same… We need magic, love, faith, trust, and pixie dust!
"I know you want to help, but I'm not quite sure I am ready for another fairytale." ~ Mackenzie
It's harder to trust when we are hurting, and it's such a gift when someone honors our grief and gives us the space to heal. Patience is indeed a virtue!
"Fine, stay home. After all nine out of ten fairytales begin with 'Once Upon A Time something amazing happened while she was drinking wine in her sweatpants.'" ~ Eleanor
I don't drink wine or any alcoholic drinks, but boy do I really love my sweatpants! The lesson here is that sometimes all we need to do to get out of the funk is to get up, get dressed, and get going!
"You did well!" ~ Moira
These three words are so simple and yet so powerful. I am challenging myself and you to say them more often, for they can change someone's life, because they will give them great confidence and validation.
"Instead of telling someone what true love is, we should let them tell us what true love means to them." ~ Eleanor to Moira
Love looks different, feels different, and is expressed different from one person to another. I can't love this quote more!
"You'll miss my singing when I'm gone." ~ Eleanor
When we love someone, we learn to appreciate the most seemingly annoying things about them… and we even miss them.
"We think that love needs to look a certain way. " ~ Eleanor
Love is love. That is all. Oh… and Go Disney Plus!
"You have to make me brave. I need a spell or something." ~ Mackenzie
There's no special potion for bravery, and, the good news is you don't need to drink one. It's already inside you and available upon call. You've got this!
"We're trapped in the fairytale when the real world is full of so much more." ~ Eleanor
Dreaming is a beautiful thing, but true happiness is found by focusing on what is already beautiful in our current reality.
"I'm gonna prove that people still need fairy godmothers!" ~ Eleanor
We all need someone that believes in magic and that is willing to do anything to help us see it. Who's your fairy godmother?
"I bet when Beyoncé was young her mother used to encourage her the same way." ~ Paula
I saved the best for last. It may not mean much out of context, but this scene will tug at your heartstrings. I promise.
As moms, it makes a difference when we see, nurture, and encourage our child's greatness. We can be our kids' own fairy godmothers. That's what being a positive mom is all about!
A fairy godmother is not responsible for anyone's happiness, but can make a difference in someone choosing their own Happily Ever After!
What is your Happily Ever After?
And what is your child's?
You get to define it as you choose and help them, guide them on theirs.
I love love love GODMOTHERED so much and I do believe that fairy godmothers exist.
Having a Godmother is such a special experience and I'm happy my daughters have the best on Earth.
I call my brother Fairy Godbrother, because, just like GODMOTHERED teaches us, they come in different shapes and sizes.
Which of these positive quotes and positive lessons from GODMOTHERED is your favorite? Share it with us in the comments below!
Remember! GODMOTHERED is now on Disney Plus! Make sure you use hashtag #Godmothered, and follow Disney Plus on your favorite platform: @DisneyPlusFacebook @DisneyPlusInstagram @DisneyPlus.

© Elayna Fernández ~ The Positive MOM
Be sure to Subscribe to blog post updates, so you never miss a thing!