D23 Expo feels like ages ago, yet I am still in awe of all the experiences I lived there. Besides skipping the lines at the coveted Disney Animation, Disney Live Action, and Disney Parks panels, getting park hopper tickets to Disneyland and California Adventure Park, and enjoying an exclusive screening of DuckTales, our group of 25 Top Disney Bloggers had the wonderful honor to interview show producers Francisco Angones and Matt Youngberg. I promised you I would share more about my chat with them, so today's the day I tell you all about it.
The DuckTales producers were really friendly and very funny, which is always a nice surprise, even though every producer or director I've met so far has been this way. I wore my Disney Villain dress and my purple wig that day and they still took me seriously. Well, it was D23 Expo, after all.
Francisco Angones joked about the setting being plain for the interview, but with the yummy breakfast and the treat of being one of the first audiences to watch the first half of the two-part premiere pilot event, which will air on August 12th on Disney XD. You could feel his excitement as he explained:
"What you saw is Scrooge has met the kids, brought them into the adventuring hold. And then the second part of that big premiere event episode is a big long 18-hour road trip in a submarine to the Lost City of Atlantis. As the kids go on their first actual adventure with Scrooge McDuck, and Scrooge realizes that maybe family is a little bit more dangerous than the temple."
The show is about family, and solving mysteries and rewriting history, even when it comes to family.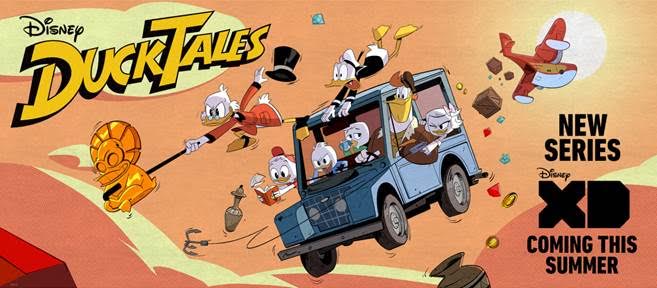 Matt Youngberg joined in and told us:
It's a real labor of love for us… We love DuckTales so much that the only thing we want is to present DuckTales to a new audience that gives the audience the same feeling that we had. And hopefully that in 30 years, they'll be coming around and creating the next version of DuckTales, and loving it as much as we love the original.
When Matt Youngberg confessed that they were both equally terrified of not doing work that lives up to the DuckTales name, Francisco Angones intervened to tell us how "during that entire screening, as Matt was watching it, he was leaning over to Suzanna, our line producer, and we said, "I think we made a couple shots even better."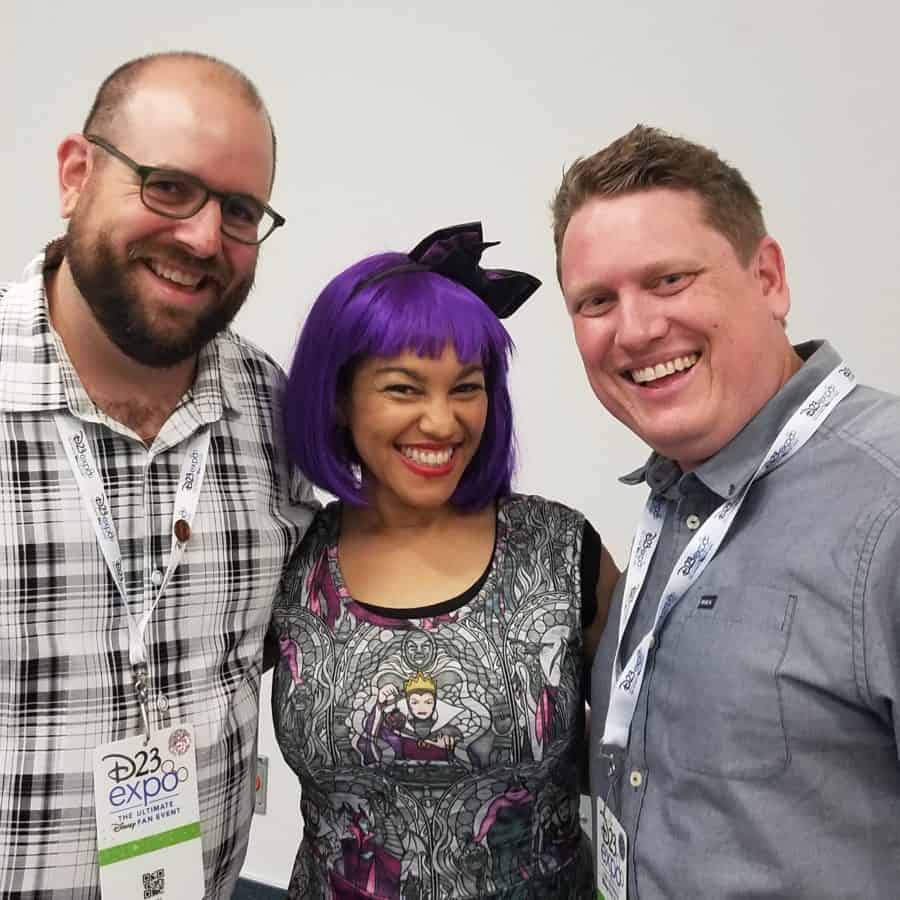 That's dedication! "I'm very proud to be a part of it," he added.
They told us how important it was to them to capture the feeling of the original series, and the theme song, which is definitely a favorite for those of us who used to watch the show way back when – maybe not that long ago! If you were a fan, you are going to love it, and if you have never seen DuckTales, it will be love at first sight.
Francisco Angones wanted to remind us that they are not just recreating the old series, they're doing something different. Fans of the original DuckTales series will find a lot of Easter Eggs weaved in to help us reminisce:
"We weave in more from the comic books, from the video game. We're bringing in all of these influences that people have loved for 30 years, and still integrating them into the show, but we're trying to make sure we find a fresh take on it, or something that feels like the original, but is created through the lens of modern storytelling. Especially because we have to appeal to kids who have never heard of it, whose families didn't grow up with it. You know, we really wanted this to be an all ages experience, but we've gotta start with the kids."
DuckTales will premiere in a one-hour television movie to be presented for 24 consecutive hours, SATURDAY, AUGUST 12 (beginning at midnight, EDT/PDT) on Disney XD. Then, the series will debut with two new episodes SATURDAY, SEPTEMBER 23 (7:00 a.m., 11:00 a.m., 2:00 p.m., 5:00 p.m., 8:00 p.m., 10:30 p.m., EDT/PDT). Each will also be available on the Disney XD app and Disney XD VOD on these same dates.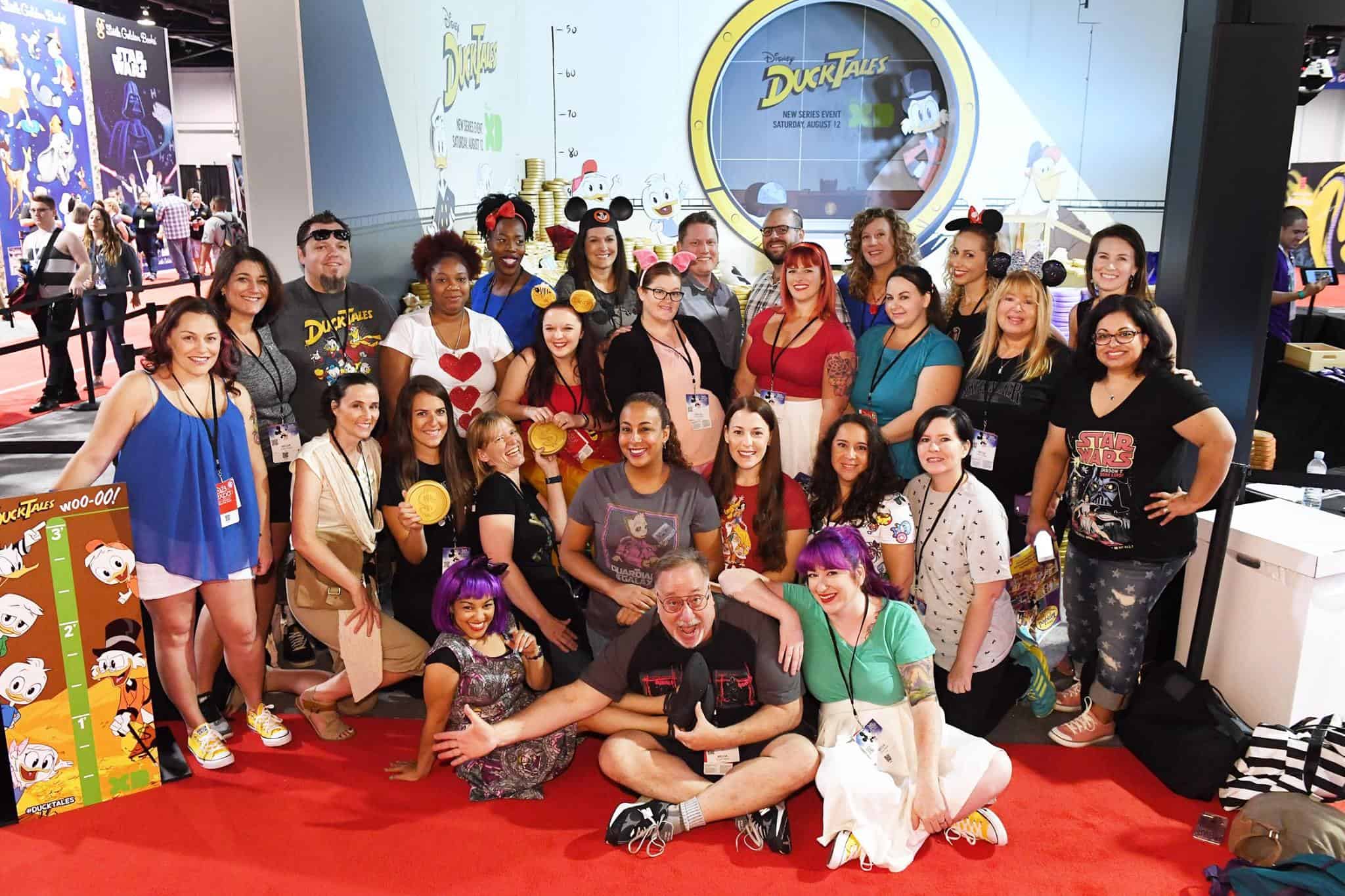 DuckTales is based on the Emmy Award-winning series treasured by a generation of viewers. Disney XD's animated comedy-adventure series "DuckTales" chronicles the high-flying adventures of Duckburg's most famous trillionaire Scrooge McDuck, his mischief-making triplet grandnephews, Huey, Dewey and Louie, temperamental nephew Donald Duck and the trusted McDuck Manor team: big-hearted, fearless chauffer/pilot Launchpad McQuack, no-nonsense housekeeper Mrs. Beakley and Mrs. Beakley's granddaughter, Webby Vanderquack, resident adventurer and the triplet's newfound fierce friend.
Some of the fun facts about DuckTales that came up during the interview were:
David Tennant "seemed to be the natural choice" for the role of Scrooge McDuck because of his legitimate Scottish accent.
DuckTales is a globetrotting adventure show.
Every time an episode of DuckTales is set in a different location, the producers want to try to find native voice actors, "to bring that extra level of interesting diversity and authenticity, and present a world that kids actually see around them every day."
Francisco Angones called David Tennant "the Willy Wonka of adventure."
Lin-Manuel Miranda was a big fan of the original series. He cried when he read Frank Angones' letter about wanting a Latino SuperHero.
Both Matt Youngberg and Francisco Angones are fathers and they are terrified about showing the series to their kids. They are holding back until it's all ready.
Francisco Angones confirmed that there's a new villian in DuckTales reboot, a go-go 80's billionaire, and are excited to introduce Mark Beaks, "our tech billionaire who cares more about buzz than bucks."
In modernizing the DuckTales characters, the producers explained that they want to "present a world that kids understand and know, but without beating you over the head with it." They relied on the characteristics of the characters to contextualize and tell the story of how our beloved residents of Duckburg would live in this world.
"For example, if you watch that, yeah, Donald has, uh, like an iPhone type phone," said Francisco Angones.
And Matt Youngberg adds: "Scrooge has a full gold flip phone, because he hasn't upgraded in 30 years."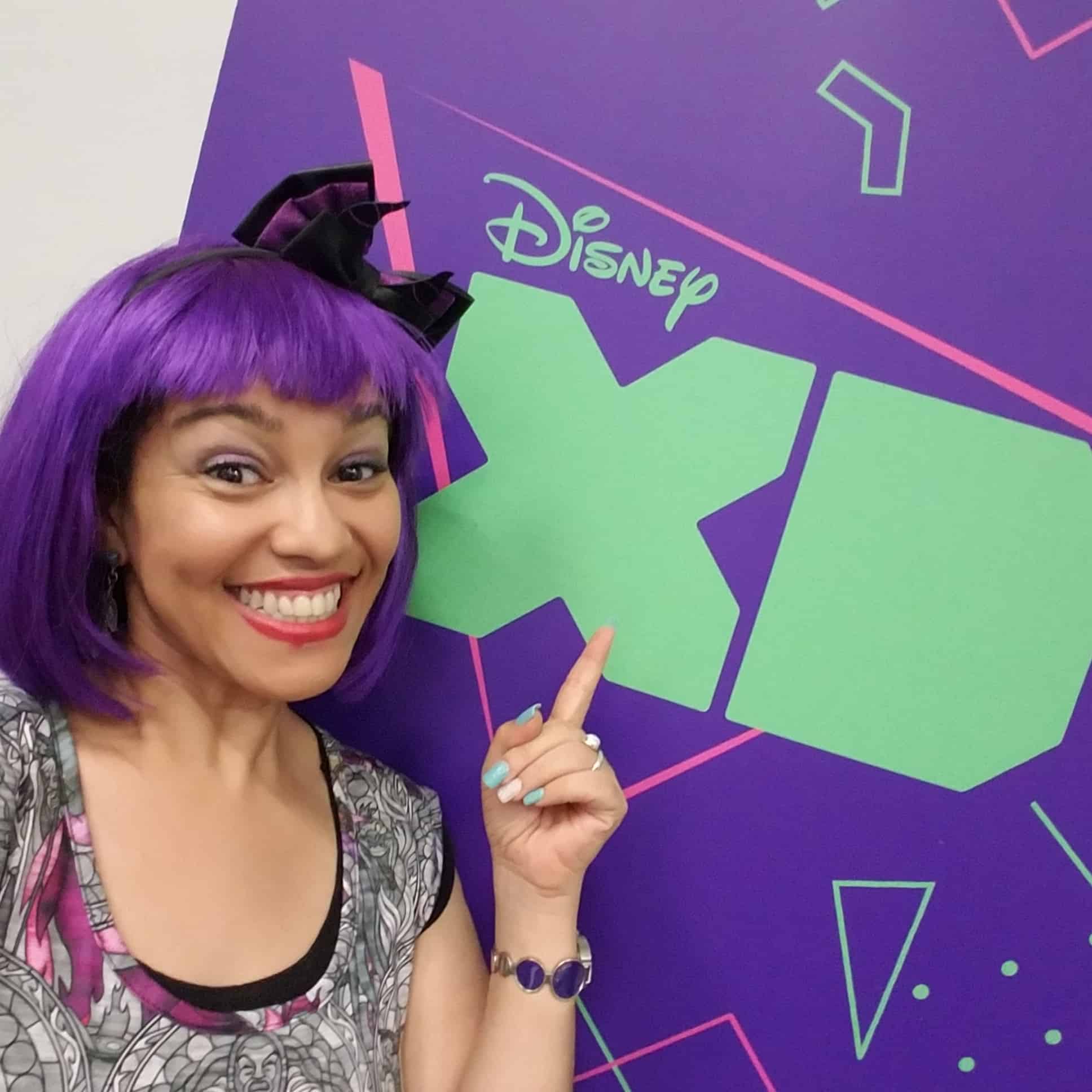 One of my favorite parts of the screening was looking at the impressive classic feel to the animation.
"We wanted to make sure it felt handcrafted… The original series, when it was brought onto the air it was Disney feature animators making the best TV show that they could.

It had the handcrafted feel that we wanted to retain. We looked at the source material beyond just DuckTales.

We looked at the comic books that inspired DuckTales, that, that were made by Carl Barks, and other artists. And, we wanted to be able to harken back to the roots a little bit more. And so, we developed this style, not only in the having it be traditionally animated by hand, but also in creating a style for the world that looked like it was inked by an artist brush. So that it looks like comic book pages coming to life… It was really important for us to, to pay homage to where it came from. And that also to me helps ground it a little bit, and make it feel more tangible and real. I think if it was CG, it would feel a little bit more artificial, and it would be hard to connect with, because you've got this world of crazy weird ducks… that go on adventures. But presenting it like a comic strip that you automatically buy into. And one of the things we said is that DuckTales and Carl Barks, they're all pulp adventure stories. And one of the cool things that Matt and our art director Sean Jimenez did, is they wanted to actually put pulp in it. So, if you pause and look very closely, everything has this layer of actual newspaper pulp underneath it…to make it feel like you are watching a 1930's adventure series. It's really cool.
Matt Youngberg said they wanted to find a way to bridge the digital divide, "to make it feel like it was warmer, and more inviting than something that was really flat and graphic and digital."
One particular thing I enjoyed and Woo-Hooed about during our interview is that fact that Hewey, Dewey, Louie and Webby are equal and referred to as "the kids," "'cause the four of them are a unit."
Matt Youngberg admitted that it was really important for them both as fathers to present a female character that wasn't in need of rescue or reacted to as "Ew, a girl."
"We didn't want that feeling to come across with Webby. We wanted to make sure that she was somebody that kids could relate to, and that's why we really dug into her character. It was really important to us to present a real well-rounded character so that she could go toe to toe with the boys, and Scrooge. Like, she definitely stands up to Scrooge, you know?"
That's what I'm talking about! I'm really excited about sharing DuckTales with my kids and making some new memories around Rico McPato, which is how I knew Scrooge McDuck back in the day.
What was your favorite fun fact about the Disney XD DuckTales reboot? Stay tuned for all things #DuckTales and follow @DisneyChannelPR for up-to-date news on #DuckTales. Like Disney XD on Facebook and follow @DisneyXD on Twitter and Instagram.
You can also visit D23.com and learn about the D23 Expo here and follow @DisneyD23 on Twitter, Facebook,Pinterest, Instagram, and YouTube.
Other D23 Expo Recaps and Updates:
Join me at D23 – The Ultimate Disney Fan Event!
Pixar and Walt Disney Animation Studios Film Announcements
Disney, Marvel Studios & Lucasfilm Live Action Movie Announcements
Upcoming Walt Disney Parks and Resorts Attractions and Experiences
What to Expect at D23 Expo: The Ultimate Disney Fan Event
D23 Expo Recap: Fun Facts and Surprises From THE LION KING Panel
D23 Expo Recap: Meeting Mantis & Nebula
Finding Your Place In The Galaxy
The Most Powerful Life Lessons From The Lion King
[ela]