I was able to take Taylor Bare and a friend to see Guardians of the Galaxy Vol 2. screening before it was in theaters. If you didn't see it on the big screen or simply want to keep reliving the adventure at home, you'll be happy to know that Guardians of the Galaxy Vol 2. is now available digitally in HD, 4K Ultra HD and Disney Movies Anywhere, and being released on 4K Ultra HD, Blu-ray and DVD on August 22nd!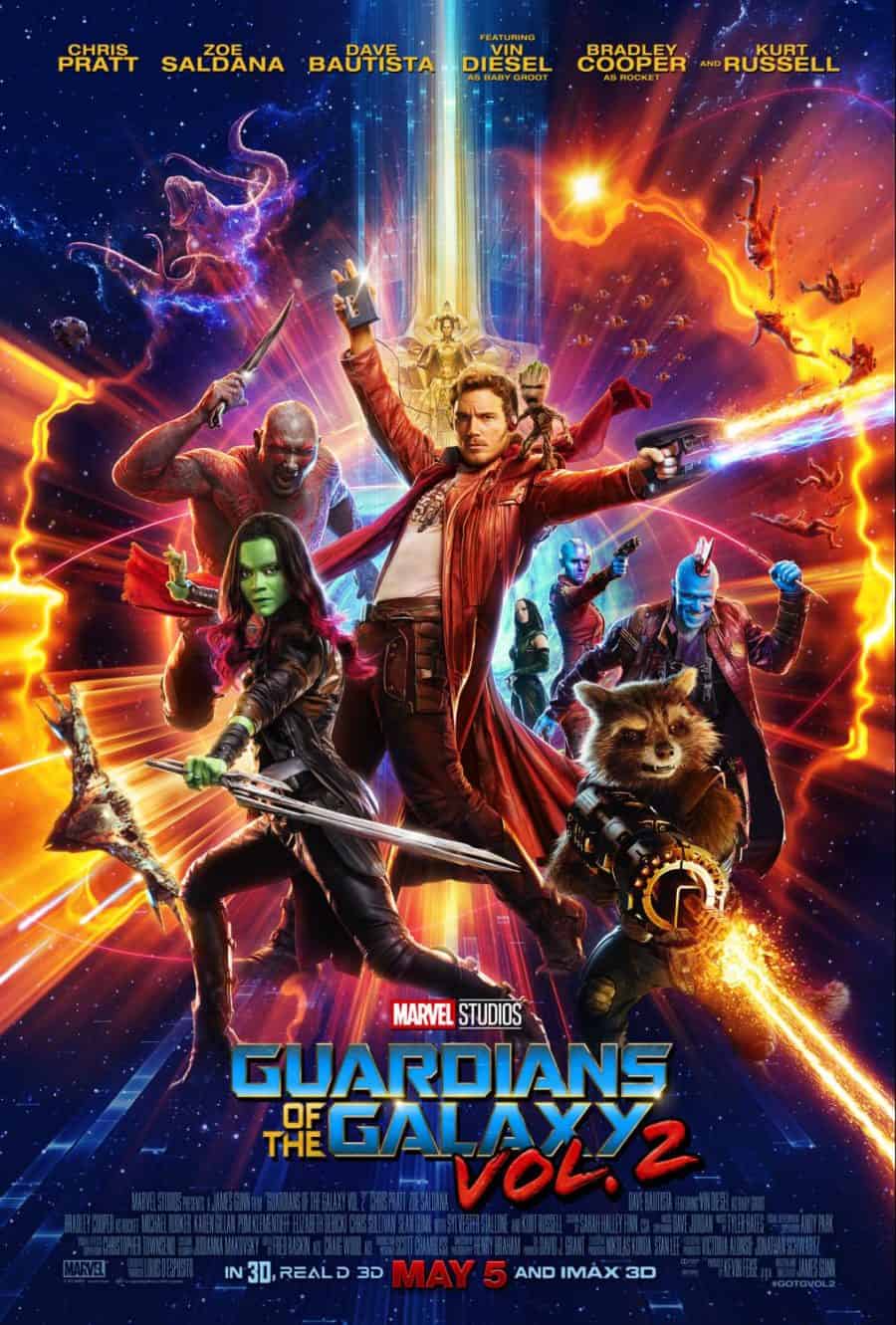 As you know, I was blessed to be at D23 Expo, The Ultimate Disney Fan Event. As a hardcore Disney fan, that is a dream come true, and to experience it as press, with VIP access and seating, exclusive celebrity interviews, and private screenings, is just beyond what you can imagine. My heart overflows with gratitude, and I often want to pinch myself, wondering "how on Earth I was selected for this?"
But there's a side you don't see. It all comes together in an incredible way and there is so much work that goes on behind the scenes. Marshall is like a true wizard, making all the Disney magic possible, and with all the flawless orchestration, we are able to achieve our professional goals, while having an absolute blast.
We have tight itineraries and deadlines and it's all "precision and order," just like around my home (most days). Before we head to our destination we know what will happen and we can count that it will happen in the way and at the time it was specified. We even schedule tweets around it!
The D23 Expo experience was no different than my Alice Through The Looking Glass and Queen of Katwe red carpet trips or my Cars 3 Pixar adventure, except that there was an intentional glitch on the schedule (kind of like the one where the audio on the Olaf's Frozen Adventure clip didn't work and Josh Gad "just" happened to be in the room to sing the song!).
On Saturday, our schedule read "Q & A with Josh Snow, President of the D23 Exhibit to learn more about the D23 Expo" and we were excited about our exclusive interview. All of a sudden, we were taken through dark hallway behind the D23 Expo main stage and into a tiny room where this interview is supposed to happen. We were all suddenly feeling a bit curious as to what is going on, while our notifications are going off with tweets about interviewing Josh Snow…
But Josh Snow was a decoy for an unforgettable surprise! It was hard not to scream when Karen Gillan ("Nebula") & Pom Klementieff ("Mantis") walked in the room and posters were put in place to decorate the room.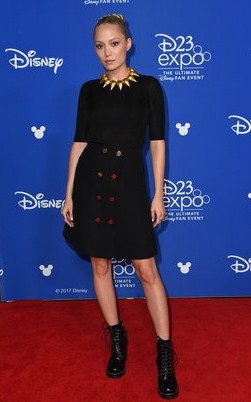 They looked fabulous, but of course, you already knew that because, how else could they look? Gaby and Marshall had really big smug smiles and we weren't disappointed (sorry, Josh), we were pleasantly surprised and a bit worried about what tweets may be going off about this fictitious character we will never forget.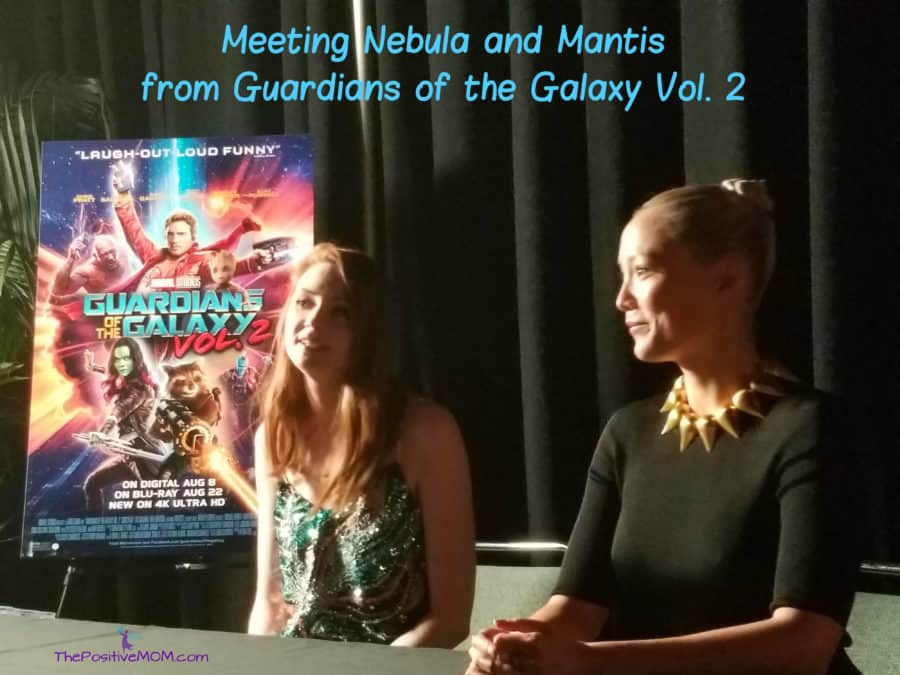 We had cheered for Nebula and Mantis when they joined the Avengers: Infinity Wars cast on stage during the Live-Action panel just minutes before and were excited about the amazing announcement. The room went wild when they were introduced.
Karen Gillan told us that the "it felt electric" and that having 7,000 people passionate about something that you're involved with in some way was a sensation like she's never experienced before.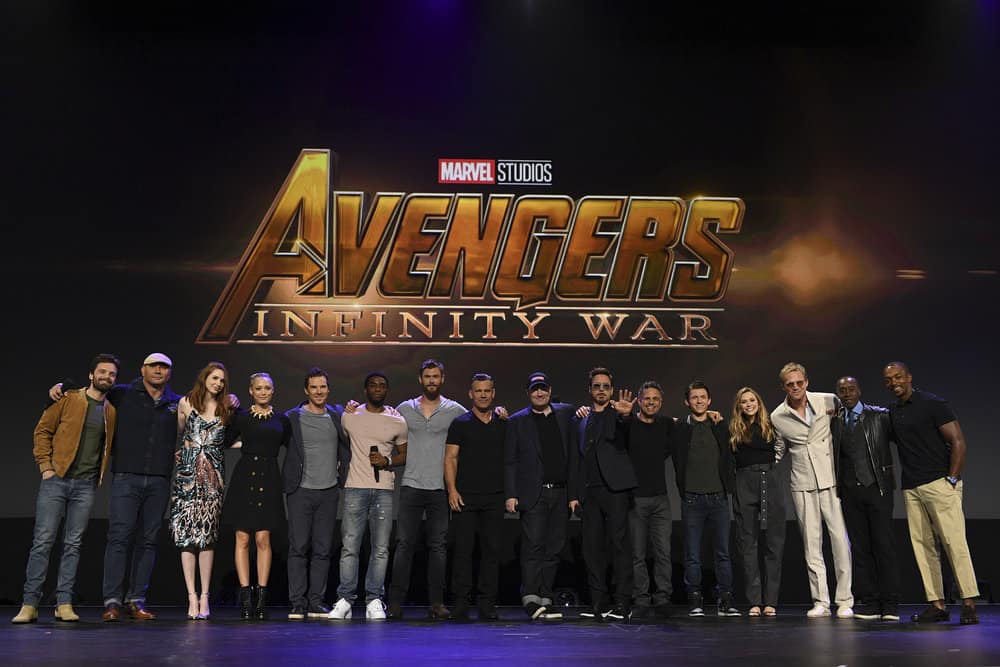 Mantis is part of the Guardians of the Galaxy: Mission Breakout plots at Disney's California Adventure Park, so Pom Klementiff told us how excited she is to be a part of it: "maybe not eat too much before, because your organs will be up and down."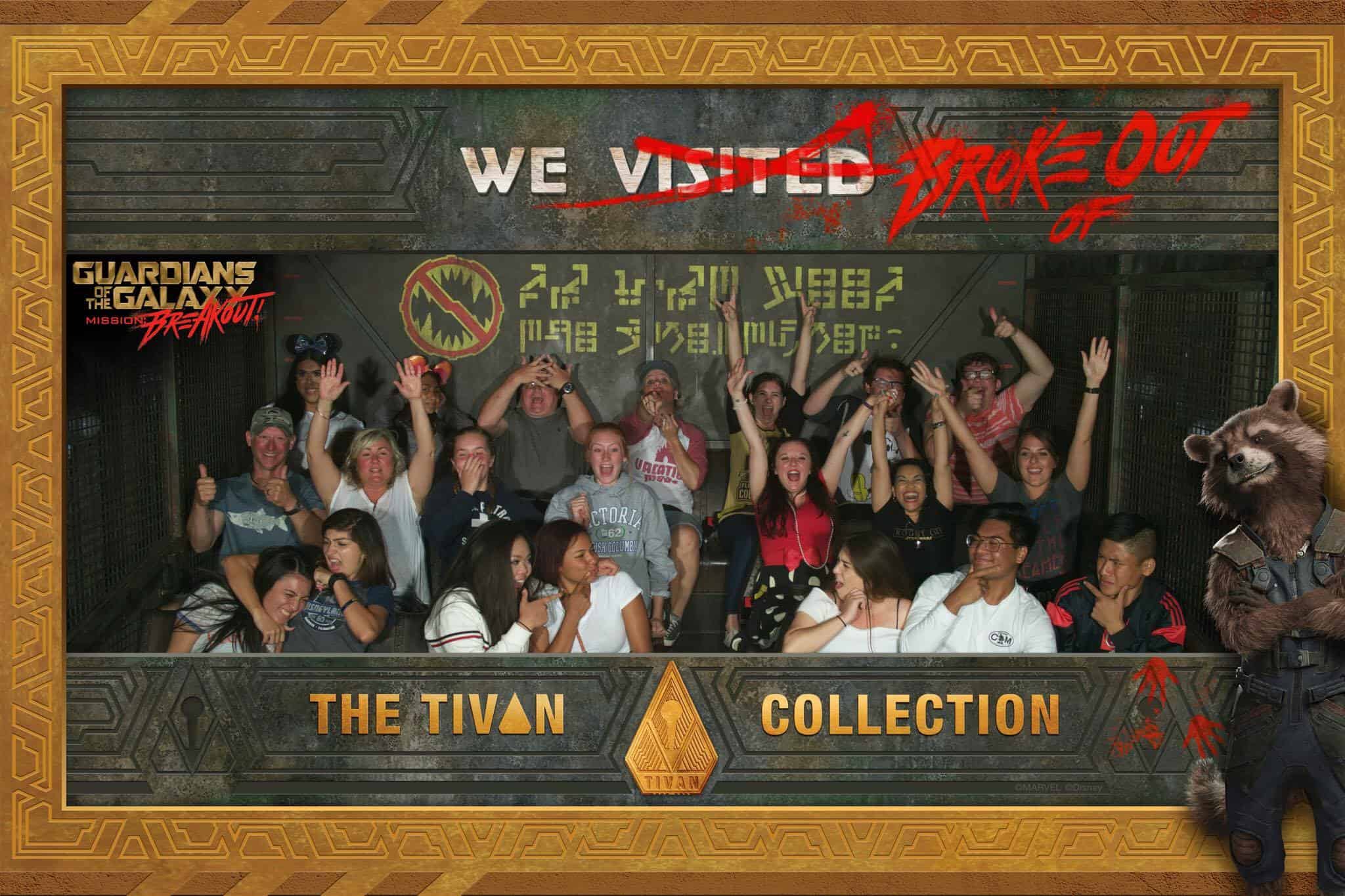 And "up and down" it is. It was really a brave thing for me to ride it, but you know when you do something BOLD, it ALWAYS pays off. And speaking of facing your fears. Karen Gillan gave us some insight as to the role of Mantis in Avengers: Infinity War:
"I feel like your character has to face a lot of her fears, like what we were doing the other day…because you seemed like you were nervous to do things in the film." she said to Pom Klementiff, who agreed, saying:
"Yeah, it's true, like my character in real life, I was upset. I was like I don't think I can do it, but it worked out well."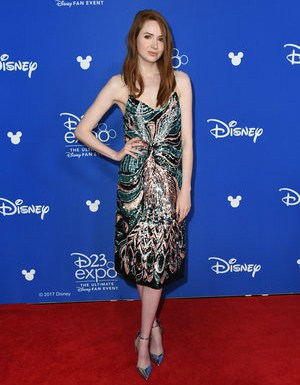 I was so excited to ask these wonderful ladies a question, something I had wondered when I saw the film, because their characters were actually my favorite ones. I felt there was so much depth and emotion to explore there: "How are you girls like your characters?"
Karen Gillan joked a bit saying she hoped she's nothing like Nebula, but we know, just like in real life, there's more to those who seem vengeful and cold-hearted or have a tough appearance:
I don't have any siblings, but I can definitely identify with insecurity, I think, as everyone can. My character is, the least favorite sister. She's not as good at fighting. She's less attractive. She's got no hair. She feels inferior and I think everybody can probably relate to that in some capacity.
I got teary. You know, Guardians Of The Galaxy Vol. 2 is not a crying movie, but I remember feeling triggered by the whole sibling and parent dynamic that was going on. There are so many childhood wounds that were slightly poked.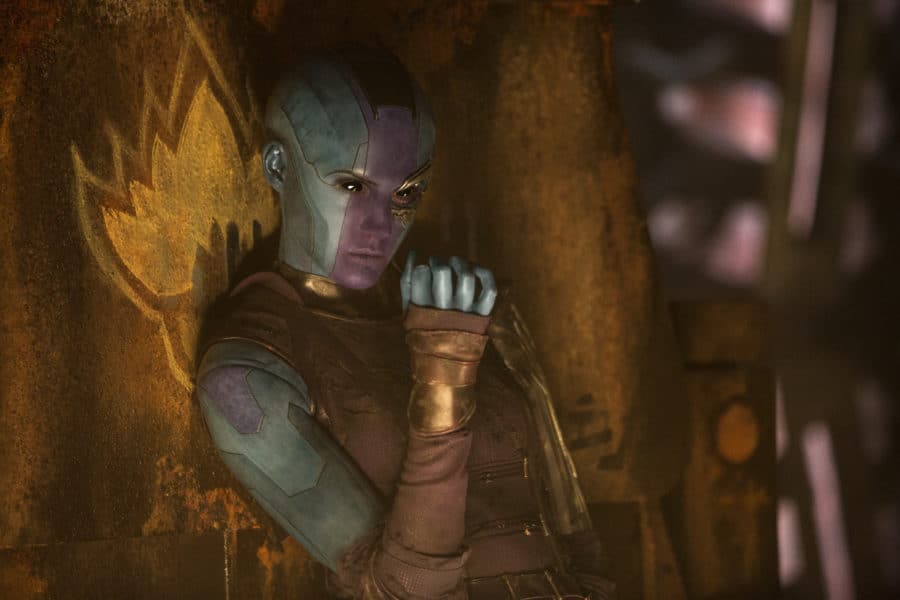 Oh and about the bald part, Karen Gillan explained that she had to shave her head for the first Guardians Of The Galaxy movie but even though the makeup process is extensive (about 4 hours), intense and challenging, she's happy she can keep her beautiful long hair intact.
Another thing that makes her happy is that now that her character "turned good" children are less scared of her and they are willing to take pictures with her. Awwww!
Pom Klementiff also expressed that she can relate to her character's insecurities:
I think that the moments that move me the most, are when she doesn't believe in herself and she just needs someone to believe in her. You just need someone to believe in you and to push you.
I think all moms can relate to this one because honest to goodness, most of us don't know how we pull this juggling act off. We're always doubting ourselves and I think we all need that extra push Pom Klementiff was talking about. Amiright?
These ladies were so inspiring and they are excited to be part of the movement of empowered women, both in real life and on the screen:
I feel like it's about time. We've been craving this for a long time! said Karen Gillan
Yes, we have! I like what Pom Klementiff added her thoughts about Nebula and Mantis being so different and how their personalities and personal history are being highlighted as a source of their strength (versus tight clothes and bikinis):
My character is more innocent and weird, and it's okay to be either.
I am so excited that Karen Gillan and Pom Klementiff are representing women and giving them permission to be unique. We love them on the Guardians of the Galaxy Vol 2 and I think we will love them in Avengers: Infinity War.
I would tell you more about the role Karen Gillan and Pom Klementiff play in the new Marvel movie, but they told us they couldn't share much and haven't even seen the full scripts yet.
Not to worry, I'll be sharing news as soon as they come out. They did say they've enjoyed working with the Russo brothers, even though it seemed intimidating because they've exclusively worked with James Gunn on Guardians Of The Galaxy-related projects.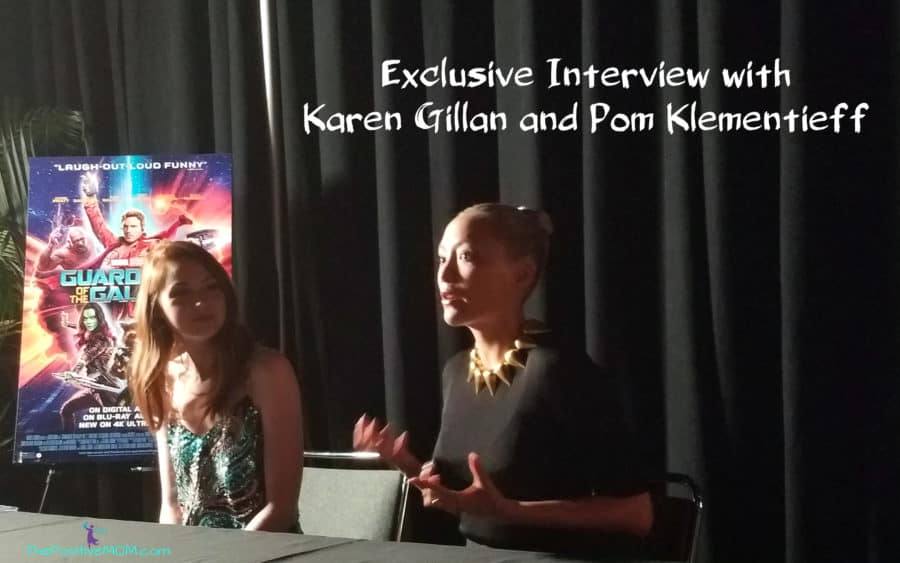 Fans, don't forget to pick up your copy of Guardians of The Galaxy Vol. 2 – I already got a pixie-dusted advanced copy!
Set to the all-new sonic backdrop of Awesome Mixtape #2, the film's storyline continues the team's adventures as they traverse the outer reaches of the cosmos. The Guardians (Chris Pratt as Peter Quill/StarLord, my fellow Dominican, Zoe Saldana as Gamora, Dave Bautista as Drax, Vin Diesel as the voice of Groot, and Bradley Cooper as Rocket) must fight to keep their newfound family together as they unravel the mystery of Peter Quill's true parentage. Old foes become new allies and fan-favorite characters from the classic comics will come to our heroes aid as the Marvel Cinematic Universe continues to expand.
Who is your favorite Guardian Of The Galaxy character and why? Stay tuned for my review of the home release coming soon! You can follow Marvel Studios on Facebook, or on Twitter and Instagram @MarvelStudios and with hashtag #GotgVol2
Other D23 Expo Recaps and Updates:
Join me at D23 – The Ultimate Disney Fan Event!
Pixar and Walt Disney Animation Studios Film Announcements
Disney, Marvel Studios & Lucasfilm Live Action Movie Announcements
Upcoming Walt Disney Parks and Resorts Attractions and Experiences
What to Expect at D23 Expo: The Ultimate Disney Fan Event
D23 Expo Recap: My Exclusive Interview with the DuckTales Producers
D23 Expo Recap: Fun Facts and Surprises From THE LION KING Panel
Finding Your Place In The Galaxy
The Most Powerful Life Lessons From The Lion King


My mission is to help moms find peace, break cycles, and feel whole so they can be present, peaceful, and positive moms. To receive a gift that can get you started on that journey click HERE.