My favorite moment of the D23 Expo was getting to watch an exclusive sequence of the upcoming The Lion King live action movie remake, especially since it's being directed by the amazing Jon Favreau. I love all things Disney, but I can say without a doubt that The Lion King is my favorite Walt Disney Animation Studios movie of all times, even though I am Mulan, for sure! My daughters joke with me because there seems to be a correlation between crying and "love" level in movies for me: the more I cry, the more I love it. I don't know what that says about me, so if you have an idea, I'd like to hear it.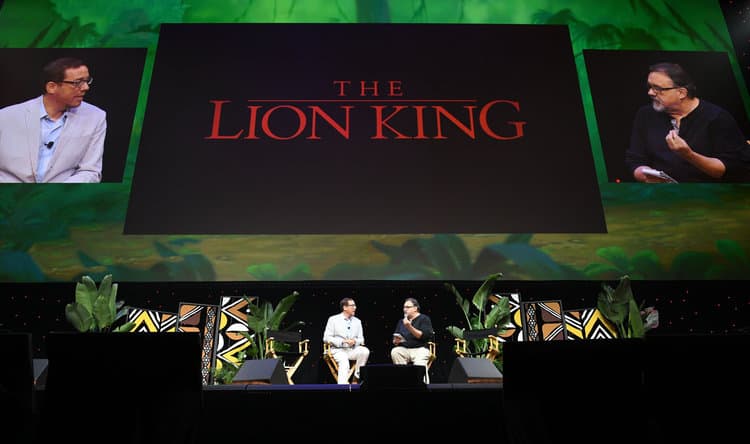 Another favorite moment was the retrospective panel dedicated to "The Lion King" on the last day of D23 Expo. "The Lion King" panel was hosted by Don Hahn, executive producer, featuring co-director Rob Minkoff, Mark Henn (Supervising Animator "Young Simba"), Tony Bancroft (Supervising Animator "Pumbaa"), Ernie Sabella (voice of Pumbaa), Jim Cummings (voice of Ed the Hyena), and the surprise appearance of Whoopie Goldberg (voice of Shenzi), who was minted a Disney Legend, becoming the first LEGOT recipient. Can you believe I was in the room when this happened?
We all laughed when she confessed that she begged to be in the film!
Rob Minkoff told his version, saying the head of animation telling him that Whoopi wanted to be in the movie after having lunch with Elton John. Though they didn't know where she would fit, they knew they had to have Whoopi in the film!
The "Lion King" panel gave us an insight about what it was like to make this cinematographic masterpiece we've all loved for 23 years, plus a very special announcement: "The Lion King" is coming out of the Disney vault to be the fifth title to join the Walt Disney Signature Collection, alongside "Snow White and the Seven Dwarfs," "Beauty and the Beast," "Pinocchio" and "Bambi."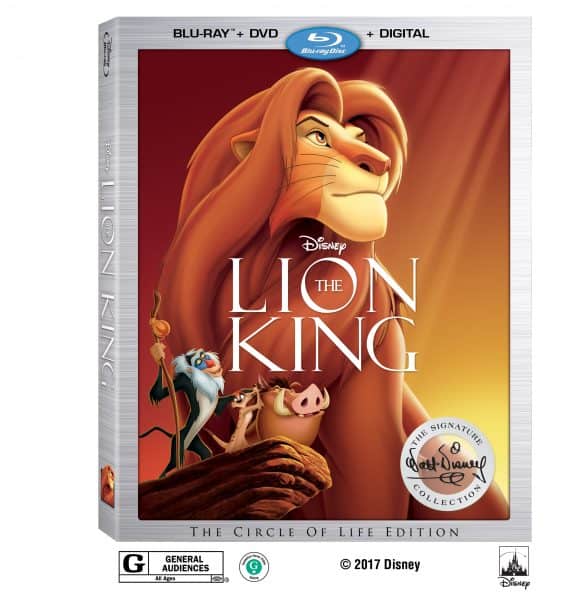 YES!!! The coming-of-age masterpiece, filled with humor and heart, breathtaking animation, and soul-stirring Academy Award®-winning music (1994: Best Original Score and Best Original Song, "Can You Feel the Love Tonight") arrives TODAY on Digital (August 15) and on Blu-ray and DVD on August 29!
Here are other fun facts about the making of
THE LION KING I learned about at D23 Expo:
Don Hahn and Rob Minkoff discussed how The Lion King was considered "an experimental doodle," and second to Pocahontas: Jeffrey Katzenberg described Pocahontas as "'West Side Story' meets 'Romeo & Juliet' meets 'Dances with Wolves," and "The Lion King" was "Moses meets Joseph and Hamlet in Africa, with music by Elton John." That got a huge laugh from the crowd, but it makes sense, if you think about it. LOL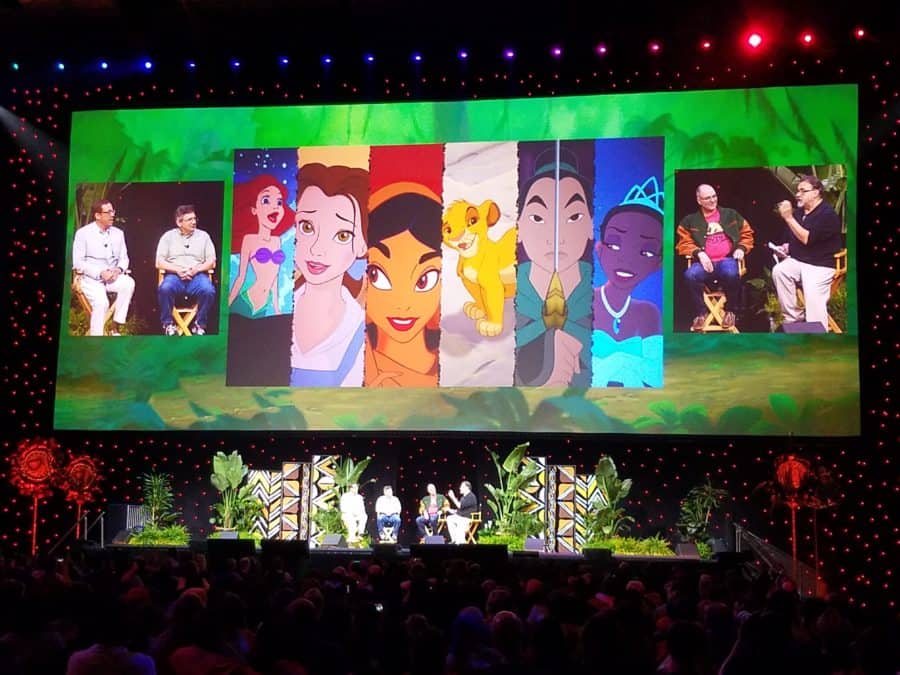 Pocahontas and The Lion King were the first two movies in the history of Walt Disney Studios to be made at the same time.
When the film made 100 million in the first week, the filmmakers reminder Katzenberg of his promise: "If The Lion King makes $50 million, I'll get down on his hands and knees." We all laughed when he said that and then Minkoff let us know that they did make him do it. The Lion King ended up making $6 billion and it is the highest grossing animated film of all time!
Rob Minkoff has been working with Walt Disney Studios since 1983 as animator, designer, and writer. He "climbed the ladder of opportunity" and directed two Roger Rabbit shorts.
Ed McMahon's unique laugh, from "The Tonight Show with Johnny Carson" inspired the name for Ed The Hyena! We saw Jim Cummings laughing his part at the recording studio and we cracked up with his epic performance. Cummings mentioned that there are a lot of intense emotions in The Lion King and that Ed brought the laughter to the film.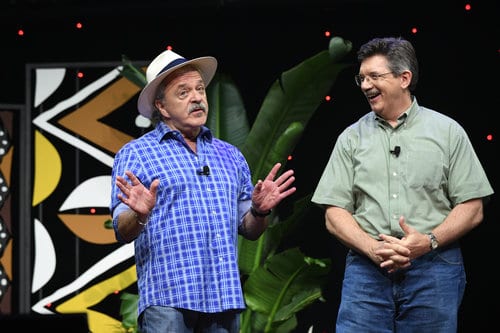 Jim Cummings has voiced legendary Disney characters such as Tigger, Winnie The Pooh, Darkwing Duck of DuckTales, and more! He had the audience on fire with his talent! He was also the voice for the mole rat in the beginning sequence of The Lion King!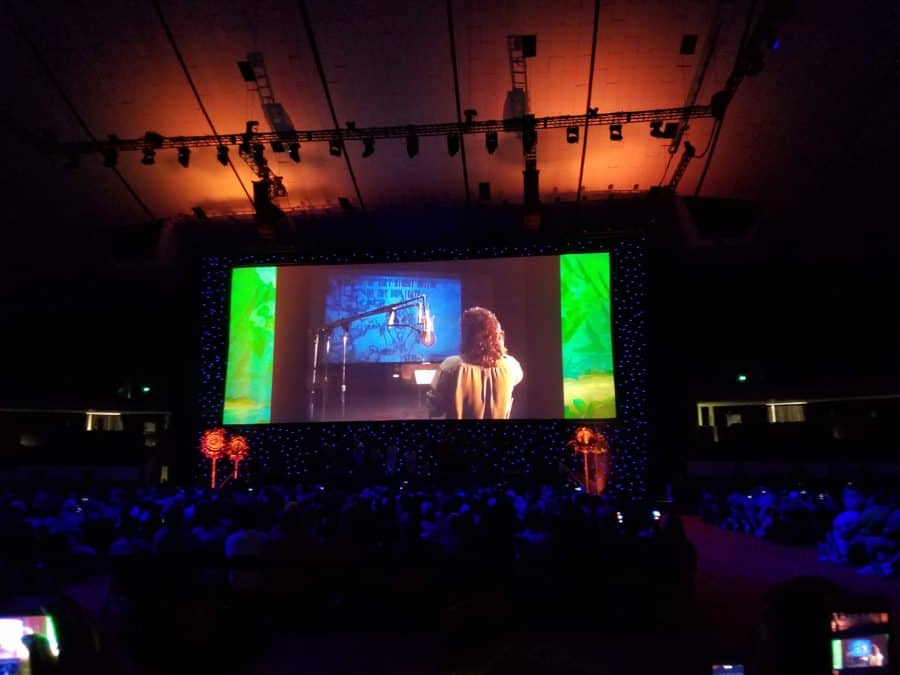 Cheech and Chong were supposed to be the hyenas, but they refused to work together, and that's how they ended up casting Whoopi Goldberg as Shenzi.
Rob Minkoff was very authentic in letting us know his feelings for the first version of Elton John's "Circle of Life" and Elton John: "We thought it was terrible!" He delegated the task of telling Elton John to Tim Rice, who said "we decided to change the story… they need a new song… like an anthem about the animals coming to the tribute of the newborn lion!" I would be trembling!
The Lion King Co-directors Rob Minkoff and Roger Allers worked together in doing scratch for the movie, both doing dialogue and songs. "I did Timon, while Roger did Pumbaa," said Minkoff proudly. They pitched Hakuna Matata together and we watched footage of them singing it.
In 1994, The Lion King production was shut down because of the earthquake in California. They also had fires and riots. Rob Minkoff said it was "biblical!"
The Lion King was drawn with pencil – the old fashion way! We saw recordings that showed the story boards, while the much-younger filmmakers and animators brainstormed scenes and songs and sported epic 80's haircuts and thick mustaches.
Tony Bancroft got really sick during the making of the film and threw up for eight straight weeks. He has a podcast with his twin brother about animation and said he always loved drawing as a kid.
Ernie Sabella told us he had auditioned to be a hyena but was given the part of Pumbaa (the first Disney character to pass gas). Nathan Lane had also auditioned to be a hyena and they were happy to get a gig together!
Rob Minkoff was inspired by National Geographic television documentary named "Eternal Enemies: Lions and Hyenas," by Beverly and Dereck Joubert.
The original title of "The Lion King" was "King of the Jungle" but they called it "Bambi in Africa" among themselves to explain what the film was about.
Ernie Sabella and Nathan Lane worked on "Guys and Dolls" before becoming Pumbaa and Timon in The Lion King, and they were allowed to record their lines together. Cheech and Whoopi Goldberg also did! "Chemistry is everything," she told the audience. She was so close to Ernie on stage and the two of them were constantly laughing.
When the filmmakers had a viewing of The Lion King in Atlanta and showed it to Elton John, "Can You Feel The Love Tonight," was originally sung by Pumbaa and Timon. Elton John's reaction was: "What have you done?! You destroyed my song!" He told Rob Minkoff that the only reason he did the movie was to write "a great Disney love ballad," and he hated the idea of "a smelly old warthog" singing HIS song.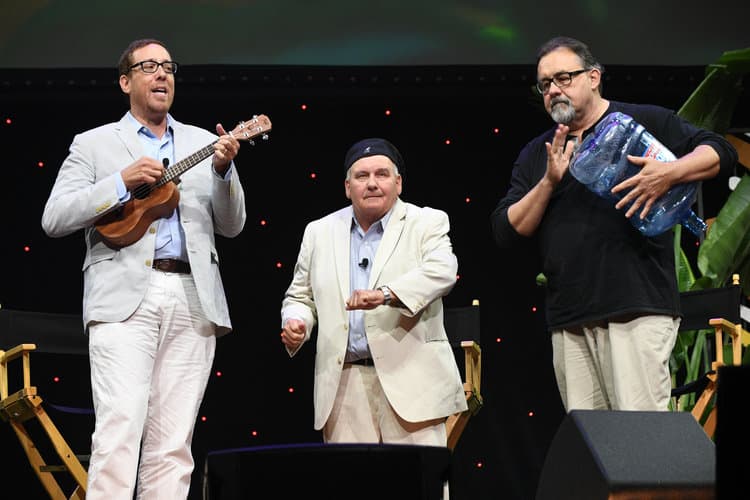 Ernie Sabella and Nathan Lane usually ad-libbed their part and both the gas in the film and the "dress in drag and dance the hula" scene was completely spontaneous and unscripted and added to the film later in the production process.
I know you will fall in love all over again with this treasured family classic, and a new generation of fans will laugh with Timon and Pumbaa, cry with Simba and Mufasa, burst into song, and find their place in the "Circle of Life." The girls and I watched it yesterday with Eliana and it was a sentimental moment to watch it with her for the first time and re-live all the emotions together.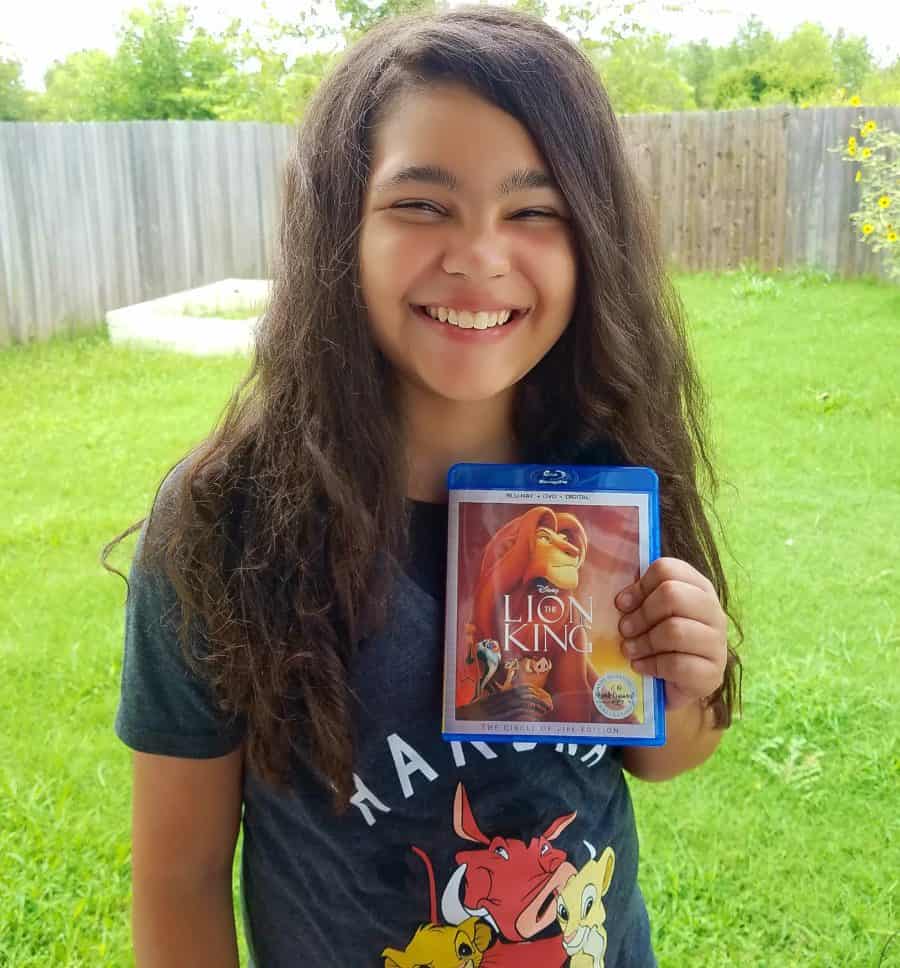 Mark Henn was attracted to work on The Lion King because he had hand-drawn on a lot of Disney Princesses (Jasmine, Tiana, Ariel, Belle, and Mulan!!!!), and wanted to change it up a bit. He originally campaigned to work on Scar, but ended up being the lead animator for Simba, the main character. "I wanted to get out of my princess box," he told us.
The crew went to Africa to see the nature and animals in their habitat (except for Rob Minkoff, who actually went to Africa on his honeymoon, instead). Whoopi Goldberg said she was really grateful to have seen "the beauty and the pageantry," there.
Rob Minkoff made many of us cry and go "awww" when he told us that his son, who is not yet 5, was in the audience and had not yet seen the film. He was teary-eyed when he told us The Lion King is "a father-son movie" and that it's going to be a very important moment for him.
Ernie Sabella was also very inspirational, saying he watched "The Wonderful World of Disney" as a kid, dreaming to be friends with Tinkerbell, "to be in there," and how honored he is to be a part of The Lion King.
"I can't believe I actually got to be in this world and be part of the Disney family." Sometimes I think that, too. Disney makes dreams come true for so many of us (shout out to Marshall!)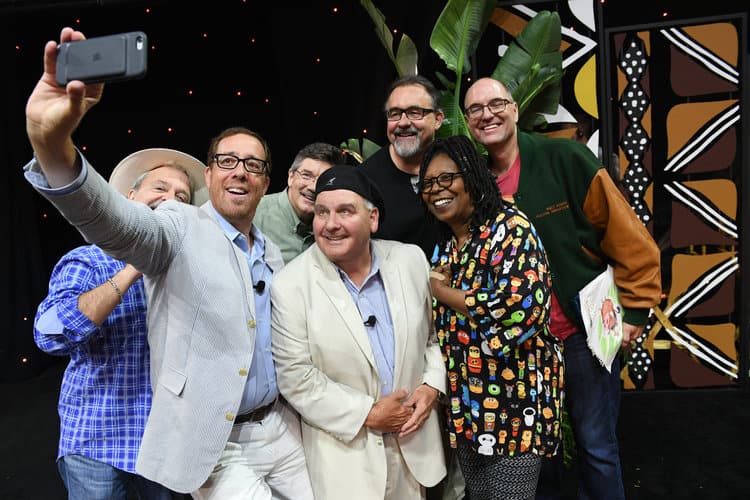 Like Ernie Sabella said: "The Lion King is something that will live on way past me and enlighten so many others."
And as if we hadn't had enough goosebumps, The Lion King panel ended with a spectacular perfomance of the "Circle of Life" by the film's original singer, Carmen Twillie, with hundreds of choir singers around the room, including service dogs and singers in wheelchairs. We were all excited to sing and dance along!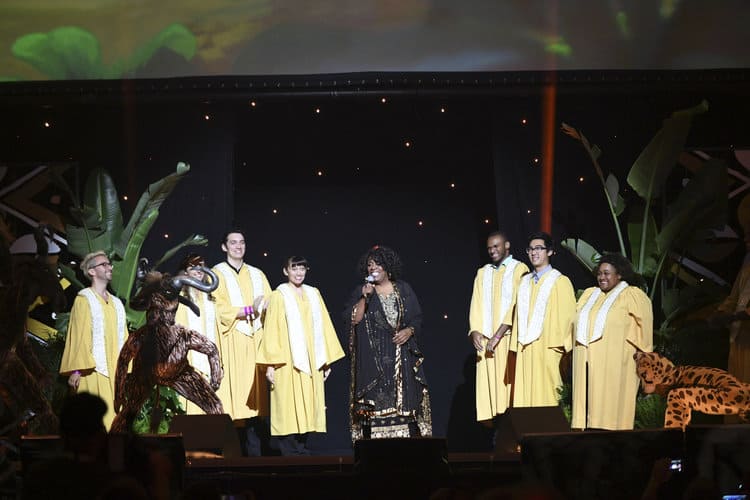 Some of the epic never-before-seen recording sessions that had us all laughing and reminiscing will be on The Walt Disney Signature Collection release of The Lion King, which also includes over 3 hours of classic bonus material, step inside the story room, witness the evolution of a villain, and join Nathan Lane (voice of Timon) and Matthew Broderick (voice of Adult Simba) for an extended conversation regarding the legacy of The Lion King. These are amazing and I'll tell you more about it on my film review. Stay tuned!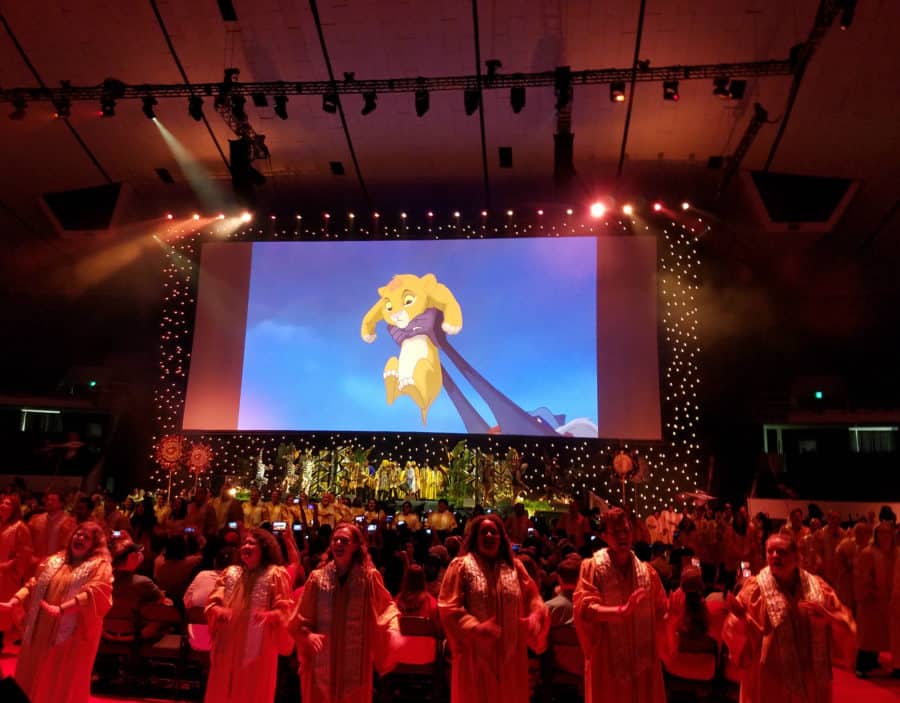 Which The Lion King trivia fact is most surprising to you? Are you excited for The Lion King's first ever Digital and Blu-Ray release? Make sure to share your thoughts and to follow along with #TheLionKingBluRay.
Other D23 Expo Recaps and Updates:
Join me at D23 – The Ultimate Disney Fan Event!
Pixar and Walt Disney Animation Studios Film Announcements
Disney, Marvel Studios & Lucasfilm Live Action Movie Announcements
Upcoming Walt Disney Parks and Resorts Attractions and Experiences
What to Expect at D23 Expo: The Ultimate Disney Fan Event
D23 Expo Recap: My Exclusive Interview with the DuckTales Producers
D23 Expo Recap: Meeting Mantis & Nebula
Finding Your Place In The Galaxy
The Most Powerful Life Lessons From The Lion King


My mission is to help moms find peace, break cycles, and feel whole so they can be present, peaceful, and positive moms. To receive a gift that can get you started on that journey click HERE.
Some images by D23 Press