I am a firm believer that you can transform your life by transforming your vocabulary. I have put this in practice and it has worked wonders for myself, for my family, and for the moms I mentor.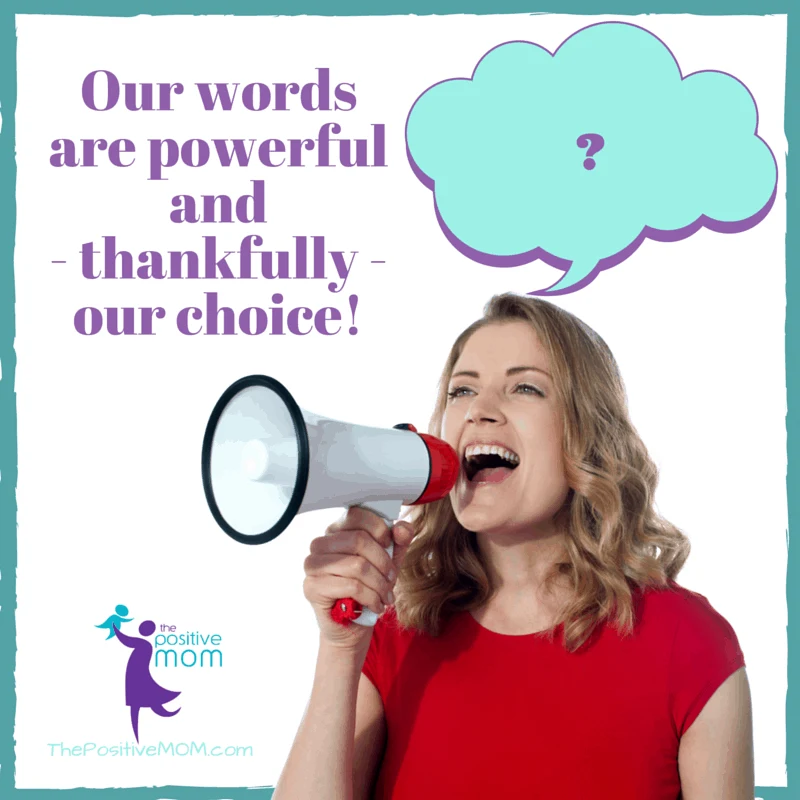 There are some words and phrases that disempower us more than we can imagine. I call them "debilitating words" because they weaken our mind, our body, and our spirit.
An MRI will prove that a negative word, simply flashed before your eyes for a fraction of a second, would cause a sudden release of stress-producing hormones and neurotransmitter that interrupt the normal functioning of the brain: it would impair reason, logic, language processing, and communication.
A whole list of negative words will damage key structures of the brain that are responsible for regulating memory, feelings, and emotions!
As far as the body is concerned, kinesiology (also known as muscle testing) has proven that negative words drain us of our strength, while positive words make us stronger. I love doing muscle testing at my live workshops, because it does not fail!
Of course, when we are stressed and weak, we are less able to engage in our spiritual practices and connect with God, or to enjoy life and one another. I'm sure you've noticed that.
As moms, we are to be more conscious of our words than anyone else because, when uttered, these negative words won't only affect the speaker, but our vulnerable little listeners, too.
Today, our kids are more stressed than ever, and a few tweaks in our vocabulary (and theirs) can help the whole family to be more empowered, happier, and more united.
With the input of my sweet daughters, I've put together a list of words and phrases that I've banned from our home, and that we all have chosen to eliminate from our overall vocabulary.
21 Phrases and Words To Ban From Your Vocabulary For Good

Should – This debilitating word usually shows up as negative self-talk: "I feel ashamed, guilty, and regretful that I don't." When directed to others, it denotes opinion, recommendation, or advice and it creates these feelings in them, too!

I Can't – When you say "I can't", even if it's only in your thoughts, you set yourself up for failure, because it means you give up. Often, "I can't" just means "I won't" or "I don't know how to yet," and not really whether you are able or not able to do it.

Problem – When you call something a problem, you become stressed because it feels like a lot of work to devise a solution. This blocks your creativity and your ability to find a solution.

If – We find it in the dictionary defined as "uncertain possibility" and use it when we are seeking to sabotage our own success and drain our self-confidence. OUCH. When is an adverb that implies we are expecting an item, idea or outcome – in faith.

Just – This qualifier is used to minimize ourselves, our possessions, and our accomplishments. Have you ever introduced yourself by saying "I'm just a stay at home mom" or "I'm just starting out in my business?" It greatly devalues your amazing contributions!

If Only – This lie is an alibi to not go for what we want. It is a tool to hide your light "under a bushel" (Matthew 5:15) and stay in your comfort zone (which is not comfortable at all because you know you have a greater purpose and potential).

But – negates everything that was stated before it. I have a technique to make your buts work for you, so make sure you read how to reverse your buts here. You can use and to stay focused on your intentions and true to what you want to say!

Someday – a day that is not on the calendar. We use this word to lie to ourselves and others about our level of commitment because of a lack of belief, a low sense of deserving, or a feeling of resignation. Beware of "Soon" and "Later," as well.

Why me? – This question keeps us stuck in victim mentality, rather than helping us resolve the situation. When we ask "why is this happening (or not happening)?" or "why would this person do this to me (or didn't)? we are basking in drama and not taking productive action.

I don't know – It's a beautiful thing to ask questions and ask for help because it denotes humility, but simply giving up by saying "I don't know" implies our intelligence is fixed and we are unable (or unwilling) to learn, which is contrary to our divine nature.

It's not fair – Saying these words forces you to focus on how life is not going the way we want to. We lose things and people, people and pets die, tragedy and betrayal happen, but since we are not God, it is not our job to judge what is fair or isn't, but to learn the lesson, find the blessing, and do the fair thing ourselves.

I'm not – I am not 6 feet tall, and that's a fact; however, we often use this phrase to communicate that we are not qualified, equipped, or simply enough. When you focus on what you are not, you will always come up short, even if you're not 4'9″ like me! He he!

I'll try – Try is sitting on the fence, indecisively, disengages from commitment and makes it okay to fail without a fight. I'm sure we've all heard the Yoda quote (from the Star Wars movies) that says "do or do not, there is no try." Try "I will" instead.

But what if – a seed of doubt and worry that predicts the worse possible outcome. This is the voice of fear at its best and we all know where fear comes from. 1 John 4:18, in the Bible, says that "perfect love casts away all fear."

Don't – the brain does not understand don'ts, therefore, they create the opposite of what we desire. If I say to you now "Don't think of a purple apple," what image came to your mind? I think I may just know!

I wish I – a more subtle form of "I can't," or "I'm not worthy of." You know I'm a Disney mom and I love the message that wishes come true, but we usually say "I wish" to say it is not possible for us, it is not something attainable, or something we deserve.

I have to – we choose everything we do. We never "have to," we simply do or get to do. As the sole provider in my household, I get to pay all the bills because I am a responsible mom and I am grateful for the services I receive. I don't have to pay the bills – many people choose not to pay bills or to have bills. It's all a choice.

I hate – one of the most debilitating words in existence because of its negative energy. In the Bible, we read that "hatred stirs up strife but love covers all wrongs," (Proverbs 10:12) so nothing good ever comes from hate or from professing hate – would you agree?

No way! – there is always a way, and when you see no way is because you don't believe there is. "For my thoughts are not your thoughts, neither are your ways my ways," declares the LORD" (Isaiah 55:8-9). If we are humble enough to admit we don't know it all, to sit still and listen, we may just find the way!

Maybe – "Hot N Cold" by Katy Perry paints this picture well. There is nothing empowering about self-doubt. Indecision may as well mean inaction and procrastination. Choose Foreigner's lyrics instead "Say you will, say you won't". 😀

Impossible – the opposite of miracles. Let's believe in miracles! I remember one time I ran out of gas and my daughters and I kept chanting "nothing is impossible with God" and we miraculously made it to the gas station. It was surreal!
Our words are powerful and, thankfully, our words are our choice. It is very empowering to have a higher awareness about what we create with our words, because they will shape our beliefs and influence our decisions, and even though we have millions of thoughts, the ones we express are the ONLY ones our kids hear. Our words, make their world, not just ours.
How To Ban Words From Your Vocabulary
There is no perfection when it comes to being a positive mom. Speaking a positive life into existence is a lifelong journey, and below are 3 tips you can use to travel it:

Catch yourself – assess the words you use each day and congratulate yourself when you use empowering words. When the words you use are less than empowering, instead of shaming yourself or thinking it's time to give up, encourage yourself to remember sooner next time: your brain is listening :).
I've been playing "catch my kids" since they were tiny, but guess what – they now catch me more than I catch them.

Practice – like any skill, speaking positively can be improved through practice, because practice makes progress, and I believe that "progress is success!"
Reciting positive affirmations in the morning is one way to do this. Or do the mirror daily ritual! Also, you can turn up the volume on positive statements when you talk about what you love – add a little more love, passion, and enthusiasm.

Downplay – It's true that when we say something negative about ourselves or others, saying the opposite would be more empowering. We know the difference between "I hate it" and "I love it," yet many of us want to feel genuine in the words that we say, and the switch may seem harder to flip when it just doesn't feel true.
Playing down a statement (like saying, "sometimes, I feel like I hate…") can ease us up into change. No one is positive 24/7 everyday with everyone and in every situation, and it is possible to balance it out!
If you're ready to have a more positive life at home, stay tuned, and check out my list of positive words so you can improve your vocabulary in a way that it improves your family life.
What one word or phrases would you add to the list? Share what words you've banned from your life below.
[ela]