One of the most underestimated branding, marketing, and positioning tools is a well-written professional bio. Every mompreneur needs a bio, but we all know many who don't have a bio, have a bio they wrote last minute because an event planner required it, or maybe they have a decent bio but it's sorely outdated. If you are in any of these groups, forgive yourself, but do keep reading and learning how to write a bio so it doesn't keep costing you!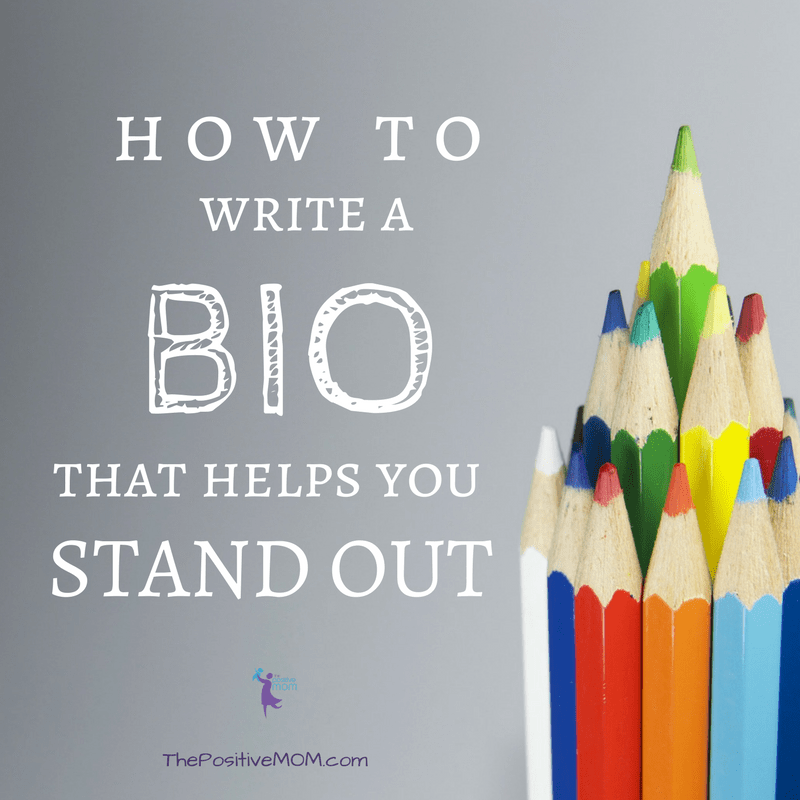 Whenever I work with mompreneurs in my private coaching or training programs, it seems that writing a bio is one of the most dreaded activities and one that causes a lot of anxiety. This is interesting because research proves that talking about yourself makes your brain happy, so you would think sitting down to write a bio should be a pleasing, stress-free process. However, as a woman, you usually care about what others think of you:
Will they perceive you to be as someone who thinks too highly of yourself and display excessive self-importance?
or
Will they be bored to death and think you are clueless and don't know what you are doing?
While you can't stop others from judging – ever! – and you can't control who's bored by what, you can be proactive in crafting a bio that helps you stand out, a bio that creates a meaningful connection with the readers you want to attract, whether is your ideal audience, clients, brand partners, conference organizers, or specific media outlets.
First, it's good to clarify that your bio is not a resume, it is a strategic summary that showcases your message and your expertise. I call it a branded bio because this engaging piece of copy can complement other elements of your branding identity and increase your credibility, visibility, and profitability.
Whether you are writing your bio on your own or decide to work with a branding professional, a powerful bio will come as a result of getting clear on what the mission, purpose, vision and strategy is for your personal brand or business, not the other way around. When I work with a mompreneur in writing a captivating bio, we go on a deep process of self-exploration to get to the core purpose of what the bio will help convey.
One of our exercises consists in answering some of the following questions with the assumption that the person who will read the bio knows nothing about the mompreneur in question or her brand. Try to do this for yourself before you write your bio:
Who are you? Just as you would offline, introduce yourself with your preferred name, but avoid nicknames.
What do you do? Place yourself in an industry or field and share three topics that represent your areas or expertise. When you specialize in three categories, it will be easy to position yourself, to organize your content, and to be discoverable on the search engines.
Why did you choose this particular industry? You can describe the challenges your ideal client faces, why you are passionate about solving them, and what statistics prove there is a really problem.
Why do you do what you do? Help your reader connect with your why. Your why is your vision, the impact and influence you want to make, and the legacy you want to leave behind.
What do you do really well? Describe your particular gifts, strengths, skills, and talents in the context of how they can be a blessing for your audience.
How much experience or expertise do you have? Your experience is not necessarily measured in years you've served in a particular role. Sharing how long you've been actively doing what you do will help position you as an authority in your chosen field. For example, I founded The Positive MOM in 2005 but I've been an entrepreneur since I was 7 years old.
What inspires you? You can include a quote or motto that inspires you or simply share your dreams, hopes, and aspirations, and the change you wish to see in the world.
What is your background story? Share a compelling piece of your personal story that tells the reader how you got here. Did you have to overcome adversity, obstacles, or challenges? Or was there a life-changing event, defining moment, or cathartic experience that changed and shaped you?
What is your personal philosophy? Reveal about your unique perspective, your standards and your beliefs about people and about the world.
What are your core values? Talk about what you value, what you stand for, and what matters most to you.
Who is your audience? Besides defining your client or reader in terms of demographics, use psychographics to describe what problems they have and what solutions you offer.
Why should someone use your services? Explain exactly what your brand would deliver to the reader and the ultimate transformation s/he will receive as a result of working with you. Here's a 5-step formula that can help.
Why does your audience need you now? Describe the urgency of using your gifts to their benefit and what a tragedy it would be to not act now or not act at all. For example, by trying to do it all alone, a mompreneur may be wasting time and losing money. Her overwhelm and frustration may lead to defeat and depression and will negatively affect how she mothers her children – and the longer she waits, the worse it will get.
What are typical results you provide? Write outcomes with numbers and percentages to indicate money saved, time saved, and money earned. Every testimonial must be tangible and quantifiable.
Why can your reader trust you? Inform the audience of the guarantees (deadlines, money-back, quality promise, etc.) they can count on and highlight your proven track record of results.
What do you and your clients have in common? Be intentional about each word! Share facts and experiences that relate to your readers dreams and desires.
What are you passionate about? Tell the reader what you're obsessed with, your guilty pleasures, your interests, and hobbies outside of your chosen profession.
What are you known for? Describe yourself using at least three words (adjectives) you collect from your close friends and clients. Include any unique quirks to make your bio more captivating.
Where are you from? Tell your reader where you were born and raised and where you reside, and maybe even some childhood anecdotes to find common ground.
Where are you at? Share location details with security in mind, but do explain if there are any geographic restrictions to your offerings and where you do business in the world.
How can the reader get in touch with you and/or learn more about you? Add at least one way your audience can contact you and include hyperlinks throughout your bio to validate and expand your story. This will instantly satisfy the reader's interest to get to know you better, fill in any gaps, and clarify what may be unclear.
What are you working on? Make your bio a bit intriguing by briefly stating what's in the works for you. Spotlight any current and upcoming projects you want your reader to be aware of.
How do you give back? List any charity or community service organizations you are involved in, and why it moves you, as well as the legacy you would like to leave behind.
What tone can the reader expect in your messaging? The way you write your bio can give your readers and followers a hint on your overall content style and strategy. This will be an indicator whether you will use slang, humor, buzzwords, jargon, sarcasm, education, inspiration, or even profanity (you know you won't ever see the latter anywhere in my content).
What's your call to action? Spell out specifically what is the one action you want the reader to take and link to the page or website that contains the information on how to take that step.
As you can see, your bio should contain so much more than education, work experience, credentials, notable achievements, professional designations and affiliations, notable clients, certifications, awards, press coverage, publications, honors, and other recognitions. The key is that you don't need to downplay your accomplishments; as long as you focus on building an organic connection with the reader, you need not fear sounding like a self-centered diva who is trying to make herself sound special – unless that is your thing, of course.
Being vulnerable, authentic, and consistent when you write a bio will help you stand out, inspire your readers, and be memorable. As you add more personal, unexpected, humanizing details, your readers will feel as if they know the story about who you are as a multifaceted individual, and will know whether they are interested in continuing in engaging with you further – or not.
Your purpose for writing your bio will determine how it is crafted and how each version will be presented in the several outlets and platforms (for length adjustment and to avoid content penalties to your website).
Because your bio is one of the most critical pieces of copy you'll ever write about yourself, it is imperative that you write it while thinking about the specific individual who will read it and write it for him or her. Tell that person (or brand representative) what s/he wants to know about you and highlight that which will compel him or her to follow you, interview you, book you to speak, subscribe to your updates or your mailing list.
Many people debate that you should always write your bio in the first person, which is more personable, but I recommend you do provide a version written in the third person on your media page.
Once you write a bio you're happy with, don't stop there. Sleep on it, ponder, proof it, review it, and tighten it. Then ask for feedback and tweak accordingly. I'm not encouraging perfectionism, but you do want to make sure your voice and your value are clear. And lastly, make sure your bio is a living document that evolves as you do. Keep your bio up to date, revisit it, and adjust it to reflect what's most accurate now.
Have you updated your bio recently? I'd love to hear your tips and tricks to write a bio that helps you stand out!
[ela]